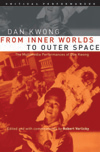 A collection of performance scripts by solo artist Dan Kwong, including six major multimedia creations such as "Tales From The Fractured Tao", "Monkhood in 3 Easy Lessons", "The Dodo Vaccine", and "Correspondence of A Dangerous Enemy Alien", with three short works, plus insightful commentary by editor Prof. Robert Vorlicky. These works address themes ranging from masculinity & male conditioning to domestic violence, HIV/AIDS, homophobia, and the internment of Japanese Americans during World War II.

With eloquence, passion, and a generous sense of humor, Kwong's stories are combined with striking visuals and dynamic physicality. This significant body of work represents a unique voice of clarity, insight and hopefulness as he dives into the murky waters of identities: gender, culture, sexuality, and race. Using himself and his life as a "laboratory specimen", Kwong's narratives reveal the links between the personal and the political, exposing the invisible and the unspeakable within, and provide a model for moving through internalized oppression — with a good laugh and a good cry along the way.
The Drama Review (Vol 50 No. 4) says:
"From Inner Worlds to Outer Space reveals the ways in which Asian American aesthetic practices demand an integrated study of race and performance."
"...often-elaborate stage directions convey the spectacular elements of Kwong's pieces."
"Dan Kwong in some ways continues the tradition of the Asian American vaudevillian..."
"Certainly Kwong's book will help students and fans - some of whom may not have the opportunity to see a particular show - visualize the performance event."
AMPLIFIED DESCRIPTION OF BOOK CONTENTS

"Secrets of The Samurai Centerfielder" (1989) was Kwong's debut performance, a sprawling epic about his lifelong passion for baseball, his Japanese grandfather's life from Japan to L.A. to WWII internment, the Beijing student demonstrations in Tienanmen Square in 1989, and Kwong's own journey to self-acceptance as an Asian American.

"Tales From The Fractured Tao with Master Nice Guy" (1991) recounts the joys and pains of Kwong's childhood family life, with the dubious assistance of "Master Nice Guy" — a cross between the Wizard of Oz and a burnt-out social worker. From Kwong's näive attempts to prevent his parents' divorce to his outrageous clandestine forays into the elementary school auditorium, his adventures lead to a deep understanding and love for family.

"Monkhood in 3 Easy Lessons" (1993) revolves around issues of masculinity from an Asian American perspective. The most physically dynamic of Kwong's works, it includes sword-swinging, baseball batting, treadmill running and athletic dance. Kwong tells sharply contrasting stories of his two grandfathers, illuminating the history of Chinese and Japanese American men, along with his own struggles with the dehumanizing social conditioning males receive.

"Correspondence of A Dangerous Enemy Alien" (1995) was commissioned for the 50th anniversary of the closing of WWII Japanese American internment camps. A documentary piece, it was based on the contents of an old family suitcase containing letters of Kwong's Japanese grandfather from the outbreak of war to the reunion of the family. It featured an elaborate site-specific staging and marked the first time Kwong incorporated sections from previous works, passages from "Samurai Centerfielder" and "Monkhood in 3 Easy Lessons".

"The Dodo Vaccine" (1996) was originally commissioned by Panchayat in London, part of an exhibition by four American Asians addressing HIV/AIDS and its impact on their community. It covered challenging topics such as homophobia and cultural taboos about sex, death and the body, as well as compulsive sexual behavior. Kwong's most ambitious stage design, it incorporated 100 balloons, 1,000 ping pong balls, 200 pounds of rock salt, a giant amoeba cell, an onstage shower, giant condom package, and several quarts of purple slime.

"The Night The Moon Landed on 39th Street" (1999) represents a marked departure for Kwong, his first work which is not identity-based. Kwong reveals a lifelong fascination with that final frontier, space —and his obsession with getting there. His most complex multimedia creation, Kwong employs extensive video, audio and slide projection along with some wild props and costumes. A heartfelt journey of wonder and a re-discovery of human connection are the essence of this piece.

PLUS: "The Sword and The Chrysanthemum", "Al the Barber", "Station Wagons of Life".
TO ORDER THE BOOK:
Go to:
or call: 800-621-2736
or:
or:
$22.95 paperback (cover has photo illustration, quotes)
$55.00 clothbound (plain red cover; library version)
(Amazon is cheaper)