BLOGGISH-NESS:
Solar System, Milky Way Galaxy
The "dearMoon Project"
March 21, 2021: Japanese billionaire entrepreneur Yusaku Maezawa ("MZ") is teaming up with Elon Musk and his SpaceX team for the first ever civilian lunar mission, set for the year 2023.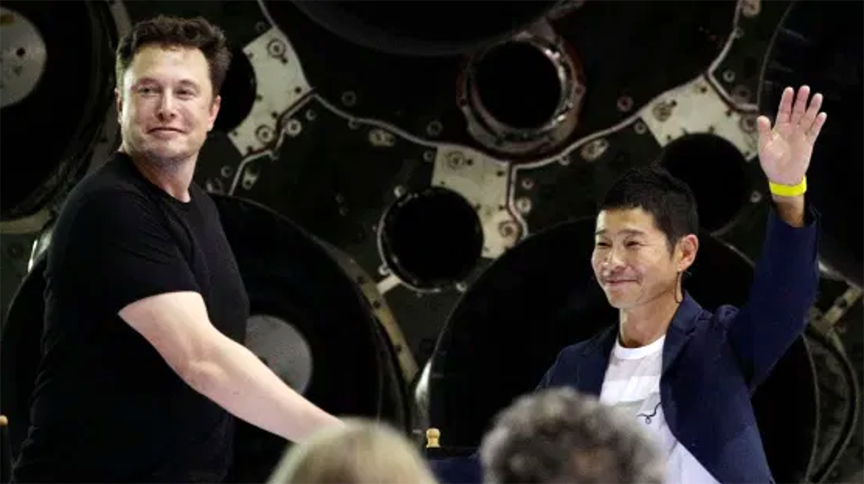 Musk and Maezawa
Onetime skateboarder and rock drummer before making his fortune in fashion, MZ is offering the unbelievable generous opportunity for 8 people to accompany him on the mission as his guests, all expenses paid.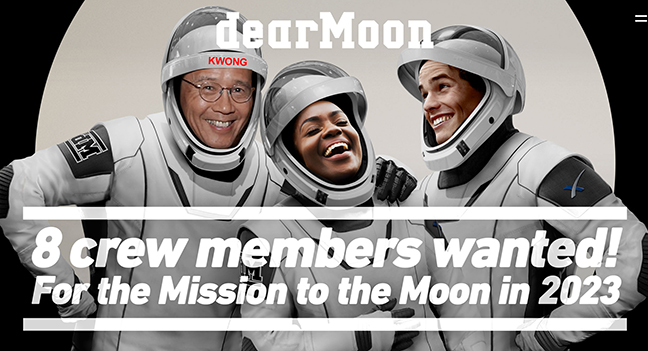 That guy on the left? Definitely ready to go...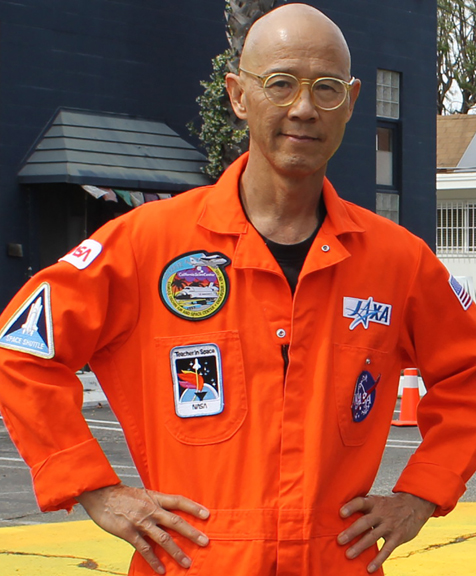 Seriously.
When Maezawa initially proposed the "dearMoon" project back in 2018, he specifically wanted to take artists. He has since opened up the pool to anyone who considers themselves "artistic", not just professionals. Either way, Dan fits the bill...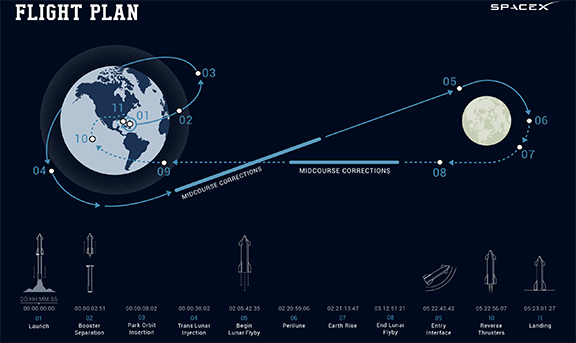 The week-long trip goes to the Moon, orbits once, returns. No frequent flyer miles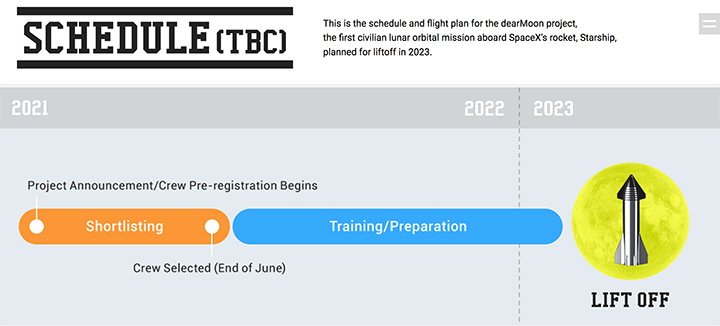 Uh, yeah, we can make that schedule work...
Dan got his application in right on time...
CHECK OUT THEIR VIDEO EXPLAINING THE CONCEPT:
For anyone who remembers Dan's solo multimedia performance, "The Night The Moon Landed on 39th Street", Astronaut Kwong is clearly an ideal candidate...
Imagining new choreography possibilities in zero-G...
When the show premiered at Highways way back in 1999, L.A. Times critic F. Kathleen Foley wrote one of the best reviews Dan has ever received, in terms of someone clearly appreciating what he was trying to communicate.

Foley wrote: "Kwong opens with a reminiscence from his childhood. While outside playing with hula-hoops, Kwong and his sister spot a huge and dazzling moonrise that seems just yards away. Convinced the Moon has landed on their street, the children sprint wildly toward the shimmering object of their fascination. Of course the children never reach their goal, but Kwong's heartbreaking homage to the credulity of childhood - where magic is just down the street - is heartwarming and painfully evocative of innocence and loss.
Somehow Kwong has held onto his sense of childlike wonder about the cosmos, and that awe informs his free-wheeling, uproarious performance."
Dan has always wanted to update his show because SO much has evolved in the U.S./international space program (and the world) since then. But as usually happens, the endless conveyor belt of new projects leads an artist away from previous work. Without a compelling reason, it is exceedingly rare for Dan to return to an older piece. Well, the "dearMoon" project is about as compelling as it gets...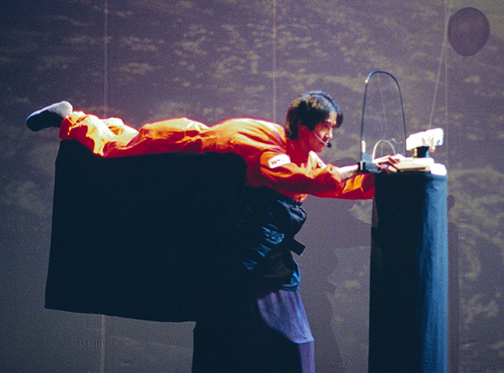 Benefit of no more hair: reduction in weight, always critical in spaceflight...
Dan proposes to incorporate his experiences on the "dearMoon Project" into a radical re-visioning of "The Night The Moon Landed on 39th Street". The basic theme of the show would remain the same: honoring and preserving our innate sense of wonder and curiosity about the universe. But unlike in the original version of the show, this time the boy who dreams of going to the Moon actually gets to go!
You could not imagine a more perfect climactic story element for the show!
Stay tuned for the preliminary selection announcement -- fingers and toes crossed...
---
---
"Con Safos" Documentary with KCET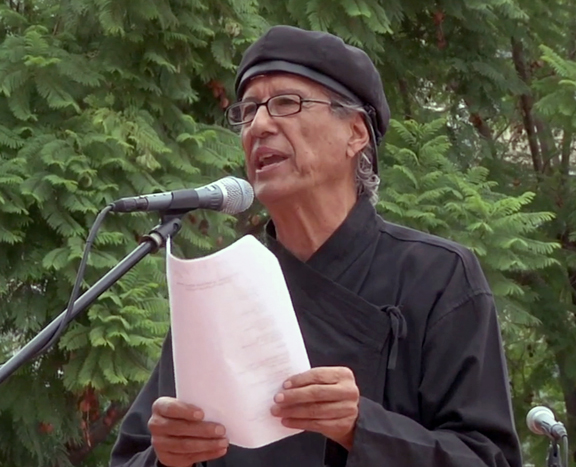 Ruben Funkahuatl Guevara - unofficial poet laureate of Boyle Heights
January 2021: Dan is excited to be teaming up with long-time arts collaborator-friend Ruben Funkahuatl Guevara, his son Ruben Guevara III, and KCET to produce "Con Safos", a documentary about the life and times of the senior Guevara and his pivotal role in the development and visibility of Chicano culture. The doc will be an episode of the popular KCET series, "Artbound".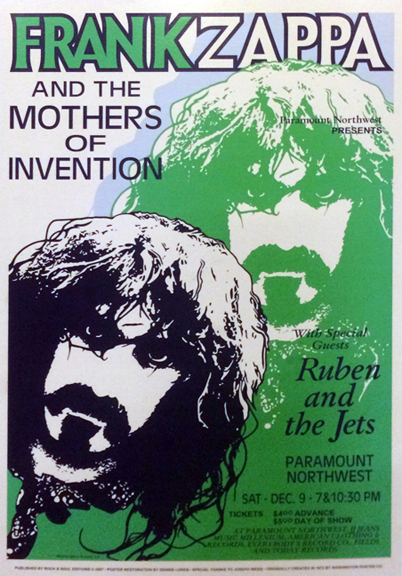 Ruben and Frank Zappa bonded over their mutual love for 50s-style R&B
Best known for his stint as bandleader of 70s rock band "Ruben and the Jets", a project cooked up with the late Frank Zappa, Ruben has had a music and entertainment industry career so full of ups and down it would give you whiplash.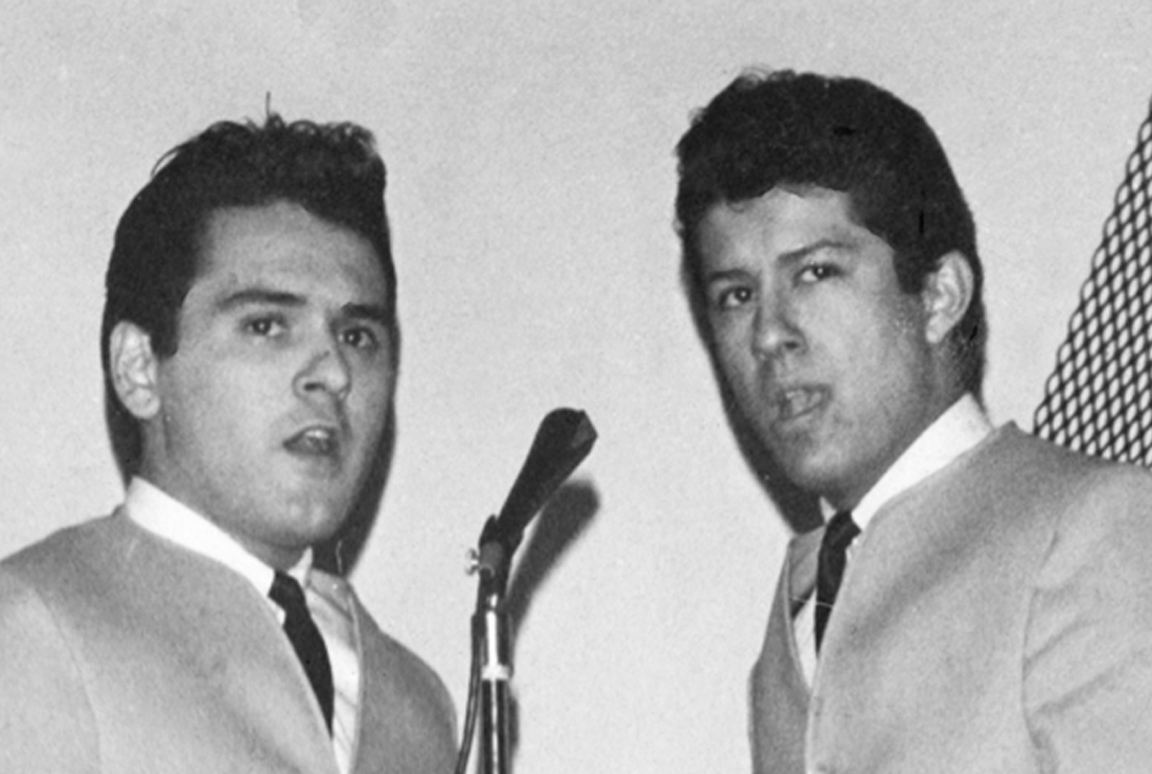 The Apollo Brothers - poised for success in the early 60s...
Through the 50s, 60s, 70s, 80s and onward, Ruben's life has been a series of re-inventions and re-incarnations as a creative being, ultimately defining himself as a "Chicano Culture Sculptor"; one who protects, nurtures and shapes the creative voice of his community.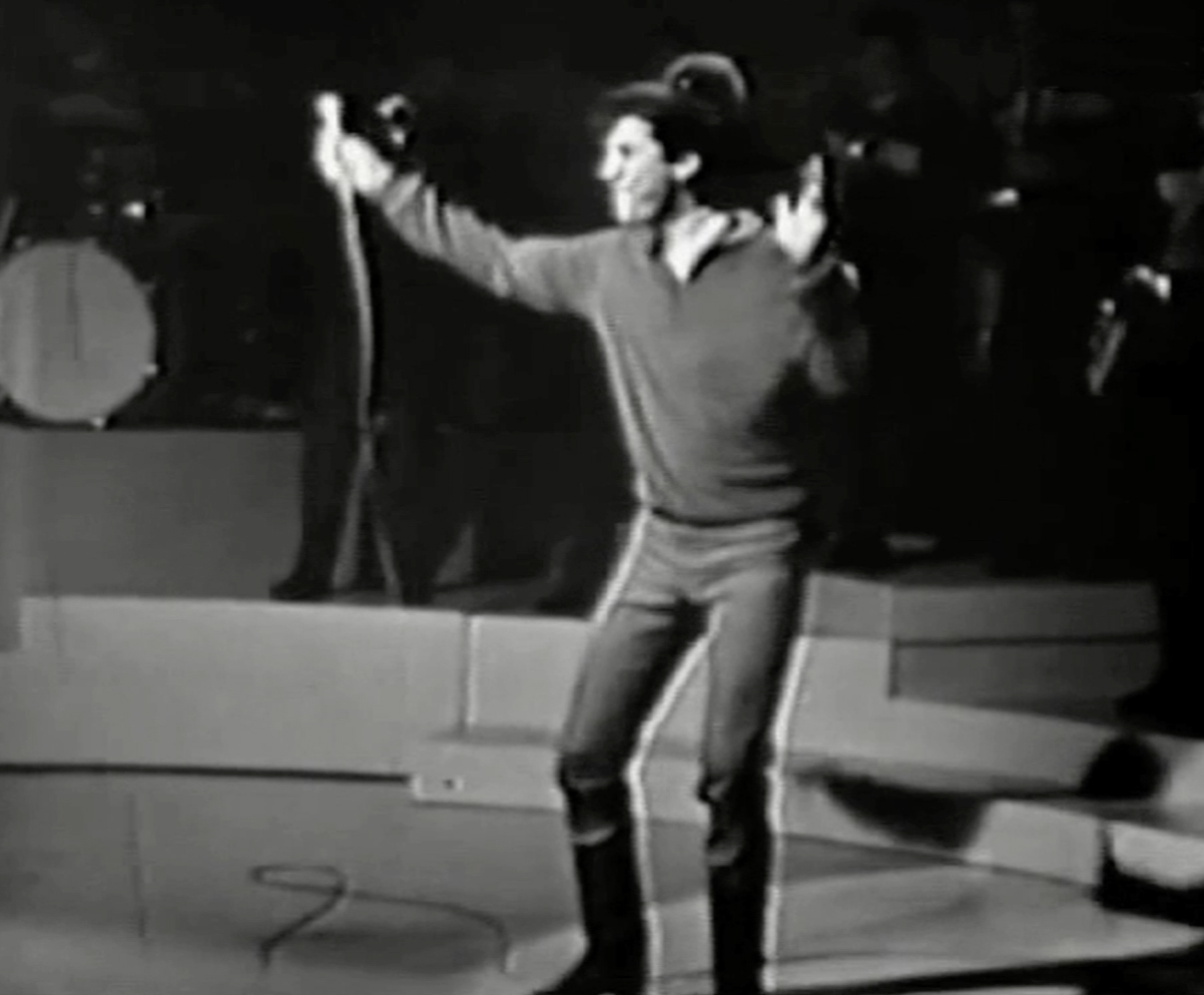 A smashing debut on Shindig in 1965, performing with Bo Diddley...
Ruben has been living proof of indestructible spirit and unlimited determination, inevitably finding new ways to express his creativity and champion Chicano culture.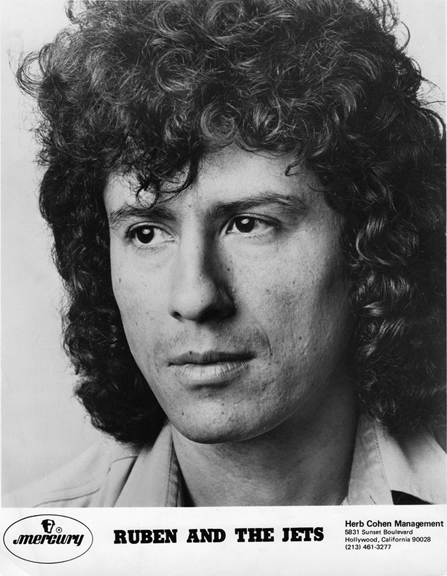 Rock-star status in the 70s...
As of this writing, production is scheduled for April 2021.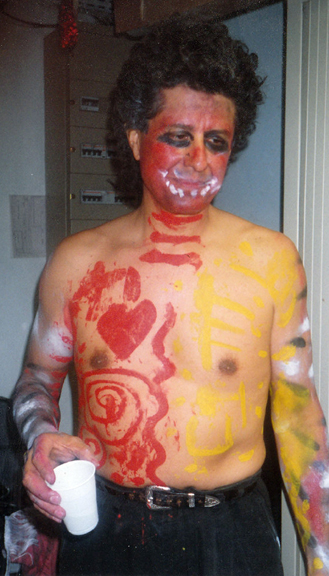 Performance art in the 80s...
"Con Safos" is slated to air in September 2021.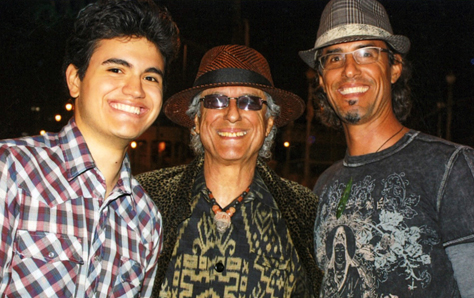 A proud father today (l-Ruben Guevara III, r-Ben Guevara)
Dan's main contribution will be collaborating with Ruben Guevara III in writing the script, directing, and consulting on visual imagery and music with production team Moni & Mike Vargas of NuYorktricity.
---
---
The Pico Project (working title: WE WERE ALL HERE)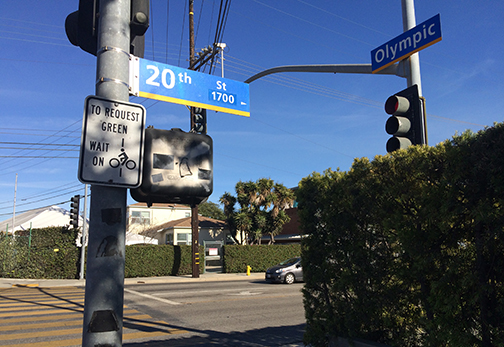 Heart of the "La Veinte" neighborhood
January 2021: Dan continues developing a new storytelling piece in collaboration with long-time artist-friend Paulina Sahagun about the history of his Santa Monica neighborhood, once known as "La Veinte". Centered around the intersection of Olympic Blvd. and 20th Street (hence "veinte"), the creation will result in a video which will be streamed online.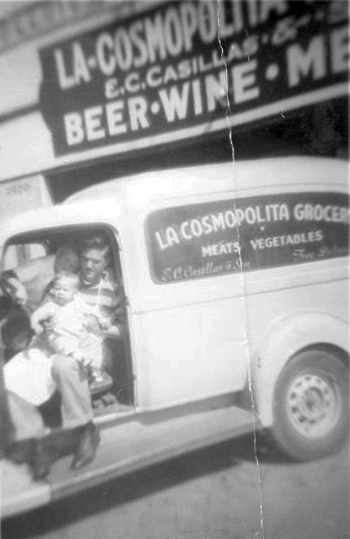 "La Cosmopolita", which later became the Casillas Market
The piece will focus on one Mexican American clan in particular: the extended Casillas family which constituted the largest single family ever to immigrate to Santa Monica from Mexico, and which settled in the neighborhood where 18th Street Arts Center is located.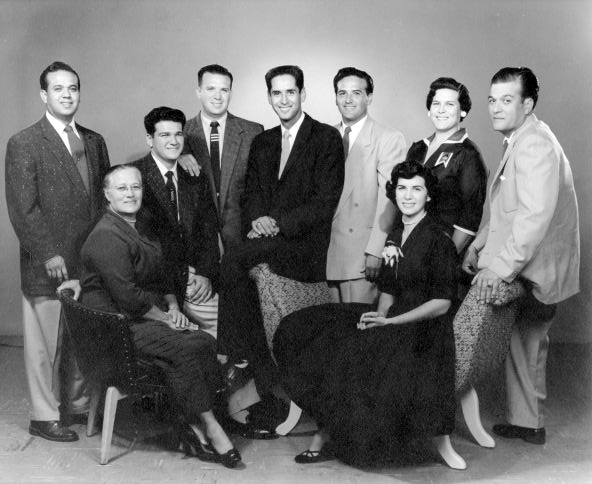 Virginia Casillas (seated left) and her proud brood
This extraordinary family has a fascinating history in the Santa Monica community dating back to the early 1900s. In many ways their history reflects the evolution of the city itself, and the story of many immigrant families in America.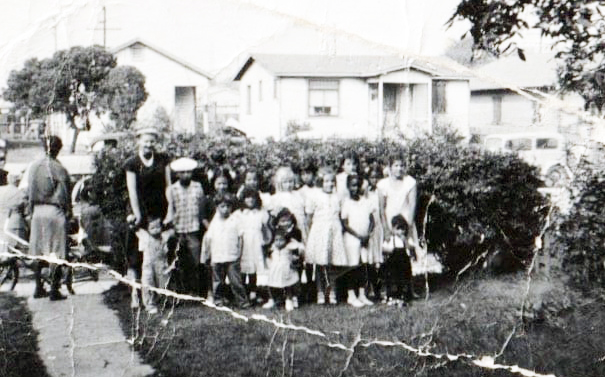 19th Street, ca. early-1940s
Several initial interviews with Casillas family members have already been conducted, and now Dan is busy collecting all kinds of imagery (archival and family photos), as well as fabricating a 20' long timeline to visualize the history of the neighbrohood.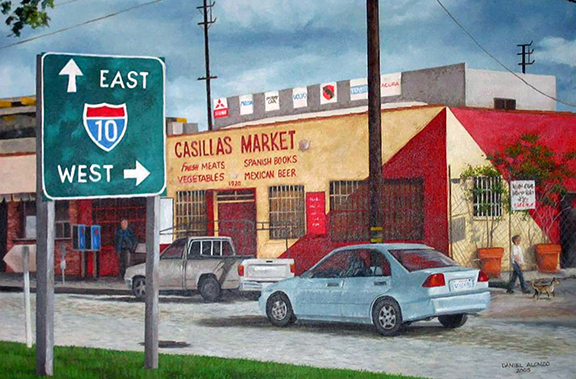 Casillas Market, painted by family member Danny Alonzo
Sadly one of Dan's interviewees, 90 year-old Clara Becerra Casillas Primo, passed away in January 2021 due to complications from a December heart attack. Clara was an absolutely delightful person to speak with, and hearing her stories of life in La Veinte was an honor. Dan is dedicating the piece in her memory.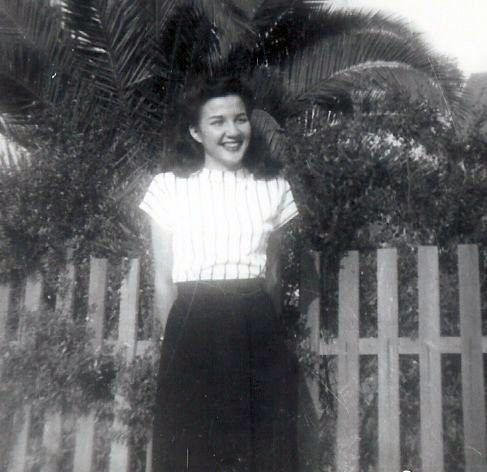 The late Clara Primo (1930-2021) - a gem of a person!
As of this writing the premiere date for screening/streaming of the piece is set for the weekend of June 26, 2021.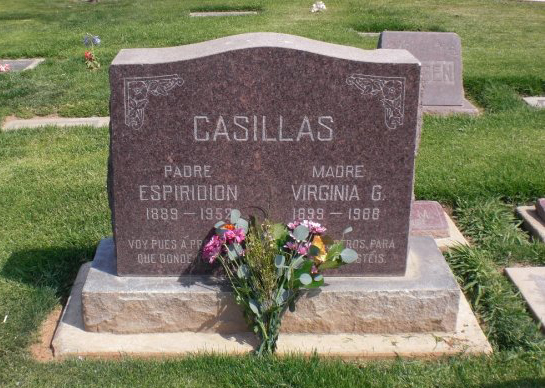 Resting place of Espiridion and Virginia Casillas, influential Santa Monica citizens
---
---
Zoom-land, Internet
TADAIMA!
VIRTUAL CAMP PILGRIMAGE
The lovely Erin Aoyama was our online host
July 25, 2020: For this COVIDian livestreamed event, Dan was invited to present excerpts from his stageplay-in-progress, MASAO AND THE BRONZE NIGHTINGALE. He selected three scenes, all from the first act, to represent the play. Initially it was all going to be done live with seven actors but after considering the potential technical pitfalls, Dan decided to produce pre-recorded video clips for the scenes which would enable him to have more control over the product. In preparation, he recorded a Zoom-reading with the seven actors on July 11. After some re-shoots the following week, he chopped up and re-assembled actor's performances into a hybrid video edit which was part Zoom playreading and part film. (YouTube links below!)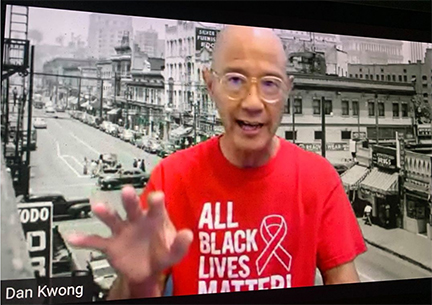 It was a tremendous learning experience for Dan, providing invaluable insights into the art of directing as well as the play itself.
Some viewers enjoyed it so much they half-jokingly suggested Dan produce the entire play in this manner. But after 100+ hours just to create these three short scenes, he's a bit leery of that commitment.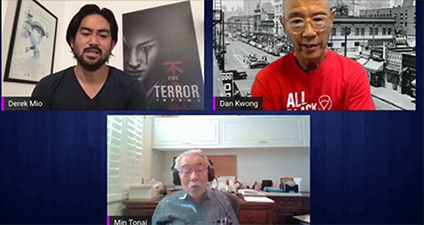 Derek, Dan and Min chewing the fat...
The playreading was followed by a lively discussion with talented young actor Derek Mio (with whom Dan worked in 2003 on Chris Tashima's short film, "Day of Independence") and beloved JA community leader Min Tonai (who knew Dan's mother and grandfather back in the day), who regaled us with vivid stories from his long history in the local JA community.
Click below for the archived video from the entire actual event on July 25th. Watch this one to see the inteview with Derek, Min and Dan. Dan is introduced at 7:56 mark; Derek comes in at 39:00; Min joins us at 1:09:00.
Click below for Dan's self-posted video of the playreading only. This has better quality picture and sound, some more simple graphics, and additional credits!
---
NEW YORK TIMES
July 1, 2020: Dan was quoted in this NY Times article about the resiliency of Little Tokyo...
---
Santa Monica, CA.
DRIVE-BY ART
"Solar System Distancing"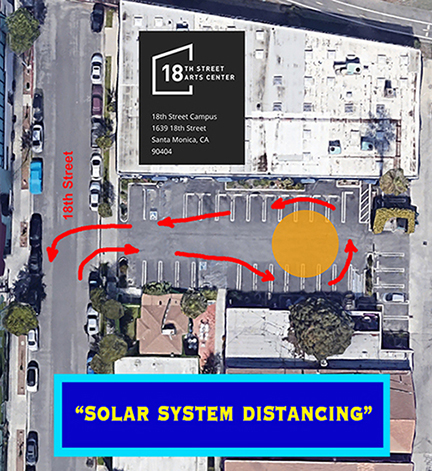 May 30-31, 2020: This was another pandemic-inspired art project, originating on the East Coast and with a So. Cal. IN-CAR-nation (unsubtle pun) over a couple weekends -- the last of which was marked by the beginning of national/international protests against police violence...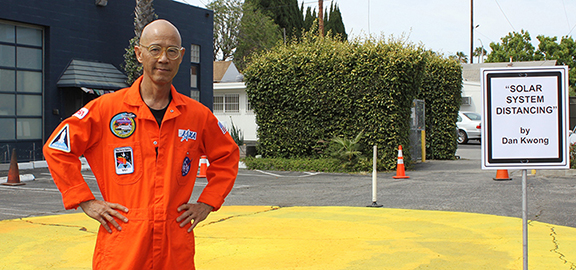 A reflection on the relativity of distance and proximity...
The basic idea of this exhibition was to have artists create outdoor works that could be viewed from one's automobile. There were over 100 artists who displayed work in a variety of media. May 23-24 was slated for all artworks located east of Vermont Avenue, and May 30-31 for those on the westside (including Dan).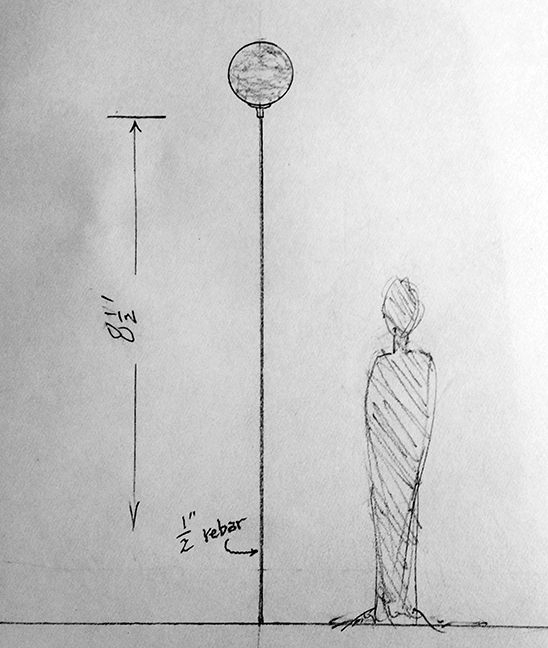 Dan chose to create a scale-distanced model of the solar system, starting with the Sun painted on the asphalt parking lot of 18th Street Arts Center --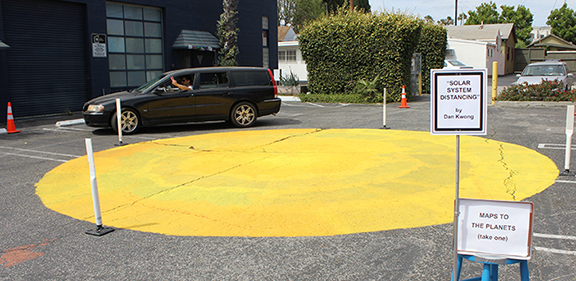 Enter parking lot, grab a set of directions, do a lap around the Sun and GO!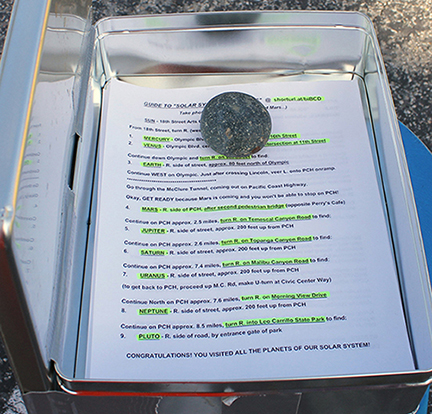 -- and with sculptural models of the planets (including rejected Pluto) placed at appropriate mathematically-calculated distances away from the Sun.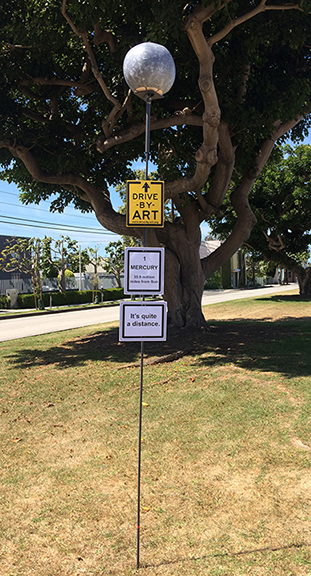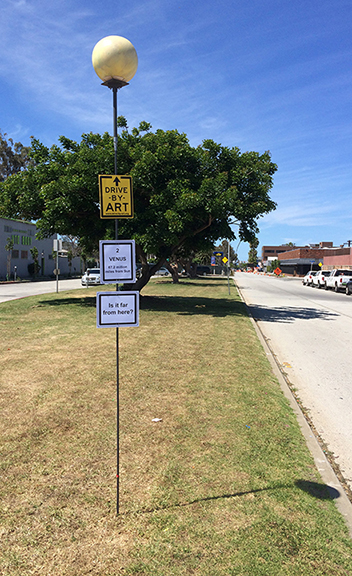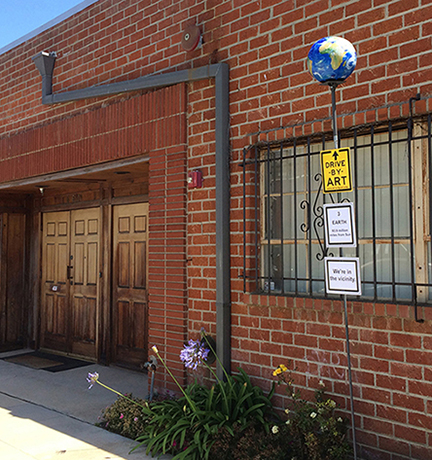 The inner planets - Mercury, Venus and Earth - in the neighborhood, so to speak...
So while Mercury was just 3 blocks away (representing 32.2 million miles), Pluto was 28 miles away at Leo Carrillo State Beach up north on Pacific Coast Highway (representing its 3.67 billion mile distance)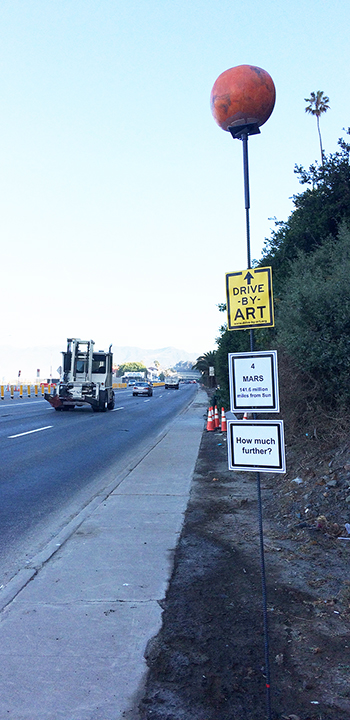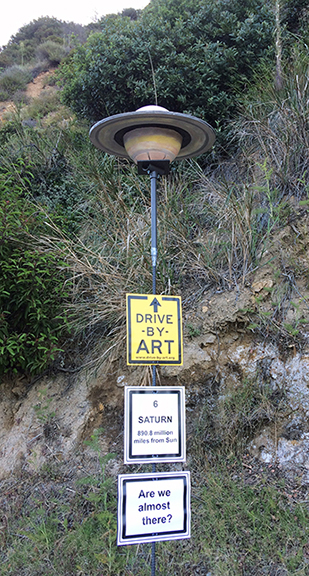 Mars was right on Pacific Coast Highway (yikes). Jupiter at Temescal Canyon; Saturn at Topanga Canyon.
It was a huge amount of labor - doing research on planetary scales, calculating distances, fabricating and painting the planets, painting a 20 foot diameter Sun in the parking lot, creating the mounting system, making signage, scouting locations. The actual installation itself necessitated 120 miles of driving on the first day, and the final de-installation took place just as riots were beginning to break out in downtown Santa Monica...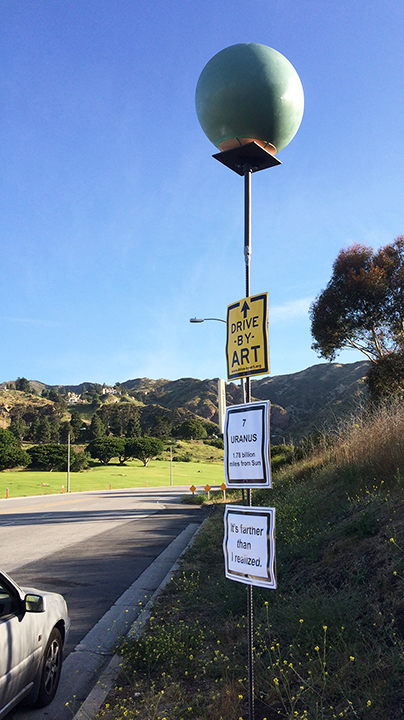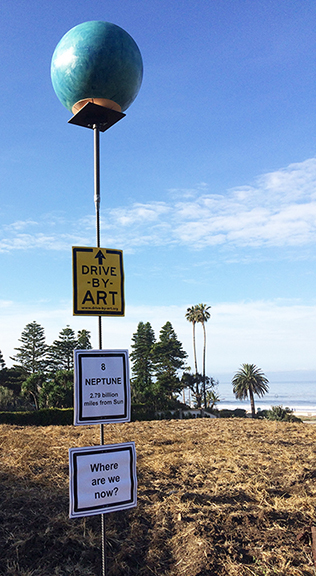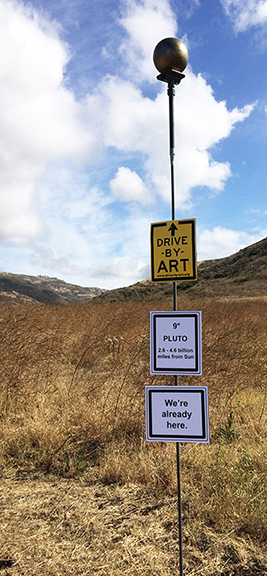 Way out there: Uranus in Malibu, Neptune in Zuma Beach, and sub-planet Pluto at Leo Carrillo Beach...
FABRICATION PROCESS: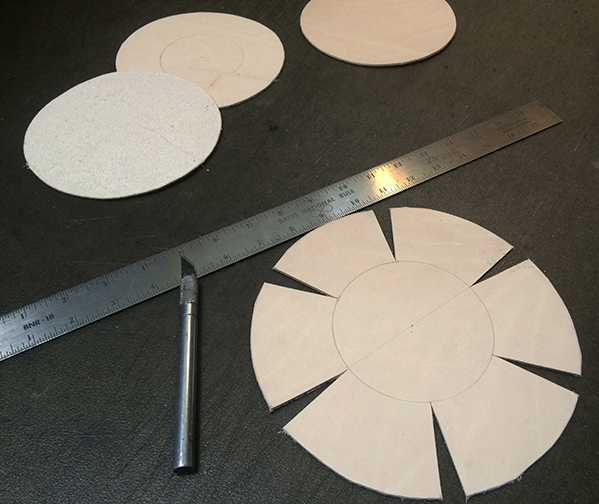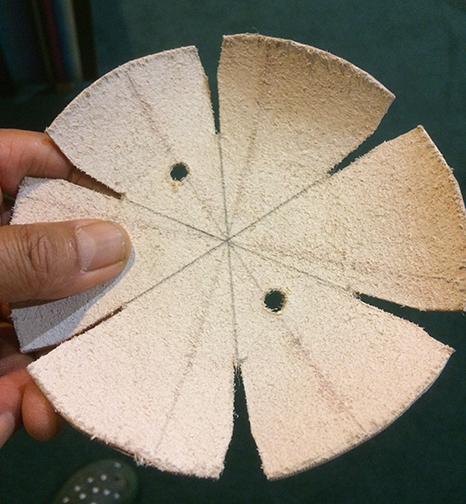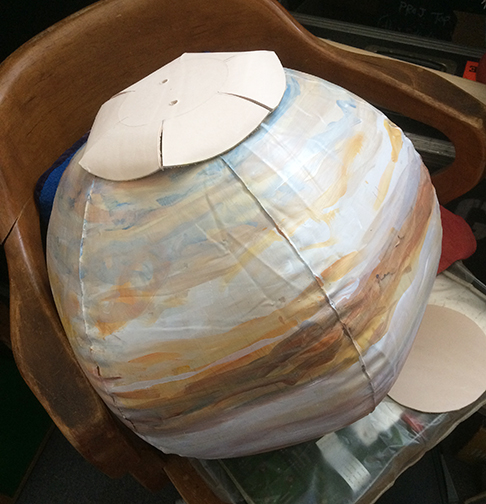 Biggest challenge: How to attach a sphere to the end of a pole? Leather patch solution...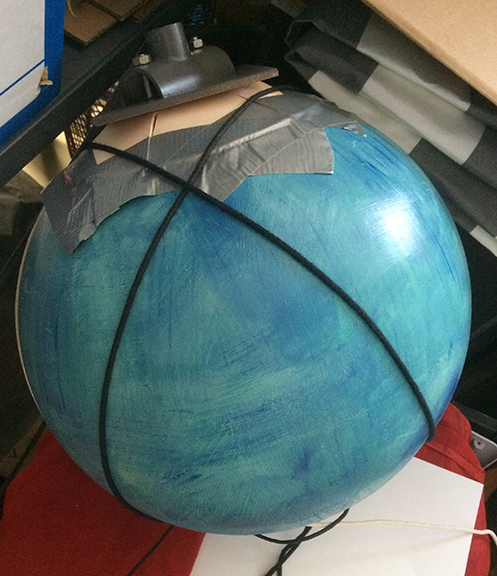 Experiments with various adhesives led to using Liquid Nails and planetary bondage...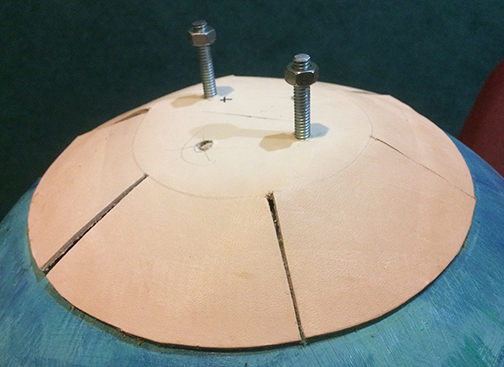 Leather patch with mounting bolts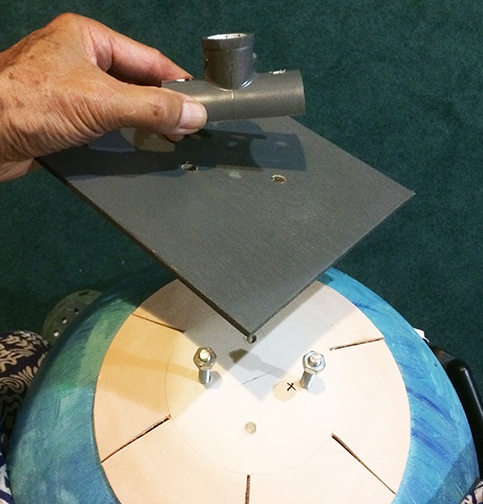 Wooden base plate and bi-sected PVC "tee" joint...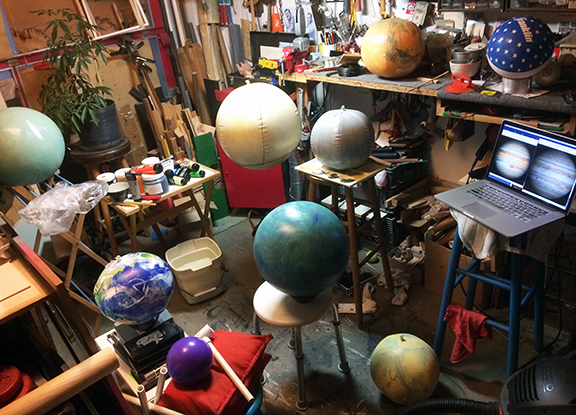 Welcome to Planets R Us...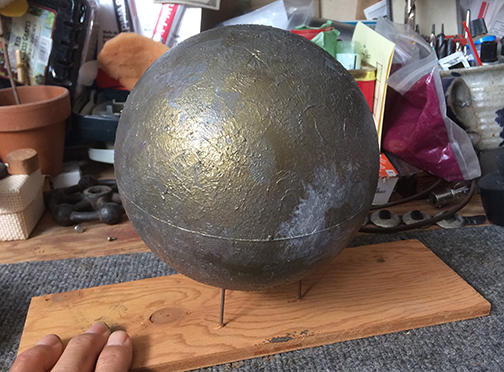 Various materials were used for planets - Pluto was foam rubber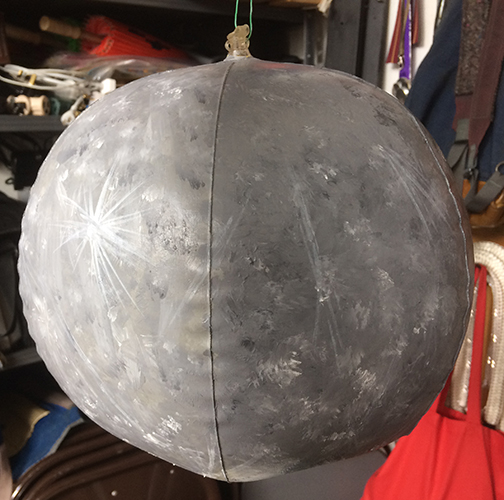 Mercury, Earth, Venus, Mars, Jupiter were inflatable beach balls. (Mercury here kind of looks like our Moon...)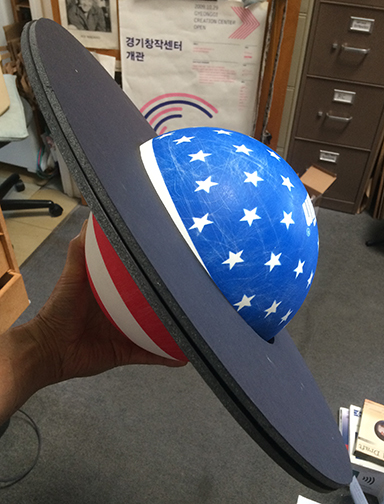 Saturn was the most difficult one to fabricate, as you might guess. (used a playground ball)
Although this was a visual art piece, it did have a certain performative aspect as well. Since this was all being done guerilla-art style, with no permits or permission obtained for placing the planets on public land, Dan was in costume for the installation: white hard hat, two different fake NASA jumpsuits, and even a fake letter for an imaginary "Special Project: ARTISTS RESPOND TO COVID-19".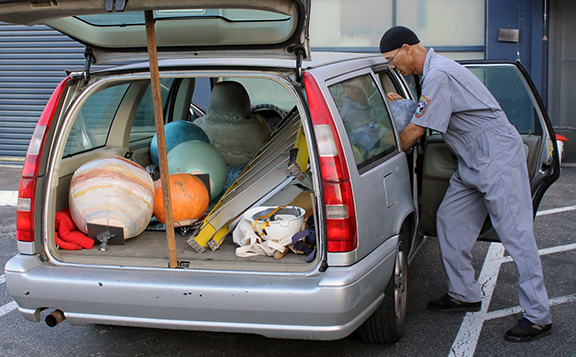 Why a Volvo station wagon? This is why.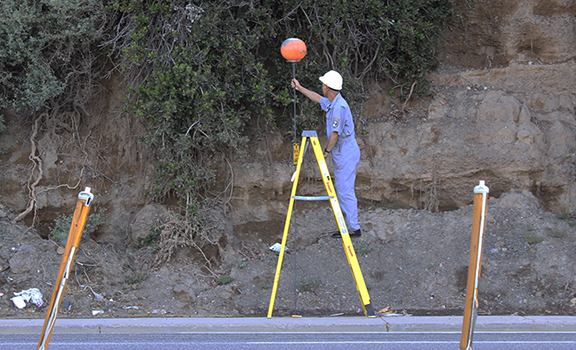 Mars, the riskiest mission: crossing busy PCH multiple times carrying ladder, planet, tools.
The fake letter congratulated Dan on being selected for this event, and listed his permission to install planets at specific locations. He had this on a clipboard, ready in case a police officer should ask what the heck Dan was doing hammering 9-foot long pieces of rebar into the ground. Like a good Boy Scout/Astronaut, Dan was prepared. Fortunately no one ever challenged him!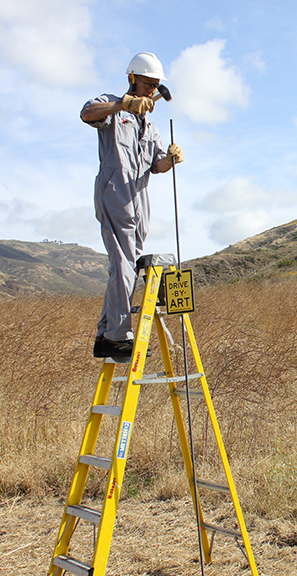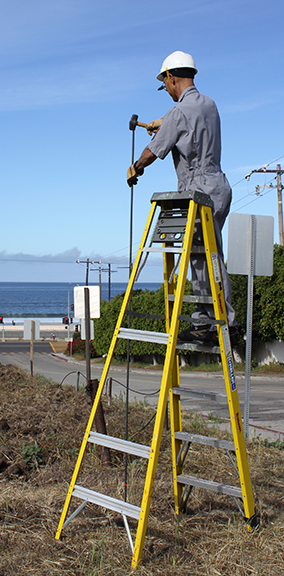 You'd be surprised how difficult it is to hammer a piece of rebar in straight...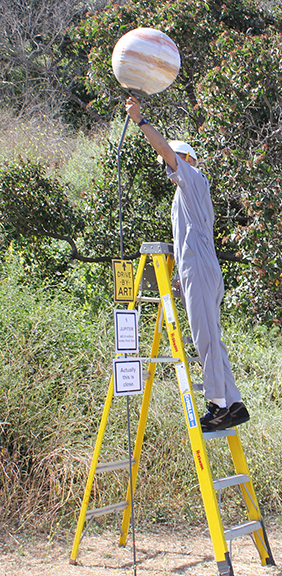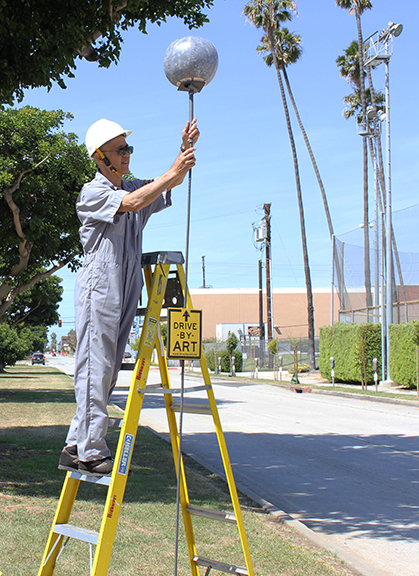 Fun part - putting the cherry on top...
The piece looked great and people really seemed to enjoy it -- even though it's unlikely many folks drove all the way out to see lonely Pluto. (older sis Maria and her husband Gary DID make the trek. Kudos to them!)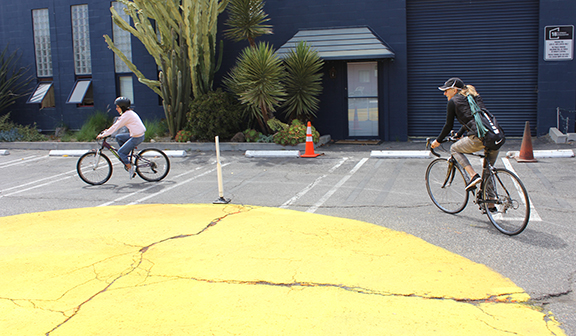 They bicycled around the Sun and lived to tell the tale...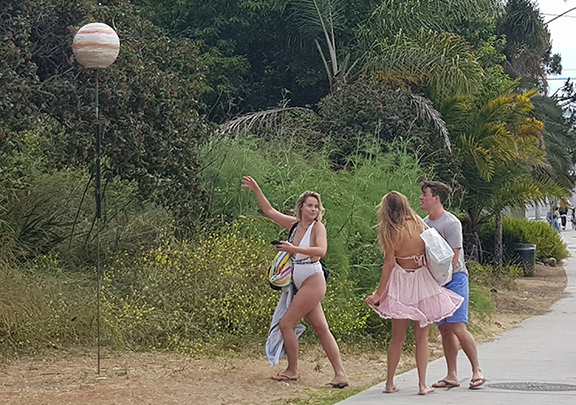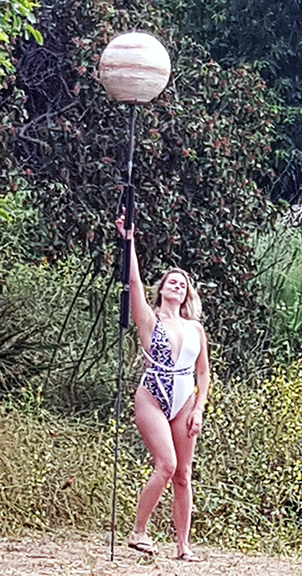 Welcome to Southern California???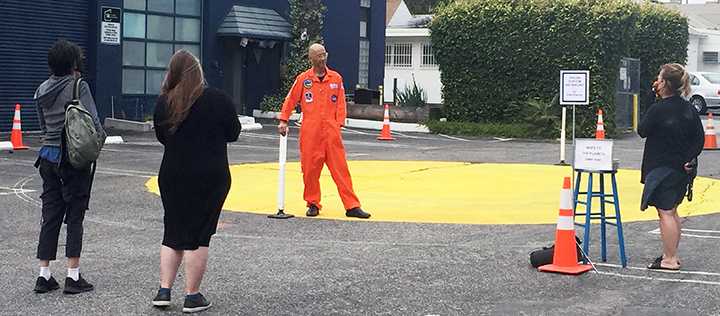 Public interaction at a safe distance...
Special thanks to youngest sister Poppy for being a planetary monitor/guard, along with Kremena Panayatova and Steve Mount! Big thanks also to Masako Miki for photo documentation of the installation process...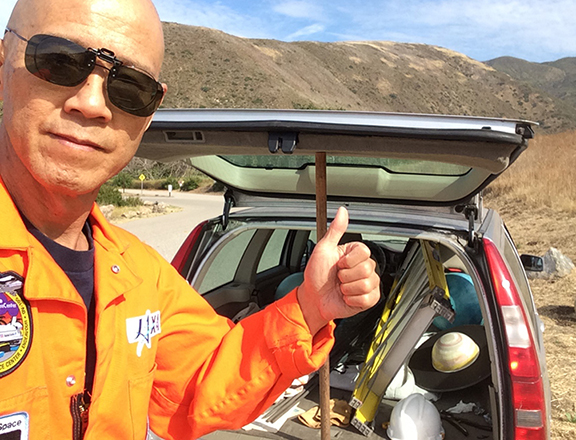 Mission accomplished!
The ending of the event was curtailed by a few hours as the City of Santa Monica and then L.A. County declared an emergency curfew. So in the waning hours of daylight, Dan transformed the parking lot Sun into a statement of support for the humanity of Black people.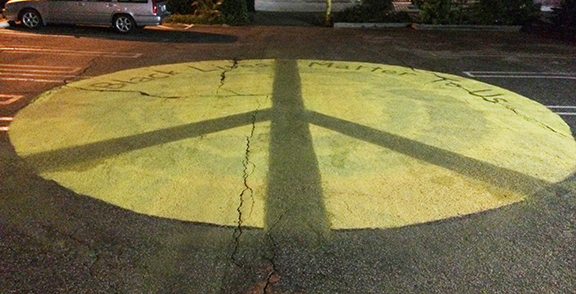 Black Lives Matter To Us, at 18th Street Arts Center
---
---
Virtual Space, Internet
VIRTUAL LITTLE TOKYO EARTH DAY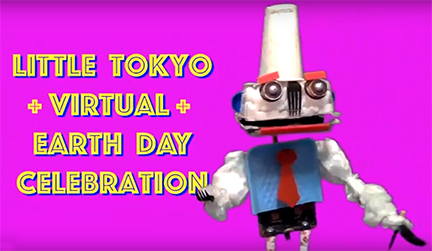 Your Emcee, Styro
April 23, 2020: The first artistic experiment under quarantine-conditions was this online event using Zoom. Dan served as emcee (in the form of his wise-cracking plastic puppet Styro) for a 2-hour presentation of stories about community gardening projects, tips on growing edible plants, a pitch for Okinawan composting methodology (aka "bokashi"), a screening of the Great Leap environmental music video, "Mottainai", and more!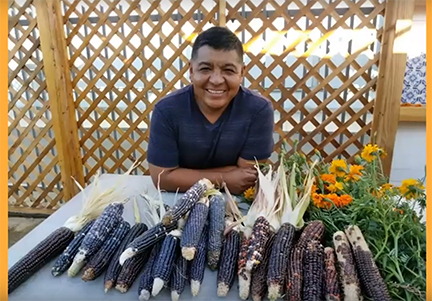 Bounty of a community garden!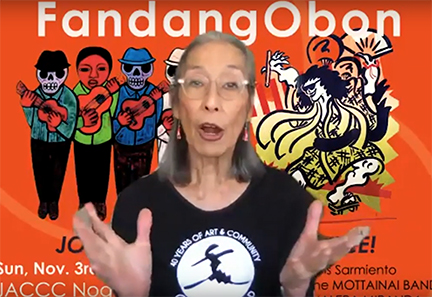 Nobuko talked about the magic of FandangObon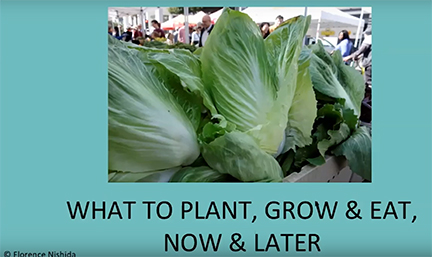 Florence Nishida gave a comprehensive talk on growing your own edible garden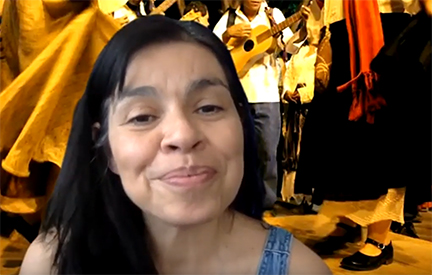 The multi-talented Xochi Flores is now the Producer of FandangObon
People enjoyed the combination of information and inspiration delivered with creativity and cultural flair.
'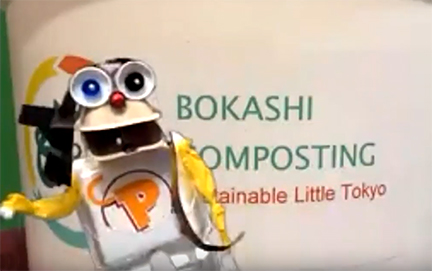 Do you know what bokashi is? Watch the video (below) and find out!
The ebullient Scott Oshima is director of the Sustainable Little Tokyo program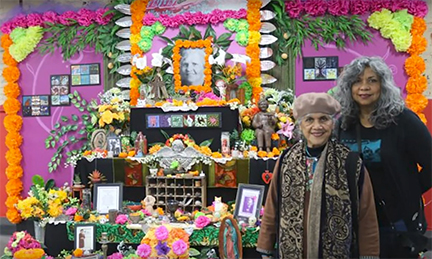 Master Altarista Ofelia Esparza and her altarista daughter Rosanna graced us with a closing blessing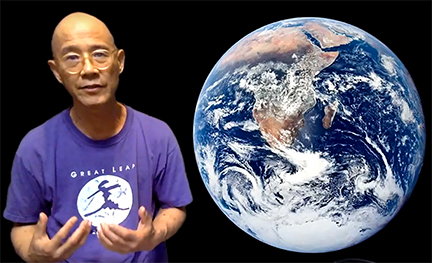 Dan also made a brief appearance in human form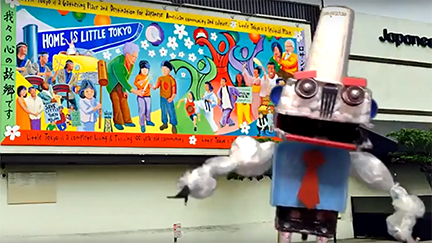 The first Little Tokyo Virtual Earth Day was a success! More to come?
"Styro" was a big hit, and rumor has it he may wind up with his own spin-off in the form of an online talk show. His agent is currently in negotiations...
CLICK HERE TO VIEW >> EARTH DAY VIDEO
---
---
Looking ahead, Dan will be busy...
* DEVELOPING a video for THE PICO PROJECT, a community-based artwork commissioned by 18th Street Arts Center. Dan's piece (working title: WE WERE ALL HERE) will focus on the huge extended Casillas family which began settling in his neighborhood in 1918, ultimately becoming the largest single family ever to immigrate to SM from Mexico. Dan is collaborating with long-time artist-friend Paulina Sahagun.
* RE-WRITING his stageplay collaboration with another long-time friend and colleague Ruben Funkahuatl Guevara, MASAO AND THE BRONZE NIGHTINGALE, an inter-racial love story set in post-war Little Tokyo and Boyle Heights. Based on Ruben's short story of the same name. Produced by Casa 0101 in Boyle Heights, who also produced Ruben's solo show (directed by Dan) in 2016.
* CO-PRODUCING a documentary about the life of the aforementioned Ruben Guevara, with local PBS station KCET along with Ruben's son, Ruben Guevara III. Slated for airing in September.
* WORKING on his own documentary/art video, THE HOUSE ON ROBINSON ROAD, featuring his Chinese great-grandfather's 1930s neo-classical Art Deco home on Hong Kong island. New developments in this story will hopefully lead to exciting discoveries this Spring!
* CREATING a new piece for video (working title: THE DEMENTIA DIMENSION), about Dan's discoveries while handling his parent's respective experiences with dementia in the last years of their lives. The video will be produced by Dan's longtime buddy Gary San Angel.
* REFINING TALES OF LITTLE TOKYO: perfecting multimedia elements, adding more interviews, further editing stories.
* RE-WORKING WHAT? NO PING-PONG BALLS? using recordings of Kenny Endo's exquisite live taiko drumming and percussion and turning them into sound cues which will make the show performable as a true solo piece. (since Kenny is so dang busy himself!)
---
---
REPORTS FROM OUT IN THE FIELD:
---
Los Angeles, California
TALES OF LITTLE TOKYO v.2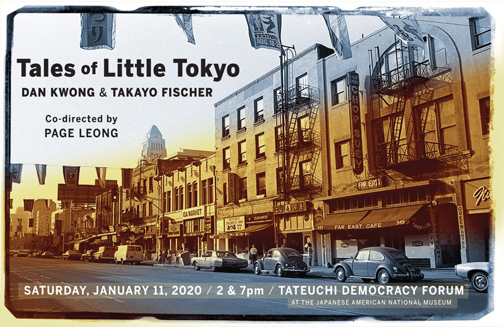 (postcard: VAN DER STEUR DESIGN / photo courtesy ALAN MIYATAKE & TOYO MIYATAKE STUDIO)
Why are communities and their cultural history important?
What do we stand to lose? What have we already lost?
How can communities respond to development vs. preservation?
Co-directed by Page Leong
Performed with Takayo Fischer and Hanna-Lee Sakakibara
Tateuchi Democracy Forum, Japanese American National Museum
January 11, 2020: Starting the new year off with a bang, Dan presented the latest version of this new creation joined by veteran actress and crowd-favorite Takayo Fischer and multi-talented actress Hanna-Lee Sakakibara, and guided by the focused and innovative vision of Co-Director Page Leong. Audience response was overwhelmingly positive!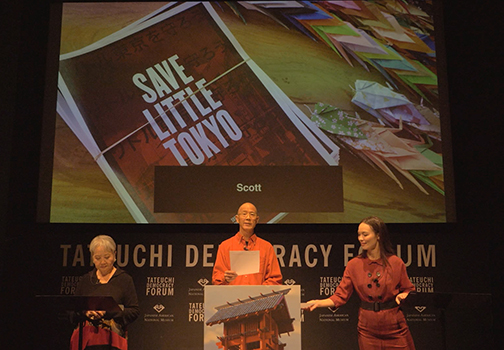 T.O.L.T. is a multimedia live theatrical reading drawn from nearly 60 interviews Dan conducted with L.A. residents about their relationship to Little Tokyo, the oldest and largest Japanese American community in the U.S. Today this 135+ year old landmark faces serious threats to its existence as forces of gentrification and the market economy bear down on its shrinking geography.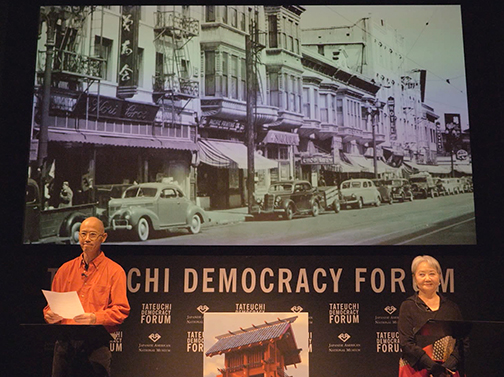 Journeying through time, starting in "the good ol' days" of Little Tokyo...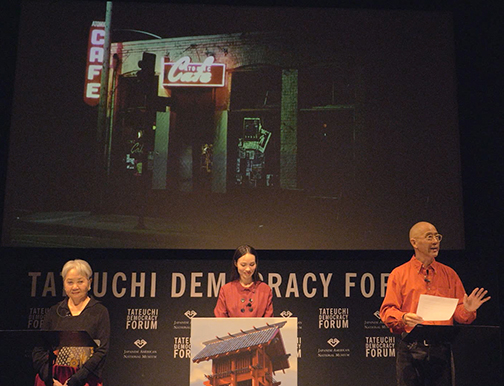 Remembering Atomic Cafe and the punk rock years in the late 70s...
Period music further transported the audience on a decade-by-decade journey from the 1920s to present-day, following the changes and challenges for Little Tokyo through time.
A little impromptu ondo dancing livens things up...
The addition of third performer Hanna-Lee Sakakibara was a very last minute decision inspired by the feverish imagination of Co-Director Page Leong, and proved to be an excellent idea. Dan is learning to agree with Page more and more...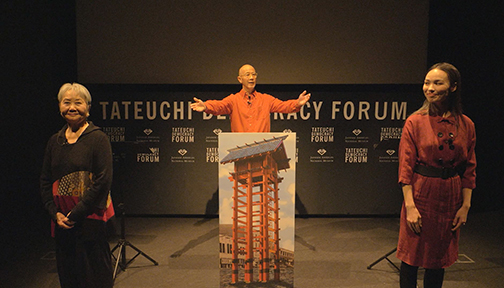 Appreciating Takayo Fischer and Hanna-Lee Sakikibara!
In this newest incarnation of the piece (double in length and content from its initial presentation in July 2018), dozens of personal stories are accompanied by archival photos, family snapshots, and even a few humorous graphics.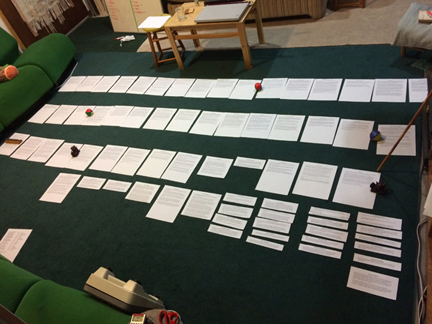 Master script assembly - so many stories waiting to be told!

---
Kobe, Kyoto, Nagoya
JAPAN LECTURE TOUR
November 2019: Dan gave five lectures in three cities in ten days in Japan - and even squeezed in a 24-hour visit to Niigata!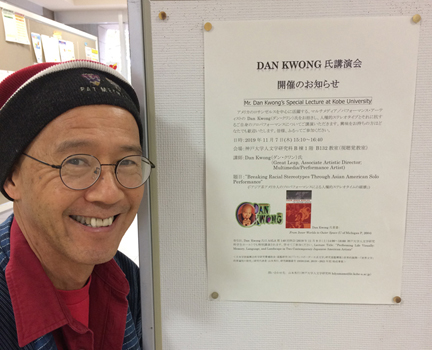 Always great to be back in Kobe!
Starting off with two lectures at Kobe University at the invitation of long-time colleague and friend Prof. Hideyuki Yamamoto, Dan discussed the impact of Asian stereotypes in American popular culture, and the notion of stereotypes in general. One of the best things about lecturing at Kobe U. (Dan's 7th visit there!) is that Prof. Yamamoto has his students write down their thoughts and questions about the lecture, and then gives Dan a stack of xeroxed copies to take home! Very inspiring and moving to hear how students are processing the information and trying to figure out how to apply it to their lives.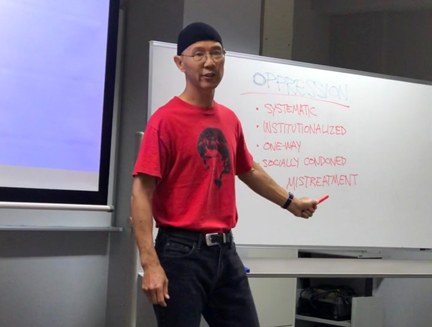 If ya wants ta talk about stereotypes, ya gots ta talk about oppression...
On an off-day between lectures, he was escorted around town by Prof. Alina Anton from Rumania, who has been teaching at Kobe U. for over 5 years now and whose Nihongo skills are quite awesome. Nice to have some free time just to be a tourist...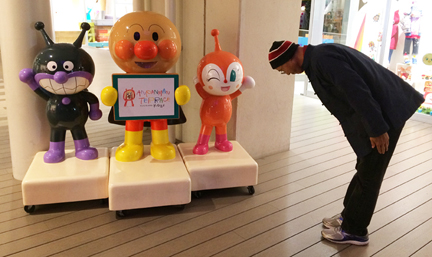 All hail Anpan Man... (yes, there is an Anpan Man Museum in Kobe!)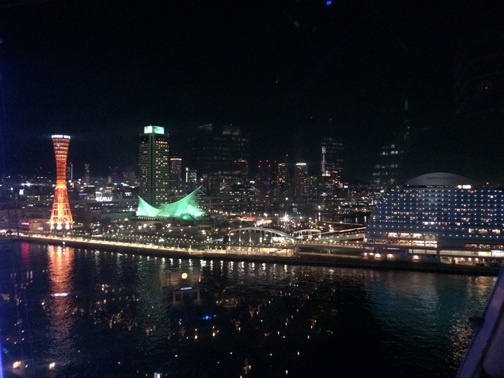 Night view, port city of Kobe
A second lecture at Kobe U. was for a small gathering of the Asian American Literature Association. Dan was on a program with two other visiting professors, and for his part he presented video clips from TALES OF CLAMOR, the show he directed in early 2019 (scroll down for report).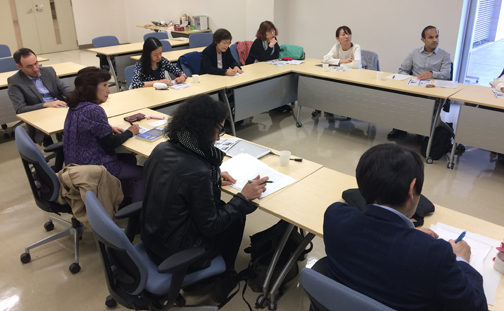 AALA members - some heavy-duty brain power in the room...
Then a short train ride to Kyoto to give two lectures at Doshisha University in a visit coordinated by Prof. Masumi Izumi and Prof. Susan Pavloska.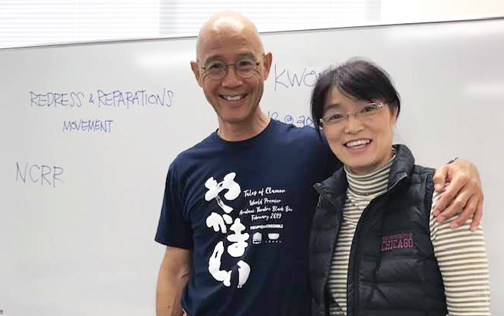 Prof. Masumi Izumi - a super-busy person!
Lecture topics were WHAT? NO PING-PONG BALLS? for students of Prof. Pavloska (who provided the most awesome o-bento lunch ever), followed by TALES OF CLAMOR for Prof. Izumi's thoughtful students.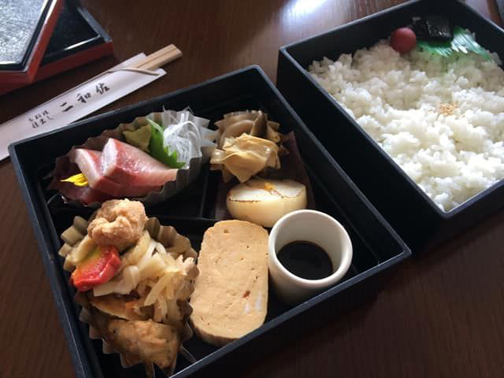 Thanks to Prof. Pavloska for this amazing lunch!
While in Kyoto, Dan enjoyed the home-stay accommodations at "Matsui House", where he slept in an old-style tatami room kind of like at your Japanese granny's...
Matsui House - a lovely old home-stay in a quiet area of Kyoto
From there Dan took the shinkansen (bullet-train) to Nagoya to speak at Aichi Prefectural University (his 4th visit there), hosted by the always-gracious Prof. Mizuho Murayama. This final lecture was again about WHAT? NO PING-PONG BALLS?, the story of Dan's mother's life.
Wrapping up the trip, Dan spent his last night in Japan in the "9-HOURS" capsule hotel at Narita Airport, fulfilling one of his long-held dreams. Fun!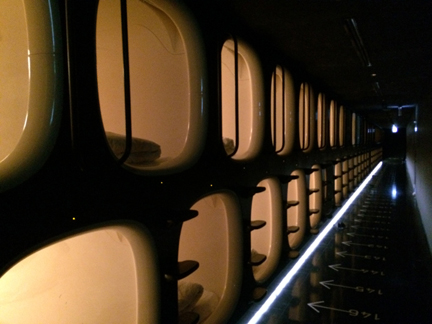 Love the futuristic look.
Some people have weird dreams...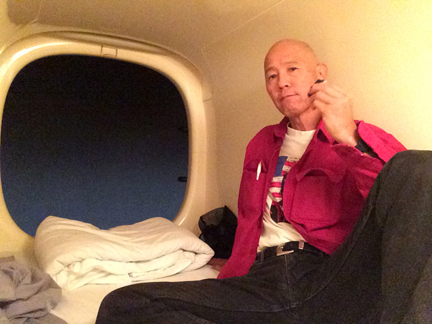 It was quite comfy!
A very physically-demanding but wonderful visit to the motherland, marked by sweet connections with friends, making new ones, and of course plenty of fantastic food!
Prof. Yamamoto agrees - regional-style zaru soba in Kobe is fantastic!
---
Saigon & Hue, VIETNAM
WHAT, NO JOB?
October/November 2019: It's a long story, folks - but thanks to his buddy Ham Tran, Dan wound up spending 3 weeks in Vietnam, kind of on vacation...
Most of the time Dan was in Saigon, where the cultural highight was attending an amazing indigenous religious ceremony at the invitation of another old friend "JV" Mai The Hiep.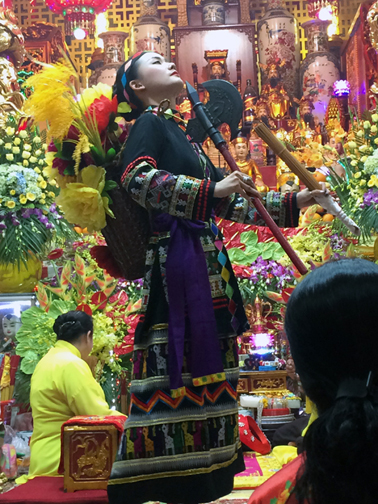 This ceremony went on for hours, with some 20 costume changes by the participant!
Another highlight was a short visit to Hue, the ancient capital of Vietnam - arriving in the midst of a typhoon! Nonetheless, Dan enjoyed the charming beauty of this small town and visited as many historic sites as possible. It was a blessed relief from the intensity of Saigon...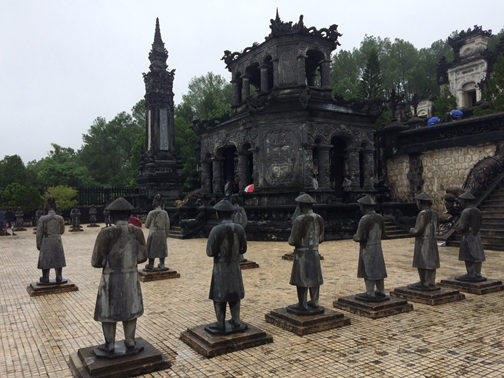 Tomb of Emperor #12 in Hue - statues of mandarins and soldiers stand guard
This was Dan's third visit to Vietnam in the last 3 years, and he looks forward to exploring more and more in this wonderful country!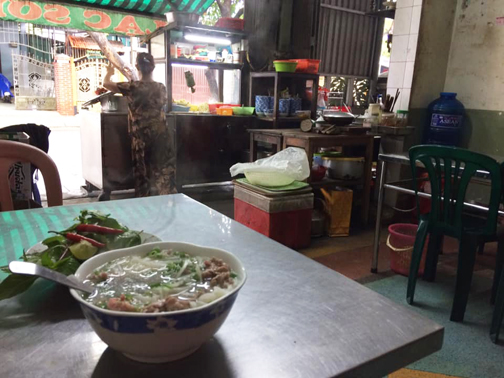 A delicious bowl of pho at this little neighborhood cafe - 2 bucks (tourist price)
Note: it was also the first time Dan did NOT get sick from the air pollution in Saigon, thanks to his new N99 breathing mask!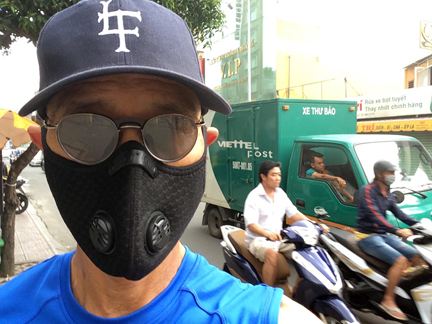 Protection from coronavirus too...
---
ONLINE PUBLICATION:
NIKKEI CHRONICLES: HEROES, TRAIL-
BLAZERS, ROLE MODELS & INSPIRATIONS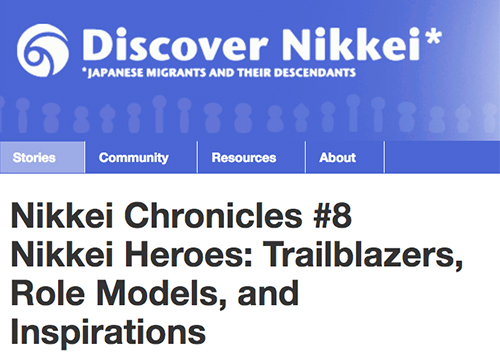 http://www.discovernikkei.org/en/journal/chronicles/heroes/
October, 2019: Dan served on the editorial committee for DISCOVER NIKKEI to select an English language essay that best exemplified the above theme.
He chose Edna Horiuchi's piece about Nisei artist Mine Okubo. Follow the link above to read Edna's wonderful essay and see what Dan had to say about it!
---
Los Angeles, California
FANDANGOBON VII
a community art event produced by Great Leap, JACCC, Quetzal
Japanese American Cultural & Community Center
October 6, 2019: For the 7th year in a row, Dan directed this joyous event in the Noguchi Plaza of the JACCC.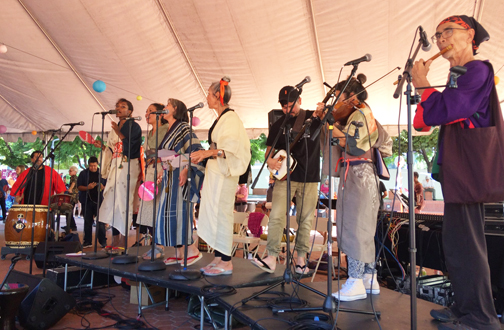 Just part of a killer line-up of musical talent!
FandangObon features world-class musicians performing traditional music from Japanese, Mexican and West African cultures, plus new hybrid collaborative compositions.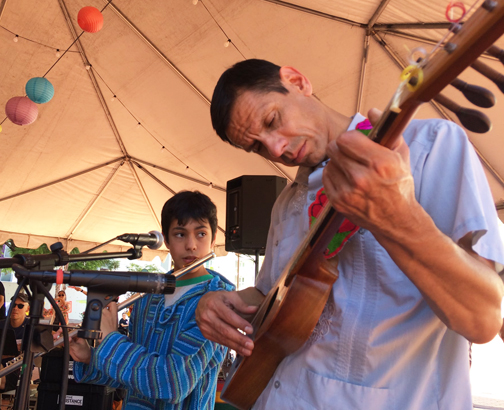 Papa Quetzal and young Sandino - a master musician and his prodigy son
FandangObon draws 400-500 people into the Plaza where they not only hear this beautiful music, they dance in the big circle with master teachers instructing.
Nobuko, Sean Muira and Tylana Enomoto jamming good...
It's a festive day-long celebration that has grown to include the Muslim tradition of Hadrah, a meditative dance movement.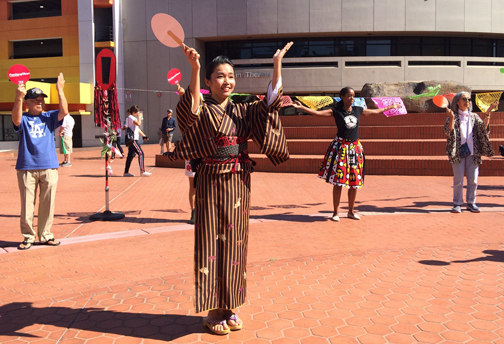 Chie Saito, a new member of the artistic team, helped lead the ondo dancing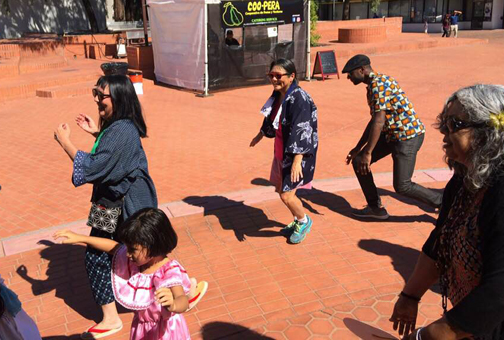 My older and youngest sisters Maria and Poppy joined the circle this year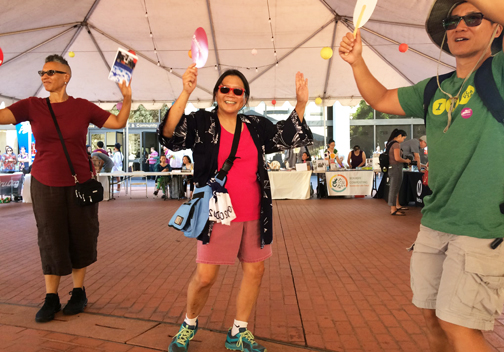 Poppy has been dancing ondo in Little Tokyo for over 40 years!
This year featured the premiere of a new song and obon dance by Nobuko Miyamoto entitled, "120,000 Stories". The song draws parallels between the WWII incarceration of Japanese Americans and the present day incarceration of refugees at our borders.
---
Los Angeles, California
PAST PRESENT:
Conversations with the Future
a performance event by traci kato-kiriyama
Japanese American National Museum
August 28-30, 2019: Dan served as Technical Director for traci's culminating performance in the +LAB Little Tokyo Artist Residency - the same residency Dan participated in the previous year.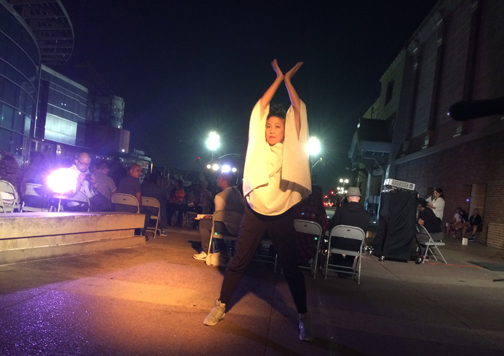 traci kato-kiriyama combines movement with text and video imagery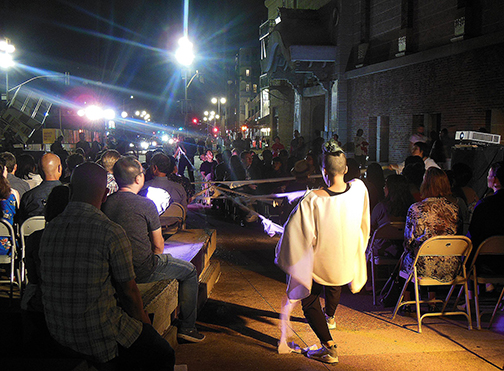 Dan's main responsibility was to figure out how to light an outdoor event in a very challenging configuration with minimal equipment - a classic Kwong-situation (ha-ha). He was quite pleased with what he came up with...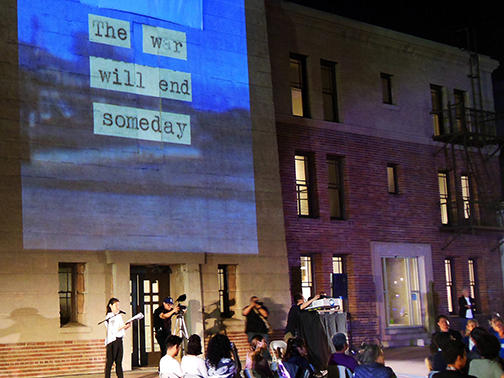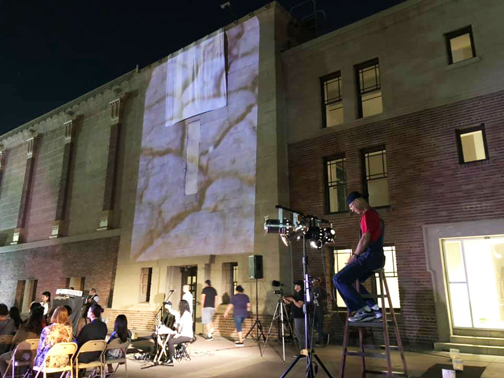 Best seat in the house?
Dan was pleased to support this powerful piece based on historical and contemporary correspondence of people incarcerated by the U.S. Government for dubious reasons.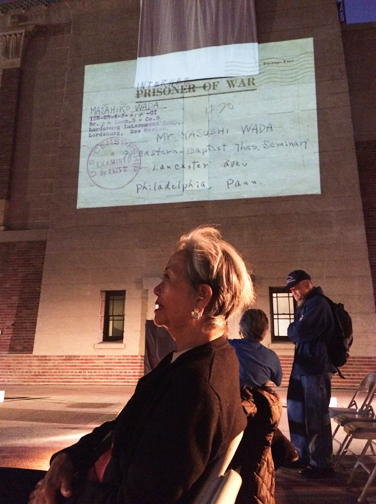 Takayo Fischer looks on. Projection of archival correspondence in bkgd.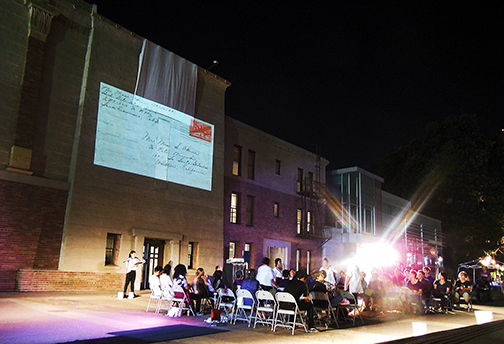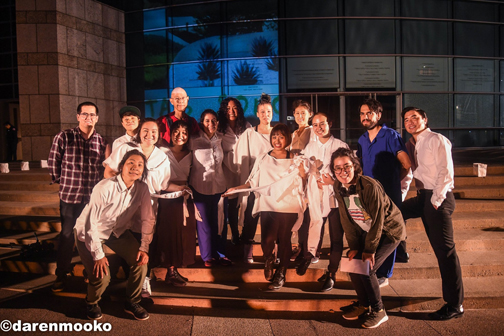 Cast and Crew pose in front of Japanese American National Museum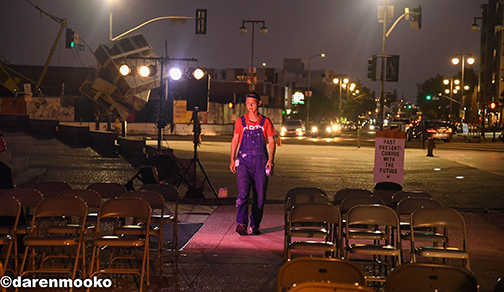 Checking sight lines...
---
Los Angeles, California
MASAO AND THE BRONZE NIGHTINGALE
Series of Playreadings
Casa 0101 Theater, Boyle Heights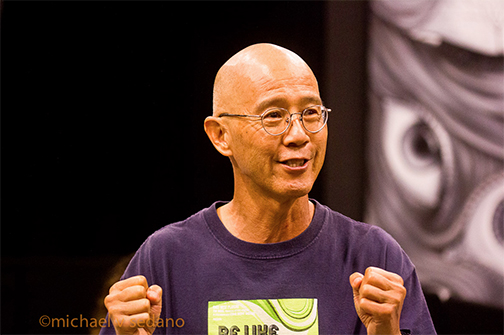 Dan and Ruben have been working together for many years
March 31, June 2, July 21, August 25, 2019: Teaming up again with his old friend Ruben "Funkahuatl" Guevara, Dan has been collaborating to adapt Ruben's short story into a stageplay about cross-cultural love and music in post-war L.A.
Jose Garcia and Roberta Martinez reading as Mr. and Mrs. Casillas
During WWII, Little Tokyo - which became a virtual ghost town after the forced removal of Japanese Americans - was transformed into a thriving Black community known as Bronzeville.
Once the war was over, thousands of JAs returned from camp to resume their lives, resulting in an unprecedented intersecting of Japanese and African American communities in L.A.
Along with the historically diverse community of nearby Boyle Heights, this is the setting for "Masao and the Bronze Nightingale", the story of a rebellious JA bebop musician and a talented African American jazz singer whose budding romance sets off alarms as Japanese, African and Mexican Americans wrestle with the obstacles of racism and internalized racism between and within themselves. And yes, that is a terribly long sentence...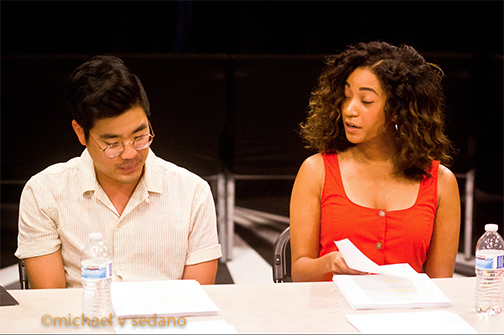 Scott Takeda and Samantha Lawrence as Masao and Charlene, the lead couple
The year 2019 saw four successful public readings of the play at Casa 0101, and Dan and Ruben will be continuing to develop this piece in 2020, hoping for a full-staging in 2021.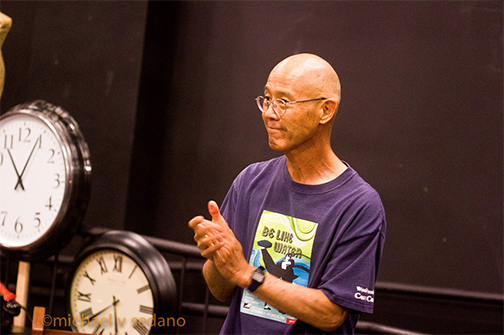 Bravo, gang!
---
Winston-Salem, North Carolina
ARTIVATE SUMMIT 2019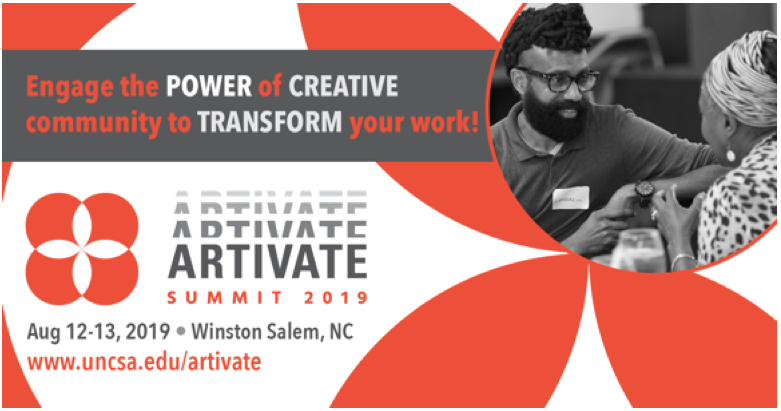 A program of University of North Carolina's
Kenan Institute for the Arts
Mini-performance & workshop
Milton Rhodes Center for the Arts
August 13, 2019: Dan was honored to be invited by Corey Madden to be a presenter at this annual event to recognize and develop the idea of "Artist as Leader".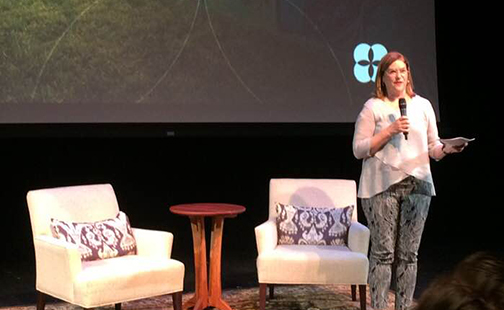 Corey Madden, Executive Director of Kenan Institue for the Arts at UNCSA
Think about it...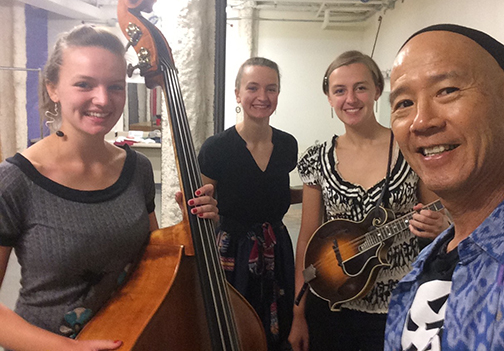 Shared the stage with the amazingly talented Dan River Girls trio (all sisters!)
He performed a brief excerpt from "TALES OF LITTLE TOKYO" and led a participatory workshop on the personal story in societal context (aka why the personal is STILL political!).
He also found some tasty black-eyed peas...
---
Taiwan
Milk, Missiles & Mr. T (working title)
Collaboration w/ filmmaker/poet Tsai Zhi Jin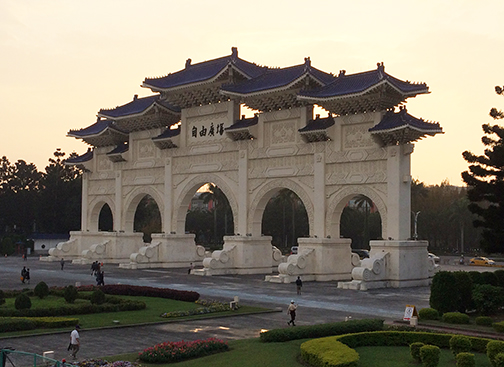 West gate of Chiang Kai-Shek Memorial
February 13 - March 8, 2019: Dan traveled to Taiwan for a three-week residency, doing research for a new multimedia performance with experimental filmmaker/performance artist/tri-lingual poet Tsai Zhi Jin.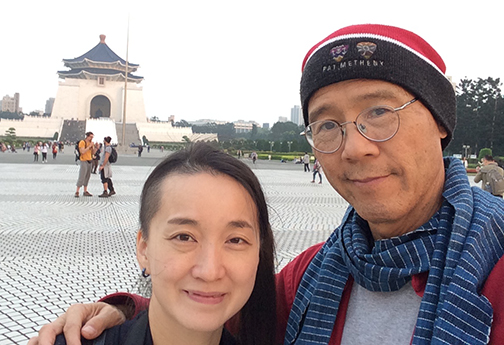 Chiang Kai-Shek Memorial, a humongous site commemorating the former ruler of Taiwan
The theme is US-Taiwan relations past, present and future; drawing poetic parallels between inter-national and inter-personal relationships.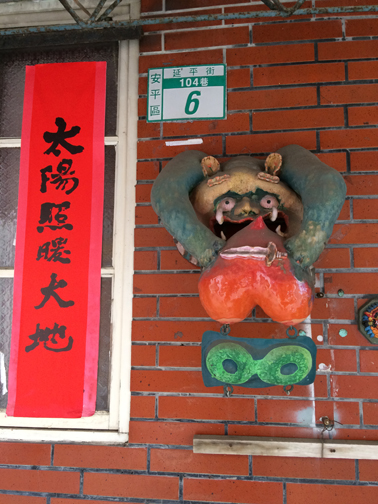 Neighborhood door decoration in Tainan city
In the summer of 2017 Zhi Jin was a visiting artist-in-residence at 18th Street Arts Center, and Dan assisted in the creation and production of her performance.
Working together in 2017 at 18th Street Arts Center
That experience was so satisfying, the two artists decided to try and continue their creative efforts together, and this project is the next step.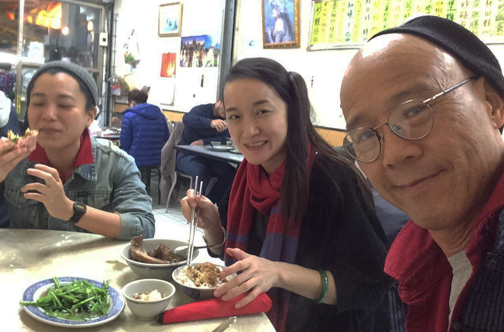 Dinner in Taipei: I-Chern Lai (far left) was a previous visiting artist at 18th Street
First spending 5 days in the capital city of Taipei, Dan and Zhi Jin visited historical sites such as the 228 Museum (dedicated to those killed in the Kuomintang army's massacre of civilians on February 28, 1947), as well as some former U.S. military housing abandoned in the 1980s.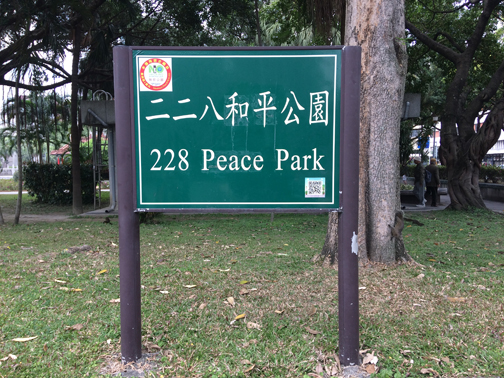 A memorial to the army massacre of civilians on February 28, 1947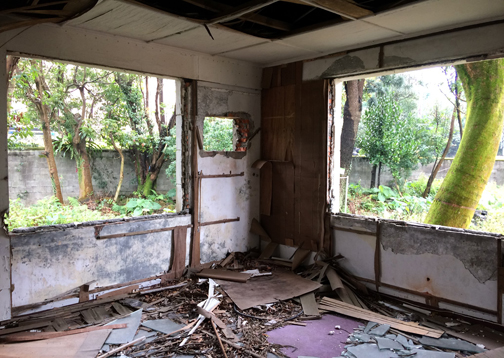 Ruins of former U.S. Army housing in northern Taiwan
The majority of the time the artists stayed in the southern city of Tainan, visiting more historical sites and interviewing local people about their memories of US influence in their lifetimes.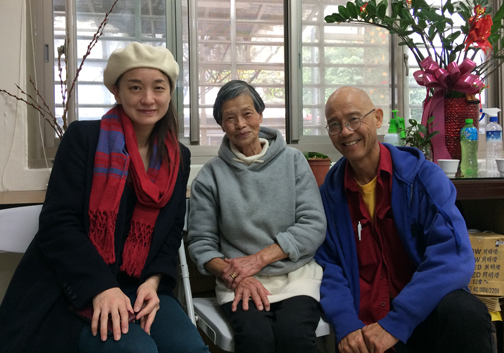 Former bartender for U.S. military functions
Dan and Zhijin interviewed about 8 people including an 80-year old woman who had been a bartender at US military social functions; a man who had been arrested as a teenaged political activist and held as a political prisoner of the Kuomintang government for 15 years; a woman who grew up loving American television shows like "The A-Team"; and a teenage boy whose earliest memories of the U.S. came from playing ultra-violent war-themed video games.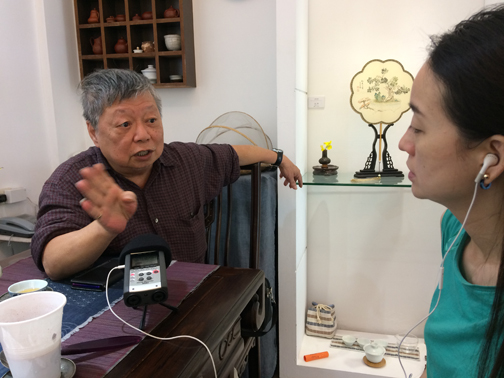 Former activist and political prisoner
More interviews are being conducted, more research being done, and when funding is secured, Dan will return for another visit!
---
Los Angeles, California
TALES OF CLAMOR - World Premiere
Aratani Black Box Theater at the
Japanese American Cultural & Community Center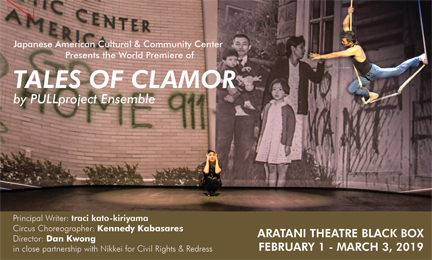 Theater and circus arts together in one amazing show!
February 1 - March 3, 2019: Dan was honored and proud to have directed (while recovering from the third surgery on his left shoulder) this powerful history-based, ensemble theater piece created by traci kato-kiriyama and Kennedy Kabasares! The show was produced by the JACCC and was the inaugural production in their new 88-seat black box theater format, within their big 800-seat Aratani Theatre. In this new format, all audience members are seated onstage with the actors, up close to the action!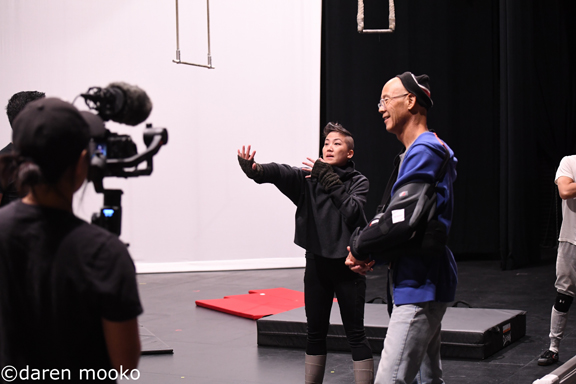 With traci kato-kiriyama, one of the primary creators of the show
"Tales of Clamor" is about a very specific part of the Japanese American experience. After experiencing the American internment camps of WWII, the JA community remained largely silent about their incarceration and its impact upon their lives for decades, until the Re-dress ad Reparations movement of the late 1970s/early 80s.
The multi-layered reasons for this silence are the subject of this performance.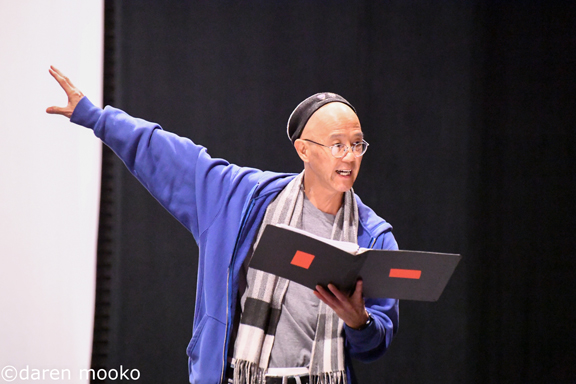 "Then you hang upside down..."
As such, it touches upon racism & internalized racism in general, and Japanese American internalized oppression in particular.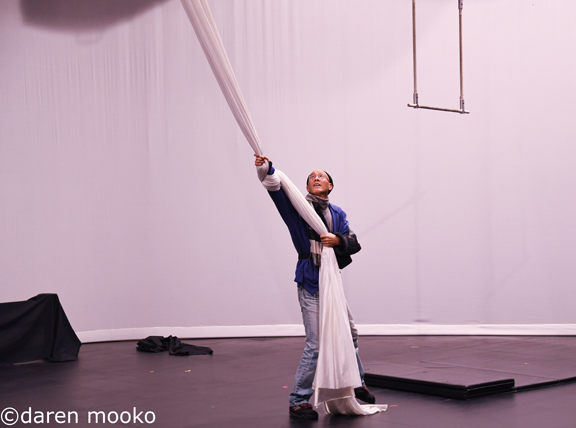 "Okay, try and do it like this..."
From cultural patterns to governmental policies, people's struggles against (and collusion with) being silenced are brought to life in this show with heartfelt sincerity, passion, determination, and just a bit of humor.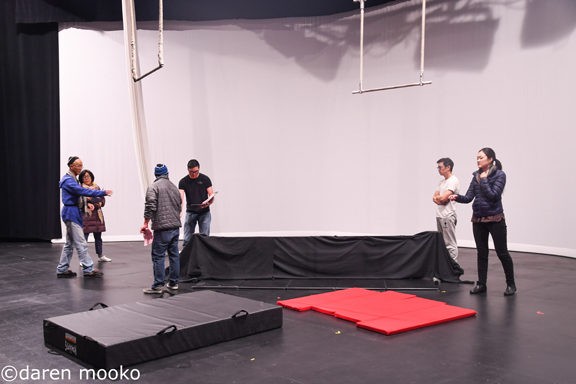 Tales of Clamor is blessed with a dynamite cast!
Brilliant acting by the ensemble of traci and Kennedy, plus Takayo Fischer, Kurt Kuniyoshi, Jully Lee, Sharon Omi, Greg Watanabe, and understudy Dian Kobayashi; captivating circus arts by Kennedy; beautiful music by Howard Ho; compelling visuals by Eddy Vajarakitipongse (projections) and Pete Thornbury (lighting); and wonderful period costumes by Ivy Chou -- all made this powerful show even more special. Dan is extremely proud of this work, and really hopes more people will get to see it in future productions!
---
Manhattan, Kansas
IT'S GREAT 2B AMERICAN
Kansas State University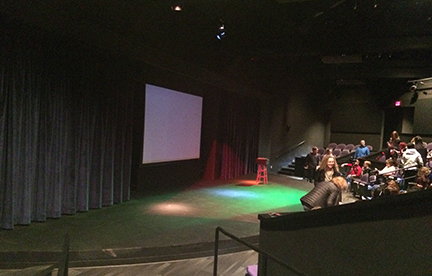 Waiting as audience arrives at the Purple Masque Theatre...
November 30, 2018: Dan returned to KSU for the 4th time, this time performing an updated, further refined version of IG2BA -- the last time he performed it (2012) Obama was President and, uh, things were a little different. The KSU Theater Department was a wonderful host and supported Dan incredibly well.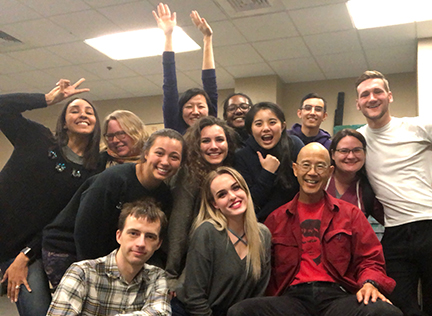 Dan's splendid workshop participants!
He also taught a 2-day workshop on autobiographical storytelling with a wonderful group of openhearted students.
Dan was invited by the very gracious Linda Duke, Director of the Beach Museum of Art on campus, and Aileen Wang was the splendid person who shepherded Dan through the whole experience. He even did an art gallery walk-through of an exhibition by Chinese artist Zhang Hongtu, pretending to be a docent. He may have said a few coherent things...
Dan is also grateful to Jennifer Vellenga (Theater Dept. Head), Jo Sanburg (Lighting Faculty), LaVonne Canfield (Stage Management Faculty), his wonderful student crew, the good folks at Anderson B&B, and of course, Co-Director Page Leong who is steadily becoming indispensible!
---
2018 saw Dan complete 3 major art projects in Little Tokyo - a year of JA connection!
Los Angeles, California
WHAT? NO PING-PONG BALLS?
with KENNY ENDO
Tateuchi Democracy Forum,
Japanese American National Museum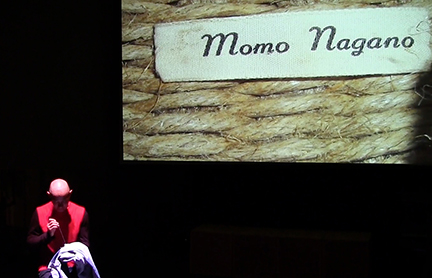 June 1 - 3, 2018: Dan was very excited to perform the latest version of his tribute to single mothers (and his own mom) at the JANM's Democracy Forum. Kenny Endo flew all the way from Hawaii to lend his master artistry to the shows, and three of Momo's finest weavings were on display in the lobby. It was especially satisfying to perform the show in the midst of Dan's 3-month residency project in Little Tokyo.
Skype-call, featuring the brilliant Lauren Tom as "The World's
Youngest Sociologist" (who graduated Summa Cry Louder...)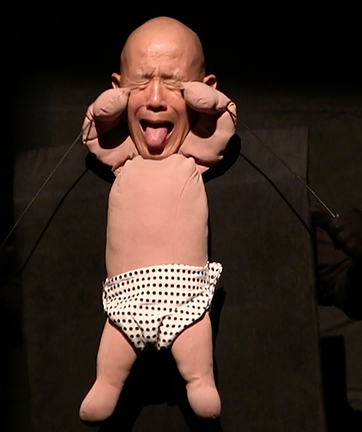 Babies just hate when internalized racism screws things up...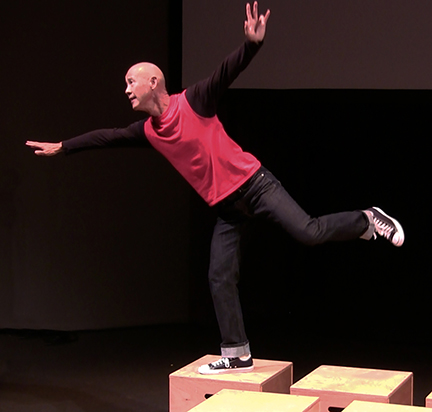 Roller-skating Momo digs Sonja Henie, Olympic figure skater...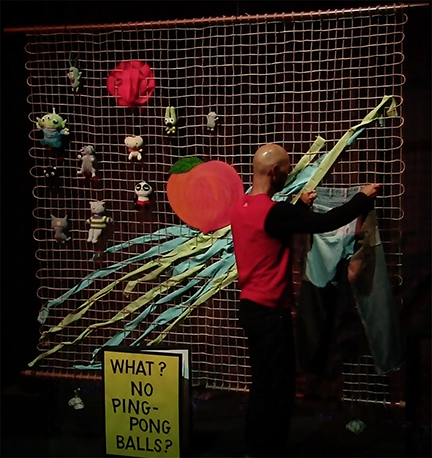 The weaving garden of Momo grows throughout the decades...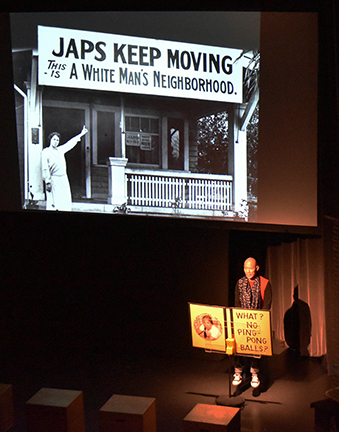 World War II has a slight impact on Momo's life...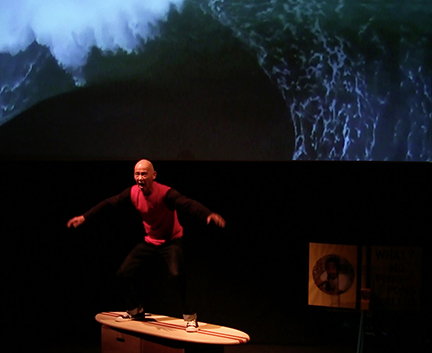 The 60s: Surf's up - and Women's Lib is coming too!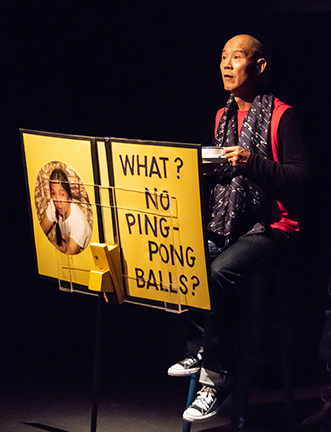 Can't a husband get a decent cup of coffee around here? NO.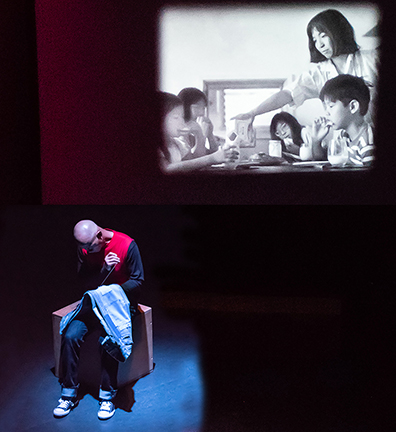 Mom - always there, always Mom.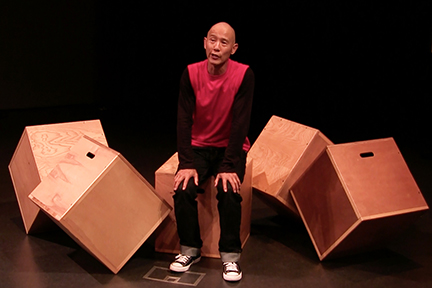 Just your typical Asian American Hippie family...
Dan is deeply grateful to Kenny Endo (Music), Jose Lopez (Lighting Designer), Nobuko Miyamoto & Great Leap (Opening Night sponsor), Jenny San Angel & Michael Jury (video documentation), Kaleigh Komatsu, Elizabeth Lim & JANM Staff, and most of all to Page Leong (Co-Director) whose keen insights and innovative ideas are constantly making Dan's work more focused and refined.
---
Los Angeles, California
+LAB Artist Residency Program
May 1 - July 31, 2018: Dan was honored to be one of 4 artists selected (out of 120!) for the inaugural run of this new program, sponsored by Little Tokyo Service Center. Along with Tina Takemoto, Susu Attar, and Kuniharu Yoshida, Dan lived for three months in the historic (and funky) Daimaru Hotel in the heart of Little Tokyo. The theme of the residency was "Self-Determination and Community Control", and artists were challenged to come up with projects that somehow addressed the current challenges facing Little Tokyo. As this 134 year-old neighborhood (one of only three remaining "Japan-towns" in the U.S.) is being threatened by gentrification, how do we communicate the importance and preciousness of a community? What defines it? How does it evolve through time?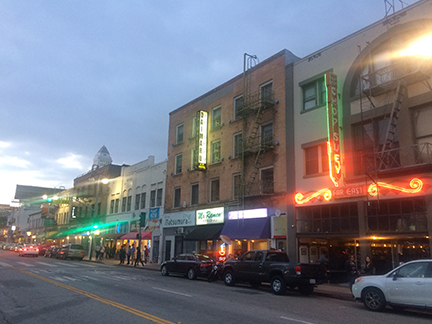 Historic 1st Street North; City Hall in distance.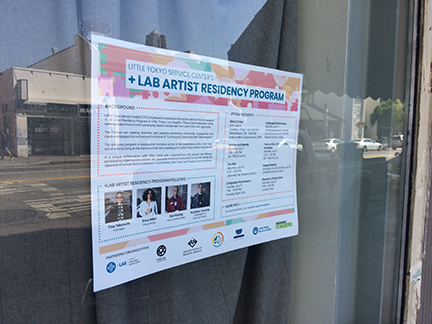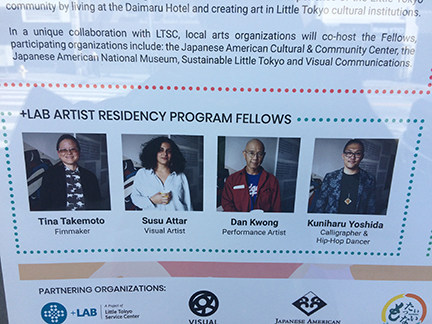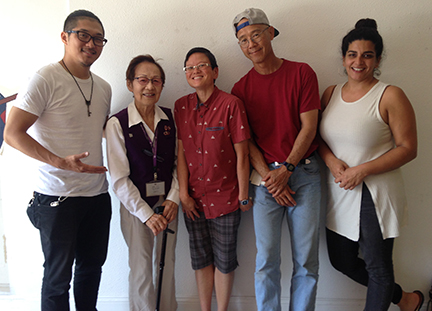 L-R: Kuni Yoshida, Yaeko Aihara, Tina Takemoto, DK, Susu Attar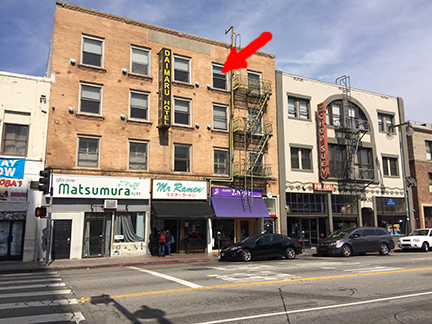 Dan's room at the old Daimaru Hotel: top floor, second from right...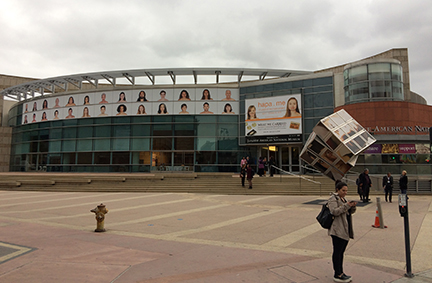 Japanese American National Museum main pavilion
Dan was partnered with the Japanese American National Museum for his project, "TALES OF LITTLE TOKYO". JANM provided a great office for Dan in the Democracy Center bldg. (same place where he performed WHAT? NO PING-PONG BALLS?).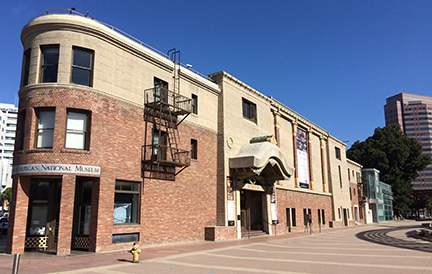 Historic Nishi Hongwanji Temple bldg
(now housing "Go For Broke" offices)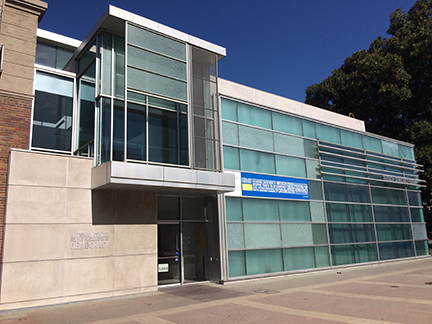 National Center for the Preservation of Democracy (part of JANM)
where Dan's office was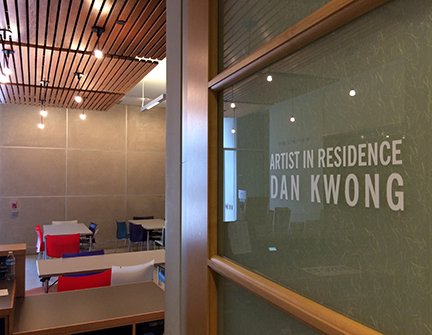 Wish my name could be here permanently!
Dan interviewed over 50 people ranging in age from 97 to 17, collecting their stories about Little Tokyo. After transcribing all the interviews, followed by the near-impossible task of selecting and editing, Dan staged a reading with the help of the wonderful Nisei actress Takayo Fischer.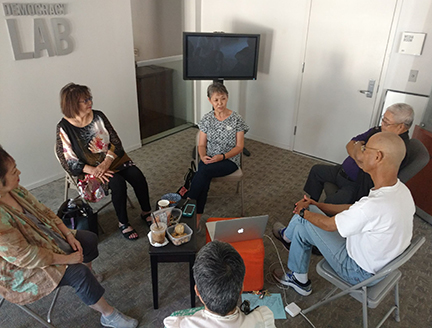 One of our many story-circles: Miya Iwataki,
June Berk, Patty Nagano, Richard Murakami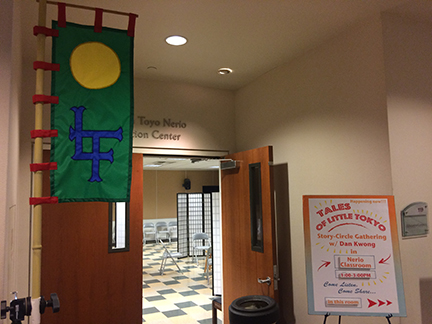 Come one, come all to ye olde story circle!
Working into the wee hours of the night, this
was often Dan's view leaving the office. Haunting...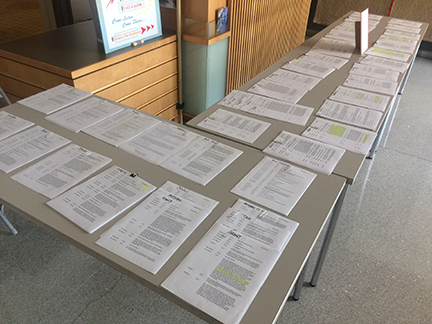 Raw material: transcripts from over 50 interviews...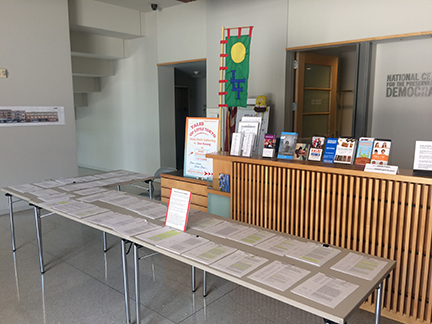 Lobby display for final presentation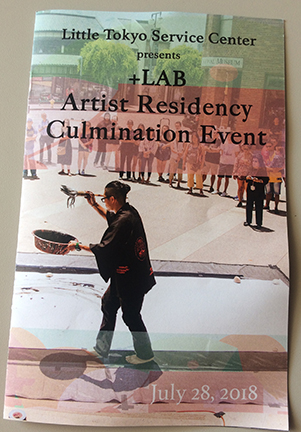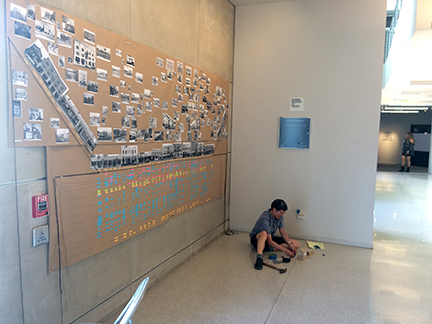 Tina Takemoto created an intricately detailed & exhaustively
researched historical timeline of 1st Street residents over time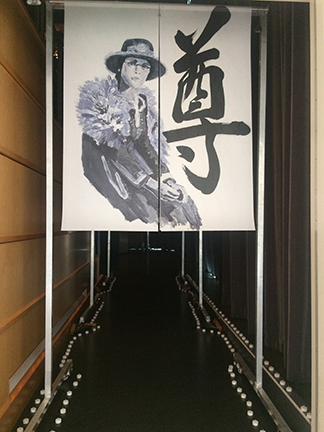 Susu Attar created several large portable noren,
painting images of JAs past and present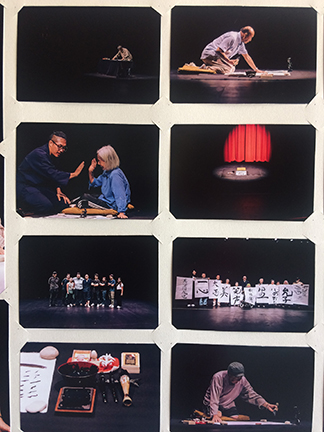 Kuni Yoshida held calligraphy workshops for senior
residents of LT and created a performance video of them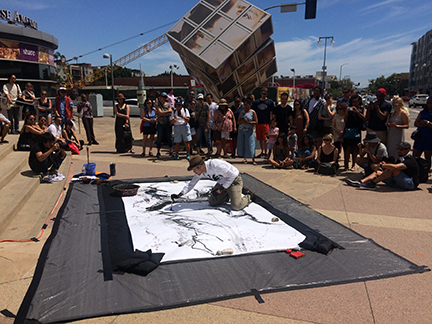 Kuni also did several captivating live performances,
combining calligraphy & painting with physical movement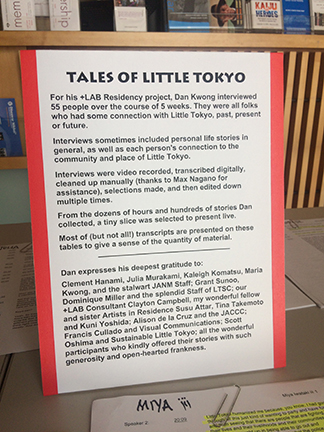 The ever-elegant actress Takayo Fischer...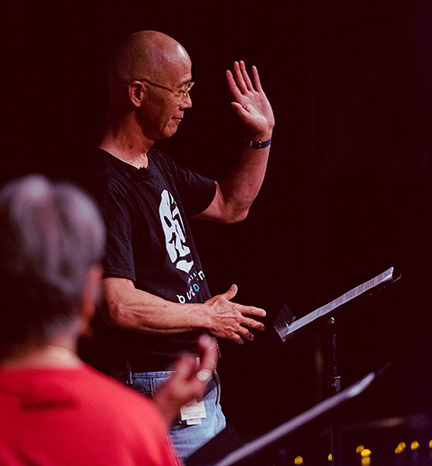 We mixed in just a touch of silliness...
It was a wonderfully life-changing experience for Dan, whose relationship to Little Tokyo, the Japanese American Natl. Museum, and the local JA community grew deeper than ever. Plus he got to have a few spontaneous lunches with his older sister Maria, a JANM employee for over 20 years!
Dan is still in the process of refining the piece, adding more interviews as well as historical and personal photos.
Stay tuned for future presentations!
---
Little Tokyo, Los Angeles
The "LT Open" Mini-Golf Project
Japanese American Cultural & Community Center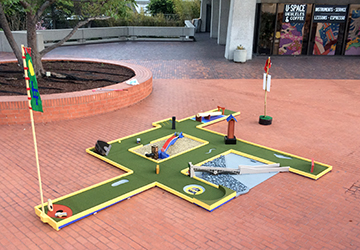 April 21-29, 2018: Dan was selected to create one of 9 artist-designed holes for a pop-up mini-golf course in the Noguchi Plaza of the JACCC. All designs commemorated the past, present & future of Little Tokyo and the JA community. Working with longtime friend, artistic collaborator and master craftsman Chris Tashima, Dan created a fun, challenging and innovative piece that was even educational. For six and a half weeks, Dan and Chris worked hard to create this installation, which proved to be the hit of the event. Hundreds of man-hours went into its fabrication -- it was a true labor of love.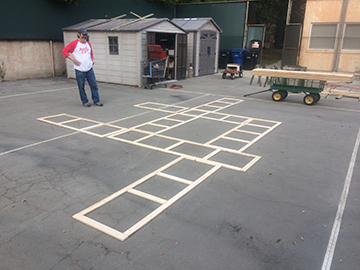 First step: make sub-frames.
Helps to have a tennis court-size workspace!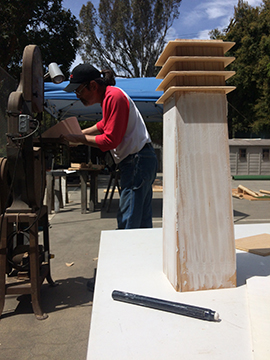 Chris not only does exquisite work, he does it fast.
He made this mini-tower in about a day...
I'm a little slower -- no, a lot...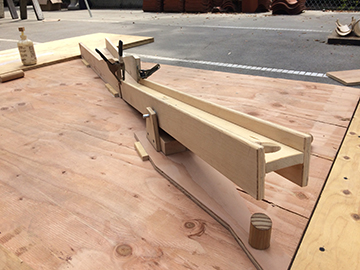 Designing and fabricating this teeter-totter bridge
was my biggest challenge. It worked!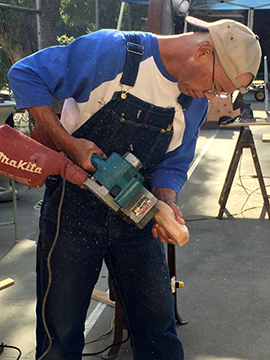 The "Go For Broke" bridge was another difficult piece
to design and build. Took real teamwork - and we did it!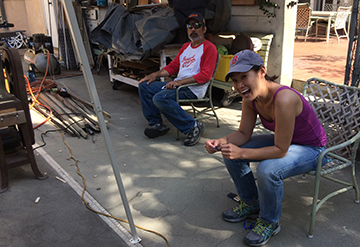 Wonderful to have the help of the stalwart Junko Goda!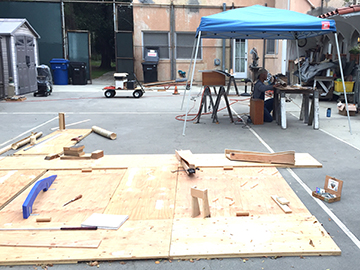 Installing the piece at JACCC went fairly smooth,
though quite tedious getting it all level.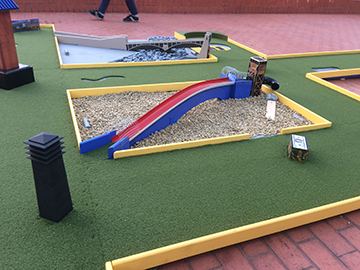 Cross the internment camp hazard via the Go For Broke bridge!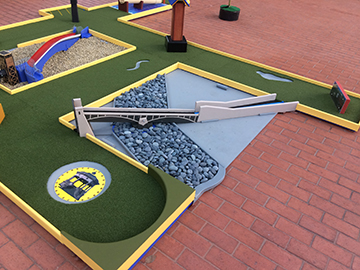 Span the L.A. River hazard via the 1st Street teeter-totter bridge!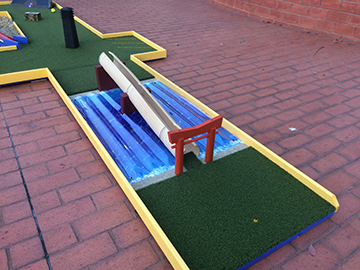 Cross the Pacific Ocean from Japan via the bamboo launch tube!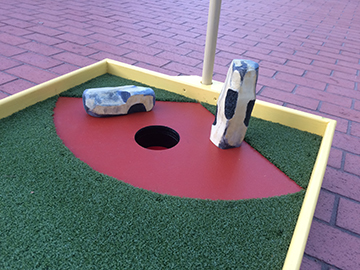 The cup, guarded by mini-replicas of the Noguchi stone sculptures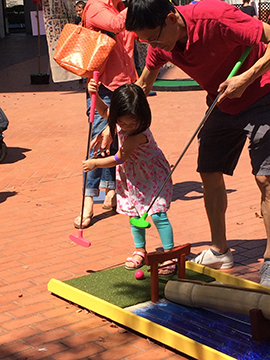 Pleased to say our hole survived (barely) being
bashed relentlessly by many free-swingers...
It was a super-fun project on every level -
fun to imagine, fun to build, and fun to play on!
---
Kobe, Japan
Lecture in Japan
Kobe University
March 2, 2018: Dan made his 6th visit to Kobe University courtesy of Prof. Hideyuki Yamamoto, this time to deliver a lecture entitled, "Transnational Art Projects by Asian American Artists".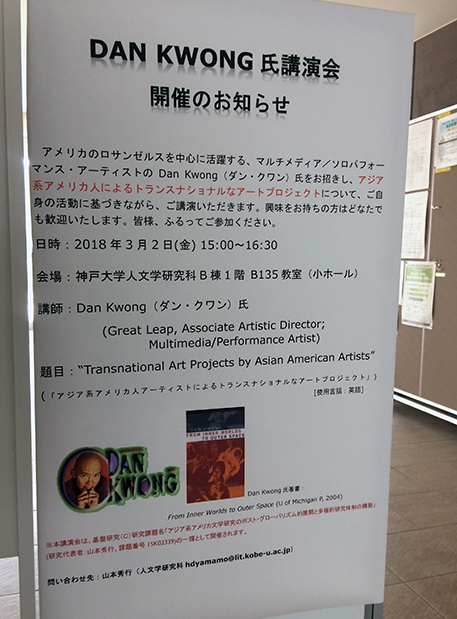 Kobe University is now the most visited school ever for Dan! But he still has never eaten "real" Kobe beef...
---
Ho Chi Minh City, Vietnam
Teaching in Vietnam - again!
February 5- 27, 2018: Dan once again braved the funky air of Saigon for more teaching.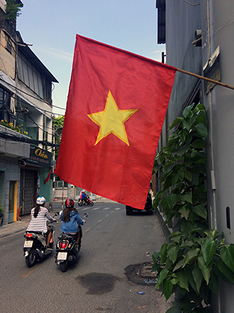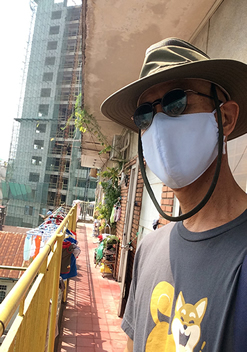 This time working with actor/entrepreneur Minh Beta, as well as with some young actors cast in the next film of Dan's old friend Mai The Hiep (JV).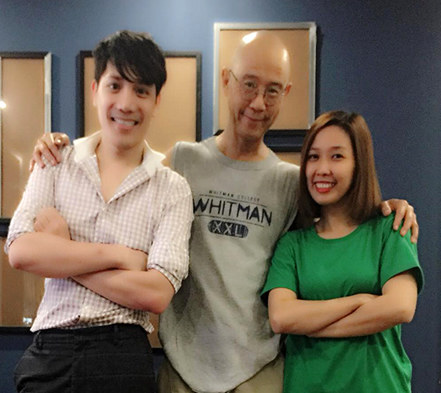 It was a busy time for Dan, in spite of the Tet holiday!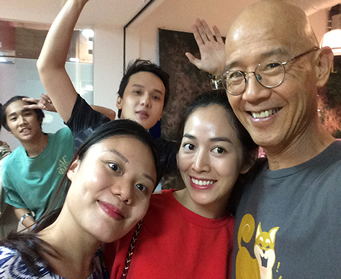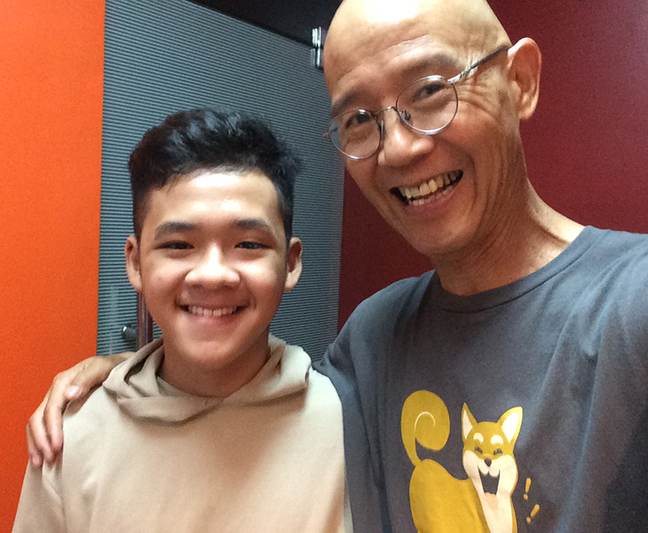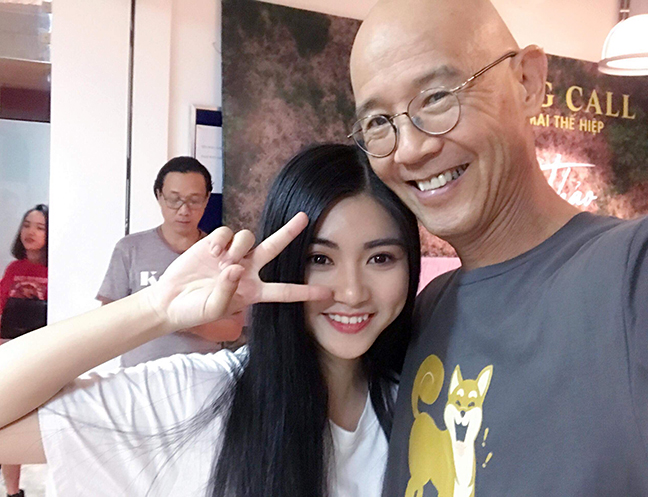 ---
Hong Kong, P.R.C.
"The House on Robinson Road" cont.
November 28 - December 4, 2017: Dan was back in Hong Kong for more shooting on his documentary/art video project about his great-grandfather's elegant historic home on HK island.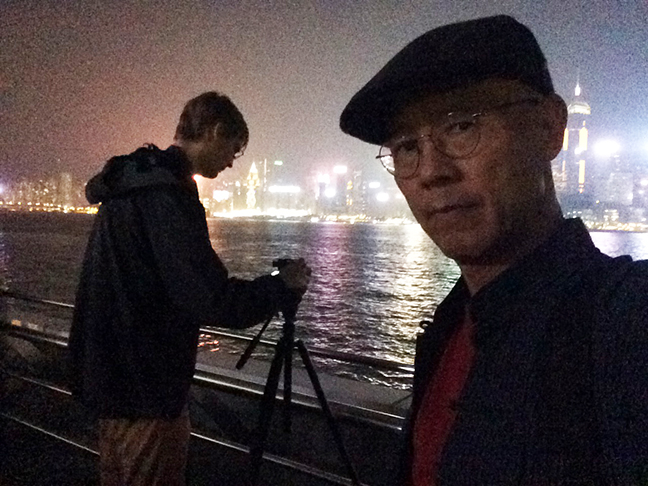 Shooting took place every single day including inside and outside the house, visiting great-grandfather's grave, a jaunt up to the top of Victoria Peak, across the harbor on the Star Ferry, and all around town.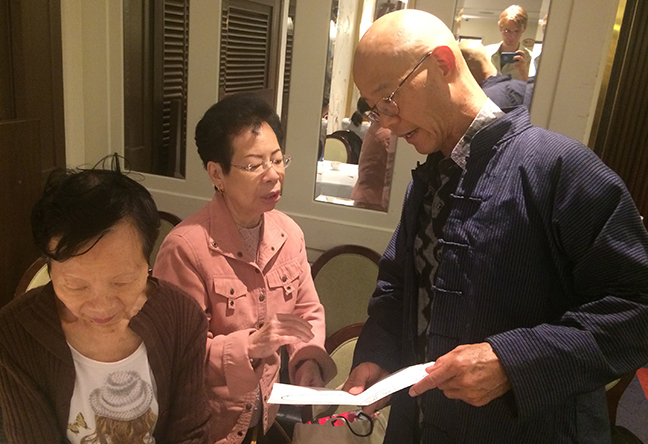 Dan interviewed a couple of wonderful relatives, as well as having the good fortune to meet with Prof. Ho-yin Lee, Associate Professor in Architectural Conservation at Hong Kong University. Hoyin was incredibly gracious and generous with his time and helped Dan to sleuth out the exact address of great-grandfather's old bank!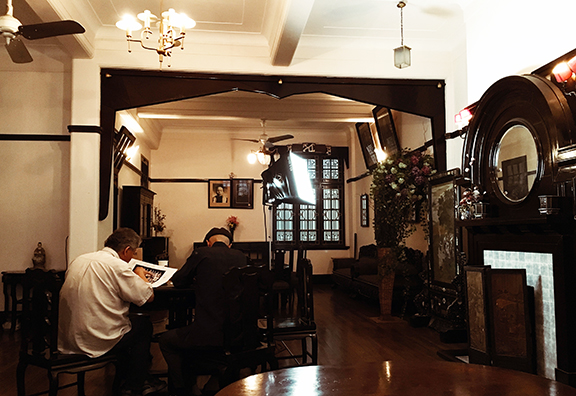 This time he took independent documentary filmmaker (and god-son) Max Good to handle camera duties, and boy was that a good idea!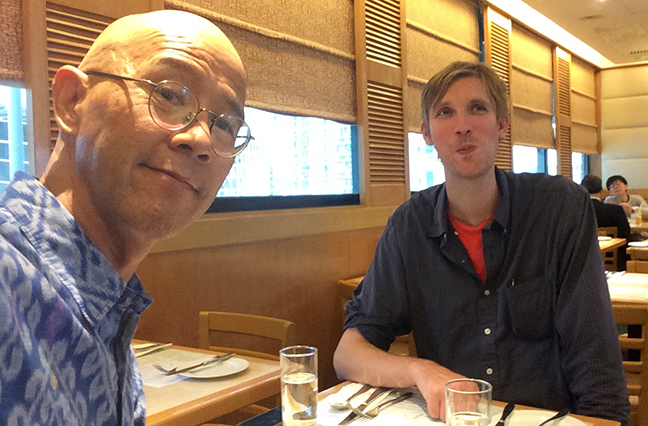 Stay tuned for further developments!
---
Mt. Rainier, Maryland
"The Healing Blade" in 40 and UP!
Joe's Movement Emporium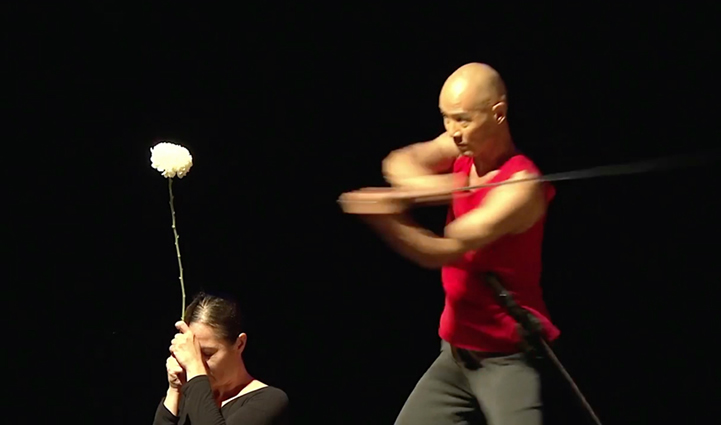 Flower decapitation, with Erica Rebollar.
June 17 & 18, 2017: Dan premiered "The Healing Blade", a new short piece about his father, in this group show featuring ten veteran local and national choreographer/dancers -- all over the ripe old age of forty (heh-heh). The show was produced and curated by long-time dear friend Erica Rebollar. It was a solid show which truly displayed the "maturity" (and in some cases, outrageousness) of the artists involved. Dan is looking forward to developing this into a longer piece!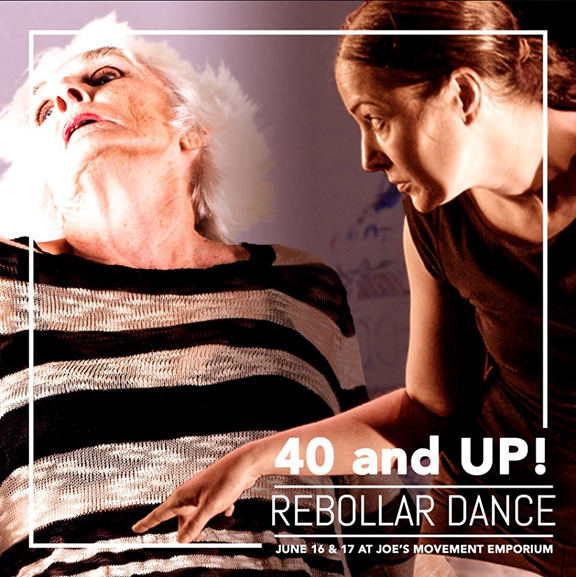 Erica and the inimitable Maida Withers, 80 and up, and still going strong!
---
DAN WINS!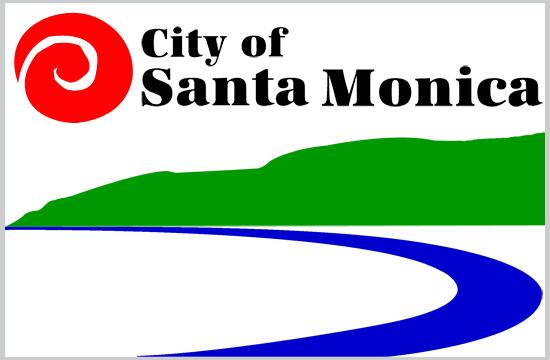 April 18, 2017: Dan was delighted to be notified of his selection as a recipient of the City of Santa Monica Artist Fellowship. Winners of this prestigious award (given annually to two artists) are chosen by a panel of curators and arts professionals and approved by the Santa Monica Arts Commission. Dan was also delighted that his co-awardee was his friend D'Lo, with whom Dan has performed in the past. This is a wonderfully satisfying turn of events and one which Dan hopes is a sign of things to come. Let the Universe continue to respond positively!
---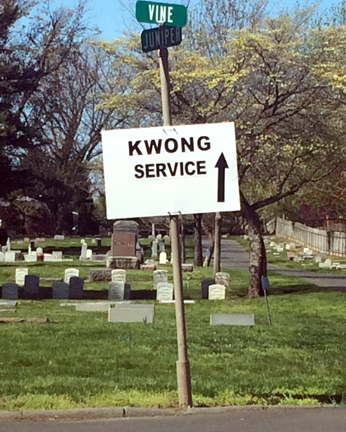 April 15, 2017: In a simple graveside ceremony on a beautiful spring day, Sam Kwong's ashes were laid to rest in Mountain View Cemetery in Walla Walla, Washington.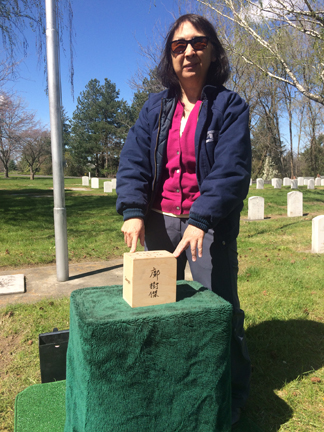 Didi and Dad
Dan flew to Walla Walla accompanied by his middle sister Didi (who came in from Seattle) as family representatives.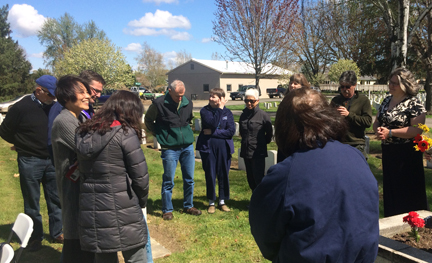 They were joined at the cemetery by a dozen or so dear friends of their father.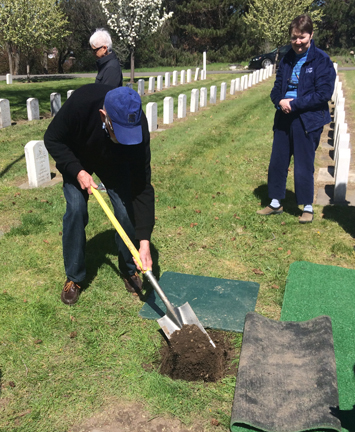 Norm Friant says goodbye to his buddy Sam
Sam passed away on Sepember 21st last year from complications after surgery. (see posting far below)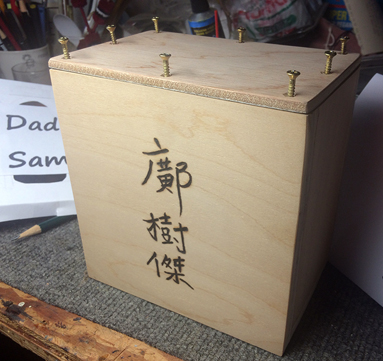 Dan handcrafted a wooden box to hold his father's ashes.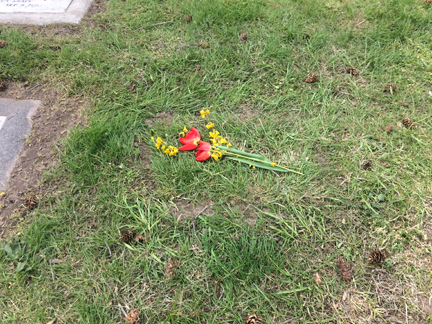 Dad's resting place in the Veterans section
It was a perfect sunny day as Sam's remains were placed in the earth.
Later that day a memorial luncheon was held at the home of Chas and Trish McKhann, and many more people came together to honor the life of Sam Kwong.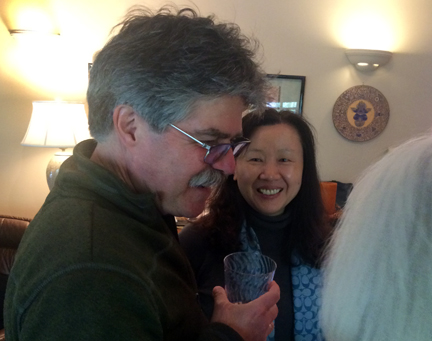 Dear family friend Chas, with Sam's ex-wife Wen Cui
Anneli's father Ron Carlson was one of Sam's oldest & dearest friends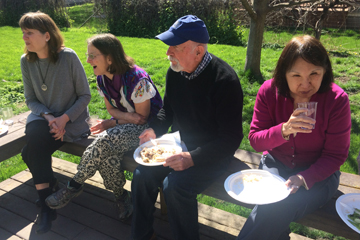 Friends Sue, Heidi, Norm with Didi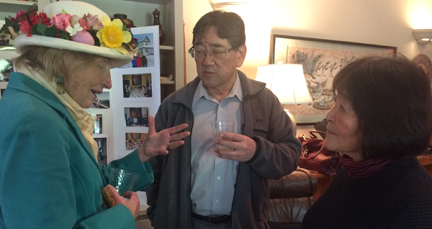 Jane's late husband a good friend; Ron, tennis pal; Keiko, artist friend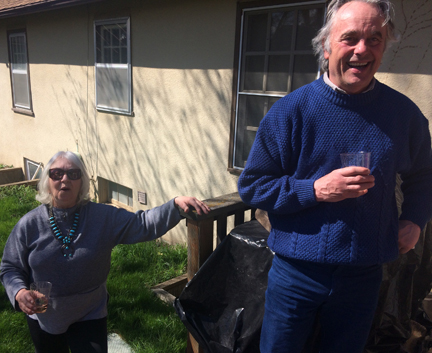 Joan and Pierre-Louis, two friends who loved Sam so well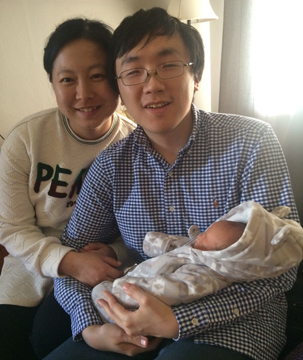 Yifan, wife Jun, their newborn baby, Justin
It was a moving tribute to a man who was loved by many. Especially his son...
---
Ho Chi Minh City, Vietnam
TEACHING IN VIETNAM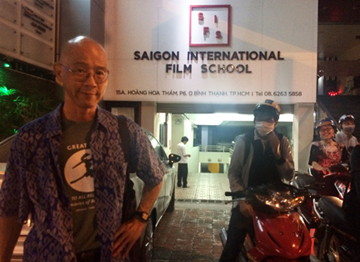 Saigon International Film School
March 4-20, 2017: Dan spent 2 weeks in Vietnam teaching acting at Saigon International Film School. Originally it was colleague Nobuko Miyamoto who was asked to come, but due to a schedule conflict she suggested Dan go in her place. Lucky him!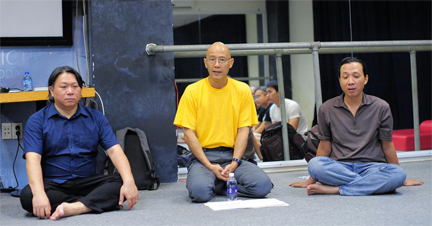 The invitation was extended by Ham Tran and "Jayvee" Mai The Hiep, two former members of Club O' Noodles, the ground-breaking Vietnamese American performance ensemble which came out of Cal State Northridge in the early 90s. Nobuko directed their first major production, Laughter From The Children of War, and was instrumental in the artistic development of the group. In 1998, Jayvee was also part of one of Dan's autobiographical performance workshops for Asian men.
Director Ham Tran
Having returned to Vietnam in the last seven years or so, both Ham and Jayvee and have made a big splash in the film industry there: Ham has directed four feature films in the last five years and has become a highly-respected film director in Vietnam;
Actor/Producer "Jayvee" Mai The Hiep
Jayvee has acted in all of Ham's films as well as serving as producer on some, and recently launched his own production company. He is about to release his first film in May 2017. Talk about two rising stars!
The film industry in Vietnam is booming, with the number of local productions doubling and tripling in the last few years. However, from Ham and Jayvee's perspective, the talent pool of actors is inadequate to meet demand. Jayvee and Ham are determined to address this by developing the next generation of Vietnamese actors. Hence the invitation to come teach!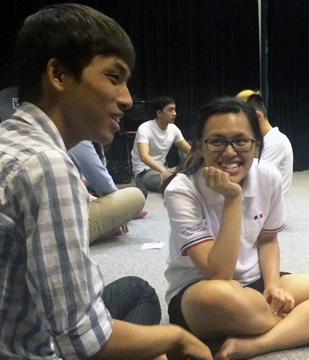 Some delightful students!
Dan taught two separate classes with fifteen and seventeen students, ranging in age from 16 to 30 years old. Jayvee served as Dan's primary translator and support person.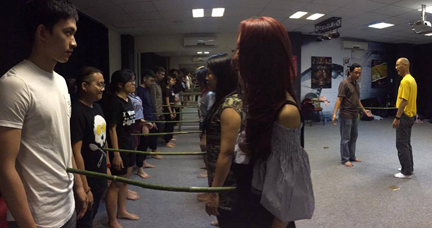 Using the aikido concept of ma'ai to practice spatial awareness
Meeting three times a week for three hours at a time, students experienced many of Dan's techniques (also used in Great Leap's Collaboratory program), customized for this situation.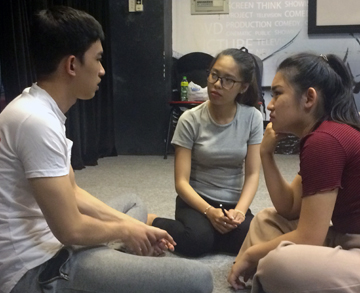 Students practiced listening to each other
The main goal was for students to explore their own stories and be able to access genuine emotion. This was accomplished with great success!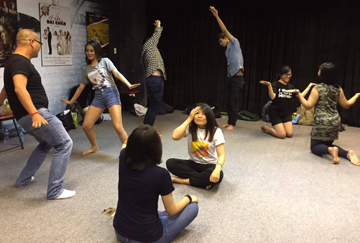 Ye olde mirror exercise...
In the last few days, students quickly prepared brief scenes from their stories for a final presentation. After witnessing their work, the school director was delighted at what students were able to draw from within themselves.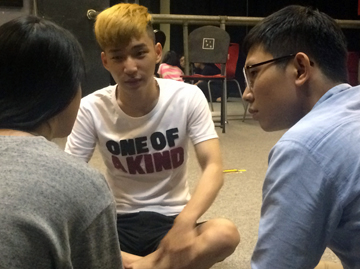 They became quite good at listening!
At the end, several students remarked that the two weeks had been life-changing, giving them a chance to look at powerful and meaningful moments in their lives with permission to feel and express their emotions.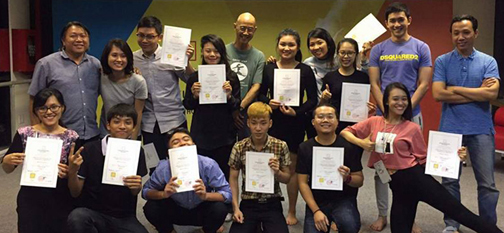 Happy students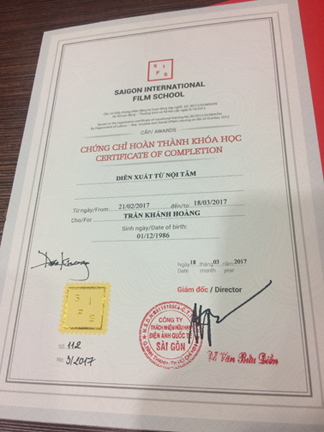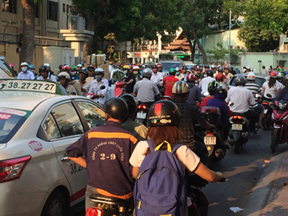 Saigon traffic: in a word, YUCK
Dan was able to squeeze in a bit of sightseeing. Visiting the "Wartime Remnants Museum" was deeply moving, seeing the war from a Vietnamese perspective;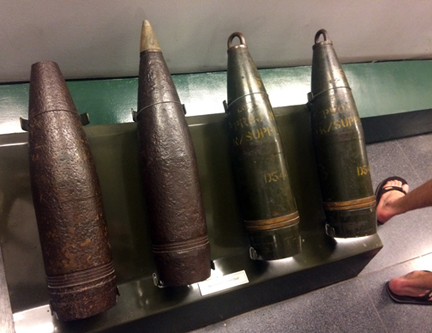 A relaxing boat ride on the Mekong River and visiting small towns was a welcome relief from the urban pollution of Saigon.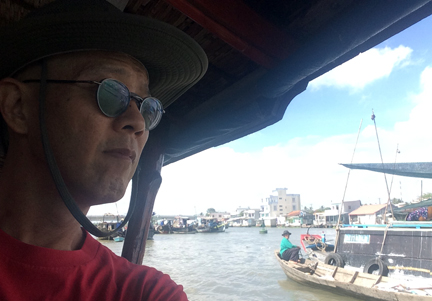 Escape from the smog!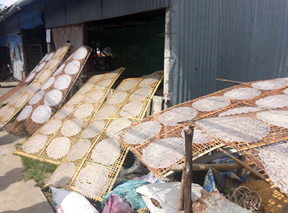 Rice skins - for your Spring rolls - drying in the sun
The Cu Chi tunnels, once part of the vast Viet Cong tunnel system and now a tourist attraction, were utterly fascinating. The ingenuity, determination and hardships faced by the Vietnamese people during wartime was extraordinary.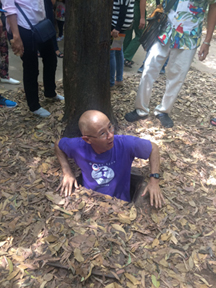 Now you see me --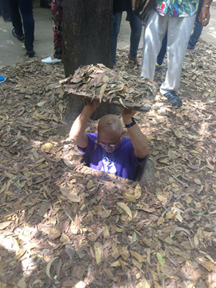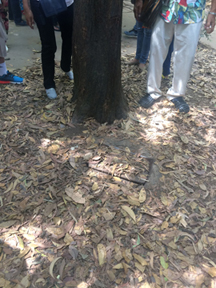 -- now...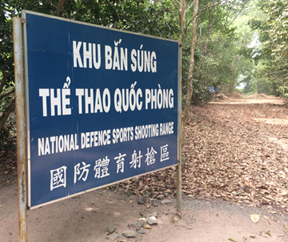 The visit to Cu Chi also included taking a few shots on the live firing range -- bizarrely located right next to the open-air gift shop.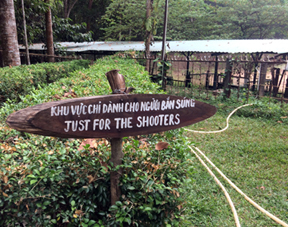 For $20 you can fire 10 bullets from a variety of war-era weapons.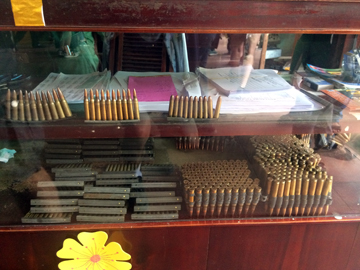 In case you were curious, an AK-47 is VERY loud.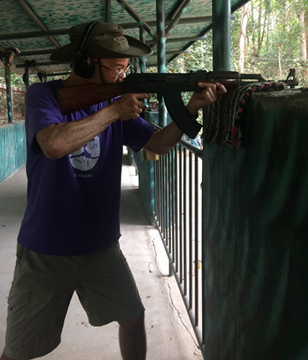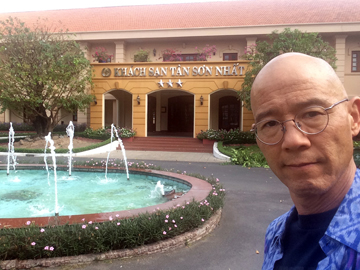 Dan's hotel -- former S. Vietnamese military headquarters
It was another wonderful growth-filled experience! In the meantime Dan would love to find a good Vietnamese language class or tutor...
---
---
LECTURES IN JAPAN 2016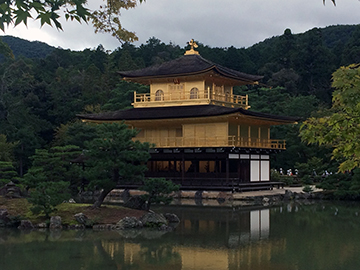 Dan's guest lodgings... (NOT!)
KOBE UNIVERSITY, Kobe city
September 24, 2016: Flying to Japan just 48 hours after his father died (which was rather surreal), Dan was a featured lecturer at the Annual Conference of the Asian American Literature Association of Japan, hosted by Kobe University. Dan spoke on the subject of "Transnational Collaboration in Asian American Multimedia Performance". It was his fifth visit to Kobe University since 2007, where he is beginning to feel right at home! He also gave a lecture on his use of music in performance (with a brief performance) for Prof. Hideyuki Yamamoto's "Musical Theater" class. Thanks to Professor Yamamoto for the invitation!
In between lecture engagements Dan had time to vacation in Kyoto, where he was able to offer prayers for his father's spirit at beautiful ancient temples such as Kinkaku-ji (above) and Kiyomizu-dera (below)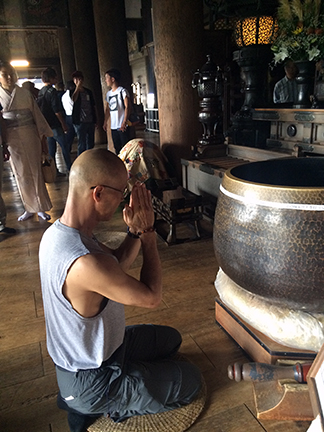 Bon voyage, Pops...
AICHI PREFECTURAL UNIVERSITY - Nagoya
October 4, 2016: Dan returned to Nagoya (home of Toyota!) for his third visit to APU give a lecture on "WHAT? NO PING-PONG BALLS?", his piece about his late mother. Thanks to Prof. Mizuho Murayama for bringing Dan back!
---
---
PASSING OF SAM KWONG
September 21, 2016: Dan's father Sam passed away peacefully at home, due to complications from surgery. He was 86.
Samuel Shu Kit Kwong
April 13, 1930 - September 21, 2016
Since around 2012 dementia increasingly took its toll on Sam's well-being. Finally the difficult decision was made to return Sam to L.A. In February 2016 he left Walla Walla, WA. to come to live with Dan.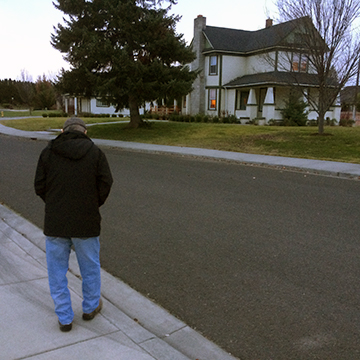 A sad farewell to Walla Walla and Sam's beautiful home of 28 years
Sam left behind many wonderful memories, including life with his devoted third wife, Wen Cui Zhao. As both of them loved to cook, they shared some fantastic meals, many of which Dan had the pleasure to partake in.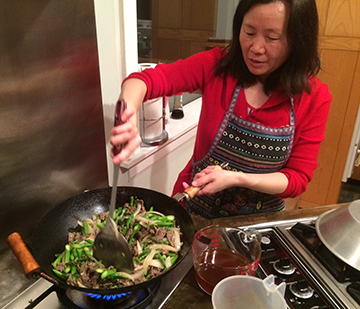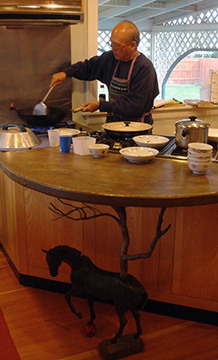 Familiar kitchen-action at 18 Shangri-La Court in Walla Walla
For the last 7.5 months of his life, Sam truly enjoyed his time in Santa Monica. Dan got him exercising, they took excursions to the Santa Monica Pier to ride the Ferris Wheel, visited his siblings in San Francisco, and enjoyed many family gatherings.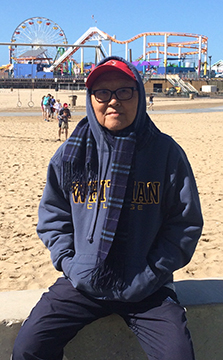 Back in So. Cal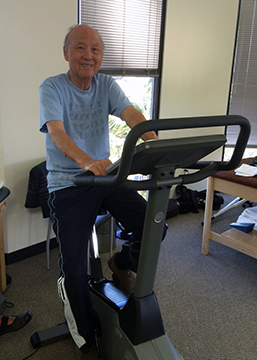 Working through physical therapy (usually not smiling)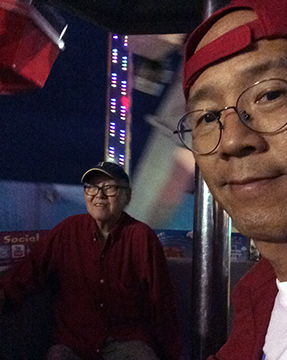 Riding the Ferris wheel at SM Pier under a full moon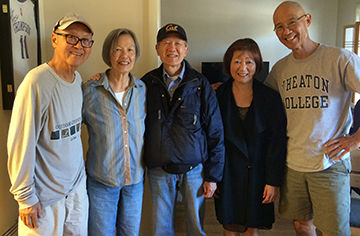 With sister Louise, youngest brother Clement and his wife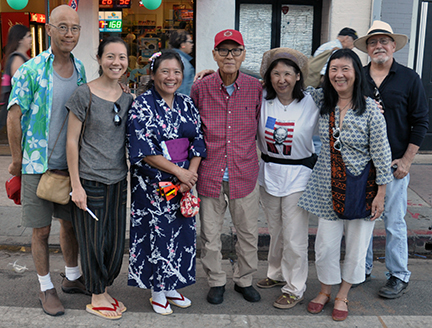 Nisei Week, August 2016 - last photo of the entire clan
There's far more to be said than can be written here, but suffice to say that Sam Kwong had a good ending to his life.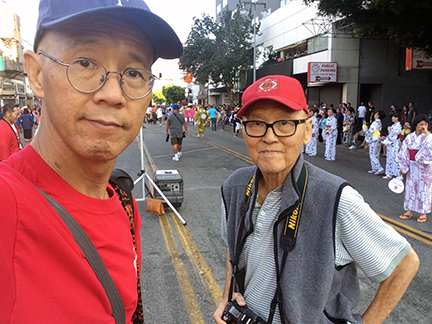 Nisei Week - Dad got his camera out again!
Since Sam was a professional photographer for much of his life (and a damn good one at that), here's a few photos --hopefully worth a thousand words...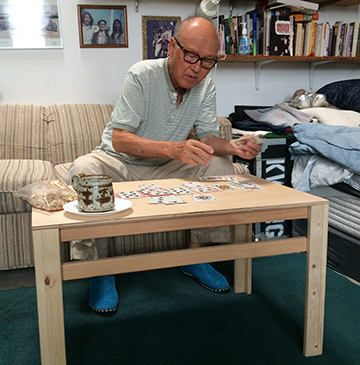 Dan built this table just for Sam's solitaire-playing pleasure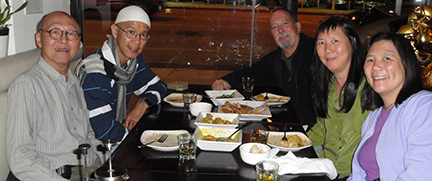 Sam's 86th birthday dinner with Gary, Maria and Poppy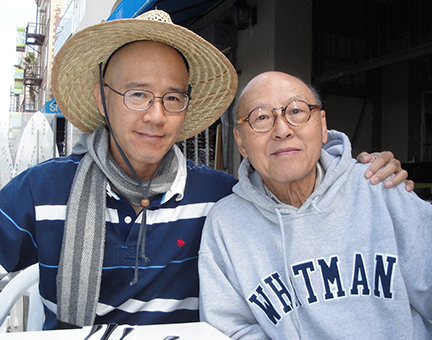 Father and son became closer than ever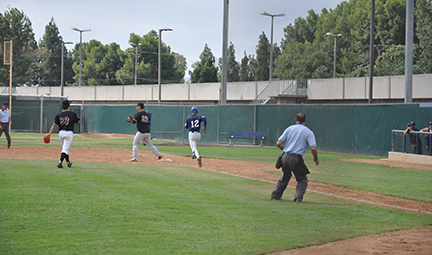 The last photo found in Sam's camera - Dan running to first base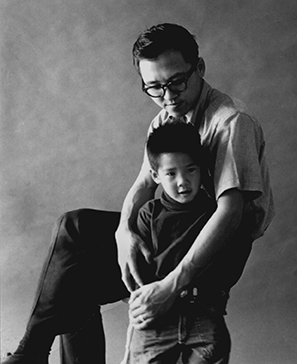 Bye, Dad
---
---
Los Angeles, California
CONFESSIONS OF A RADICAL
CHICANO DOO-WOP SINGER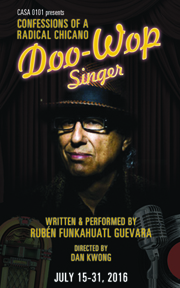 by RUBEN FUNKAHUATL GUEVARA
Directed by Dan Kwong
Casa 0101 Theater
July 15-31, 2016: During a rather crazed 6-week period Dan was simultaneously directing his friend Ruben's show while dealing with his father's health challenges, including overnight stays in the hospital and functioning on 3-4 hours of sleep per day for a week or so. Nonetheless, everything turned out for the best - both Dad's health AND the show! "Confessions of a Radical Chicano Doo-Wop Singer" ran for three weekends at the lovely Casa 0101 Theater in Boyle Heights, to enthusiastic and appreciative audiences.
Dan was so proud of Ruben for pushing himself beyond anything he had ever done as a performer, and proud of himself for creating a well-crafted, densely-packed and highly-entertaining autobiographical piece. Dan did a ton of work on this: director, dramaturge, multimedia producer, set design, choreography, and even wrote some of the publicity. It was a pleasure to work with a longtime colleague whom I've known since my very beginnings as a performance artist! Ruben and I will continue to refine the piece, and hopefully take it on the road sometime down the line. The following is a blurb I wrote for publicity purposes:
Ruben "Funkahuatl" Guevara is a rather low-key, unassuming, modest guy who doesn't toot his horn a whole lot. But in fact, this man is part of pop culture music history. "Confessions of a Radical Chicano Doo-Wop Singer" is his remarkable saga of a five-decade career in the music world: his exhilirating rises to success, his staggering crashes, and his ultimate evolution into a respected Chicano community activist, "culture sculptor", and man of integrity.
After Ruben asked Dan to direct "Confessions", he began to discover things about Ruben's life that blew his mind -- "You did WHAT? With WHOM?" Tina Turner, Bo Diddley, Frank Zappa, Cheech & Chong, Los Lobos, John Densmore (The Doors), and more, all show up in Ruben's stories -- guaranteed to alternately make you chuckle with delight and gasp in horror.
There's an old saying: "The higher you fly, the farther you fall". And what is perhaps most meaningful in "Confessions"is the question of how one deals with that duality -- success and failure; triumph and defeat; enthusiasm and disappointment; hope and despair -- over the course of a long lifetime. Septuagenarian Guevara sheds some precious light on this topic.
In "Confessions of a Radical Chicano Doo-Wop Singer", Ruben reads/performs some of his head-shaking stories (based on his memoir), plus you'll experience some trademark Kwong-touches along the way: tons of multimedia including archival footage and kooky animation, some decidedly goofy moments in between the pathos, and of course, MUSIC.
---
CHINA AND JAPAN 2015
In a wonderful end to 2015, Dan spent two weeks in China followed by a visit to Sado Island, Japan.
Hunan Province, CHINA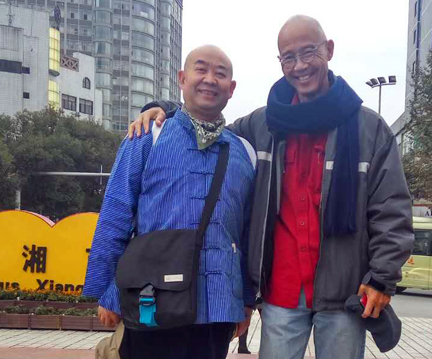 Soul brothers reunited: Peng and Dan in Jishou city
December 1-14, 2015: Dan visited Hunan Province as a guest of Peng Jingquan, his dear friend and longtime collaborator. The purpose of the trip was to learn about the Miao people and their culture, with the intention of Dan and Peng bringing a small group of Miao artists and cultural experts to visit the U.S.
Harvesting oranges with residents of Dan Qing village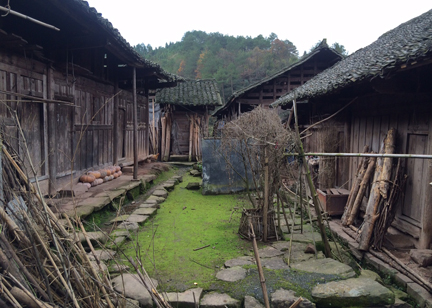 Dan Qing village
Located in south central China, Hunan Province is known for chili peppers and spicy food, the birthplace of Mao Zedong, some spectacular landscape, and its ethnic minority populations. It's also Peng's home province, and he himself is half-Miao.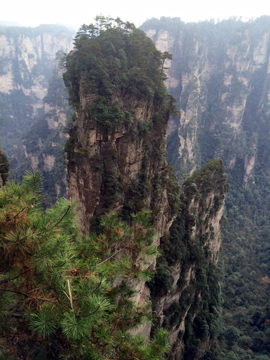 Zhangjiajie Natl Park, inspiration for the film "Avatar"
"Miao" is not only a specific tribe of people, it is also the umbrella term for several ethnic minorities within China which include the Hmong, Yao, Dong and Tujia peoples – all of whom have populations in the western part of Hunan known as "Xiangxi".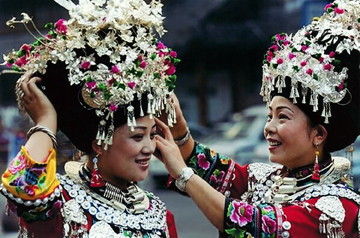 Uh, not your everyday outfits...
The Miao people have an incredibly rich culture, perhaps best known for their exquisite metal jewelry and headdresses as well as intricate embroidery -- not only beautiful to look at but also used as a form of historical documentation.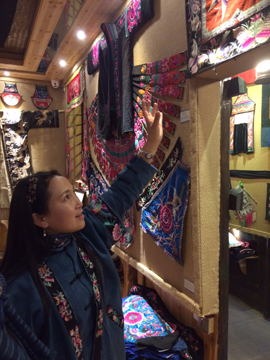 Xiang Xiu Ping, Miao embroidery expert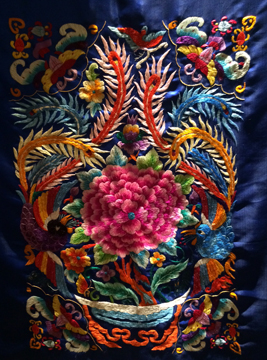 Detail: super-fine needlework. Can you say myopia?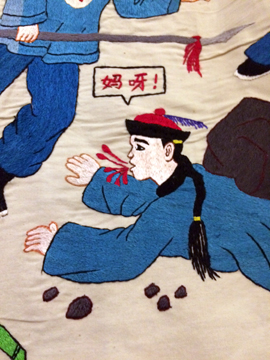 Detail: 100 meter long embroidery of Miao history
But the Miao are said to be in danger of cultural extinction – they have no written language of their own; economic survival is forcing the younger generation to leave their home villages to work in cities; and the older generation of traditional masters is dying off. Who will keep these amazing traditions alive?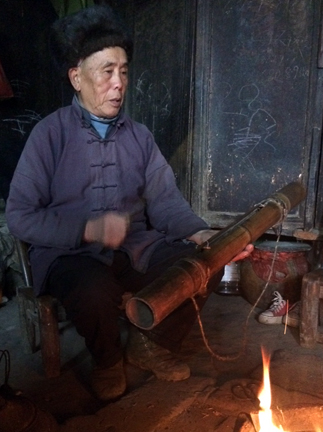 Traditional "Ba-De" - shaman - plays bamboo instrument
This has become Peng's passion-project, and to that end he has produced two documentaries and short films about the Miao, attempting to shine a light on his people. Dan's part in this is to help bring a group of Miao master artists to America, gaining more exposure for their remarkable culture and challenging situation.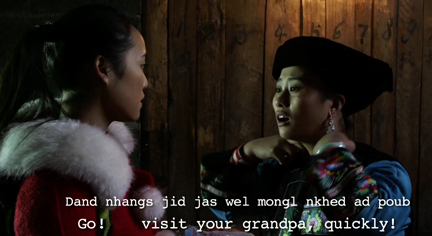 Still from Peng's beautiful short film, "Silent Village"
Peng arranged a jam-packed itinerary for Dan, visiting places of extraordinary natural beauty, urban theaters, historical towns, cultural museums, and small villages in the remote countryside. Dan met amazing artists, craftspeople, cultural experts, local politicians, even a major pop star, and was welcomed into their homes and treated as an honored guest.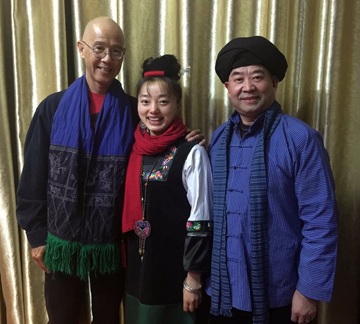 Cui Cui, a wonderful Miao singer and a delightful spirit
In Lao Zhai village he was asked to give an impromptu outdoor performance and did a tiny excerpt from "Monkhood in 3 Easy Lessons" -- and sang a couple Beatle songs.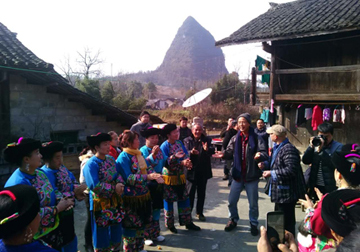 Dan does his Beatles medley for the folks
Since his return Dan has been exploring possible venues and institutions who might be interested in hosting a 2-hour presentation on Miao culture. Let him know if you have any ideas!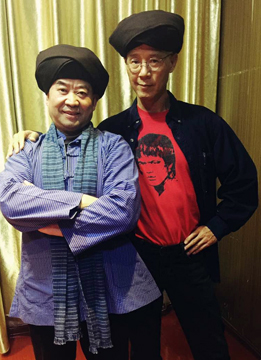 Coming to a cultural institution near you!
Dan is deeply grateful to Peng for his generosity. Other than the international flight, Peng took care of all Dan's expenses in China! It was the trip of a lifetime.
SADO ISLAND, JAPAN
Dramatic coastline of Sado Island
December 14-23, 2015: From China, Dan flew to Tokyo, took the shinkansen (bullet train) north and rode the ferry to Sado Island. There he was hosted by Yoko Fujimoto, a founding member of the world famous Kodo Taiko Performing Arts Ensemble.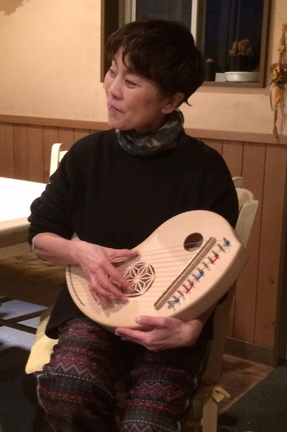 Yoko Fujimoto

Located off the west coast of Honshu (Japan's largest island), Sado Island has a fascinating history which includes being a site of exile for social dissidents (including those troublesome artists!), political enemies of the government, and controversial religious figures, since the 8th century.

.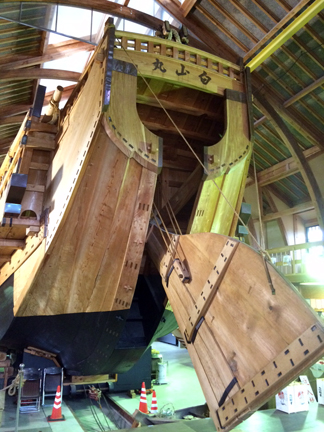 Traditional trading ship, handbuilt from wood
Yoko was a wonderful host, sharing the remarkable beauty and history of Sado in many ways. She arranged a private performance for Dan of Japanese bunya ningyo-style puppetry;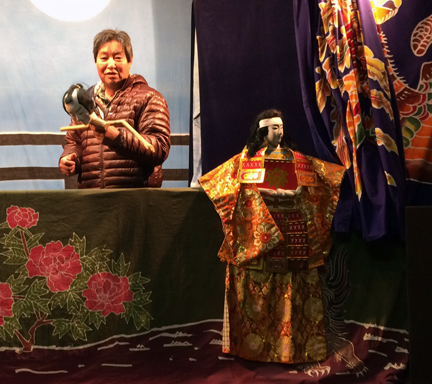 Master Puppeteer explains skeletal structure of a puppet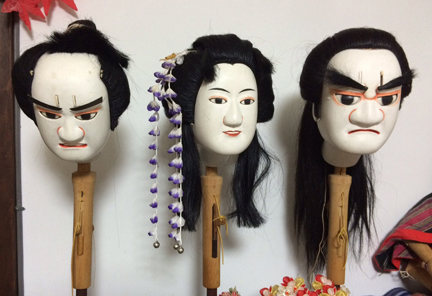 All handmade, of course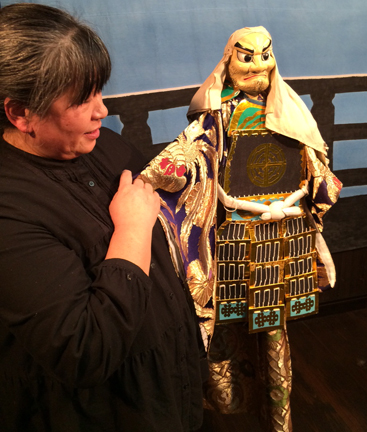 Another puppet master displays a different character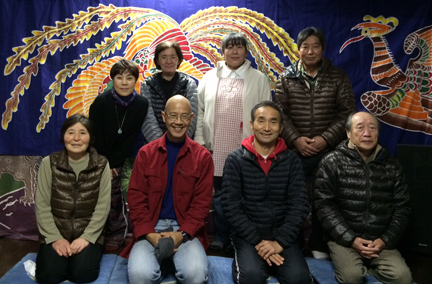 Right of Dan is Yoko's husband, also an original Kodo member
-- with other visits to: a sanctuary preserve for the rare Japanese crested ibis --
Toki, symbol of Sado Island
-- a former goldmine transformed into a spooky museum with creepy mannequins --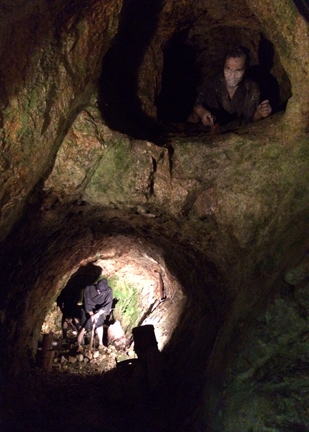 Very cool and creepy historic goldmine
-- the historical museum of Sado Island which features some exquisite mechanical animated displays --
Amazing miniature mechanized noodle shop scene
-- and a tour of the Kodo Taiko Ensemble compound, plus private viewing of a rehearsal!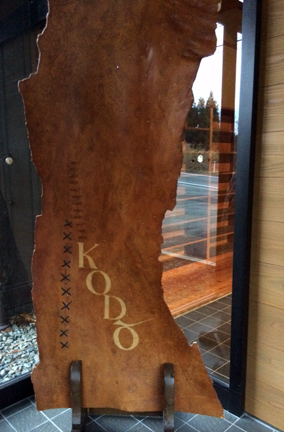 Kodo, the most famous taiko group in the world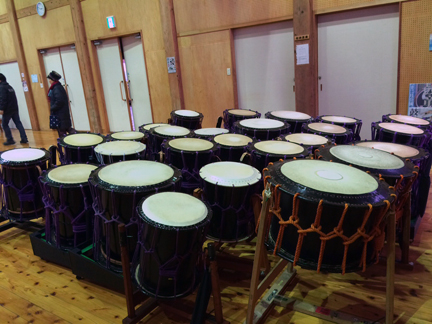 Drums, anyone?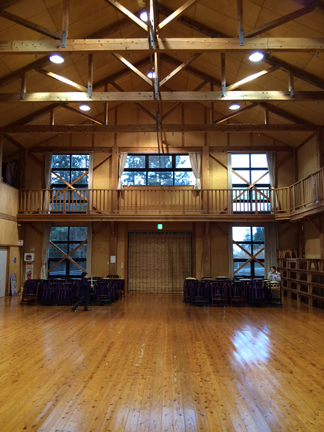 Main Hall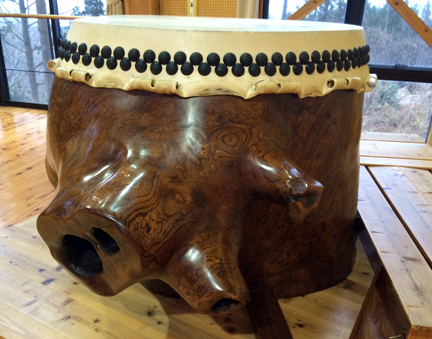 A massive - and gorgeous - tree trunk drum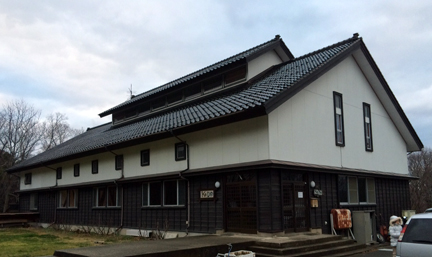 Dorm, offices, dining hall for the company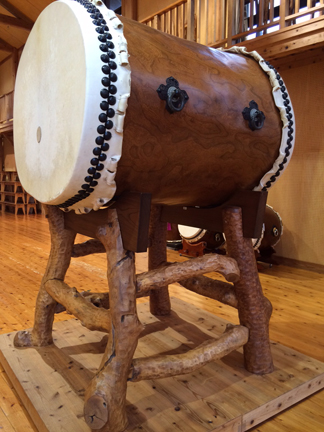 Top of this huge drum almost 9' high
Thank you, Yoko!
---
---
Irvine, California
University of California at Irvine
November 4, 2015: Dan made a visit south of the Orange Curtain to UC Irvine for Prof. Keith Danner's class on "Im/Migration Narratives". He performed "Song for Grandpa", the climactic monologue from "Monkhood in 3 Easy Lessons" (1993) and engaged in a talkback session with students. It was Dan's first time in many years to perform what was once his "signature" monologue – probably performed more than any other work of his. Fascinating (a la Spock) -- like putting on a familiar old suit of clothes you haven't worn in 15 years. Thanks to Prof. Danner for the invite!
---
---
Los Angeles, California
SERVE THE PEOPLE INSTITUTE
Fundraiser and Tribute to Nobuko Miyamoto
Tateuchi Democracy Forum,
Japanese American National Museum
November 1, 2015: Dan directed and performed in a fundraiser for Serve the People Institute. SPI is a community-driven, leadership development organization that aims to share the history and values of the Asian American Movement in the 1960s, 1970s, and 1980s, with a geographic focus on Los Angeles. SPI aims to empower Asian American, Native Hawaiian and Pacific Islander communities toward greater economic and political self-sufficiency by developing and cultivating our next generation of activists and community leaders.
Launched two years ago, SPI is the brainchild of long-time political activist-organizer Warren Furutani, who wanted to insure that this community history was not lost and that future generations would have a resource for learning the history of Asian American involvement in the fight for social justice, especially alongside other communities and movements.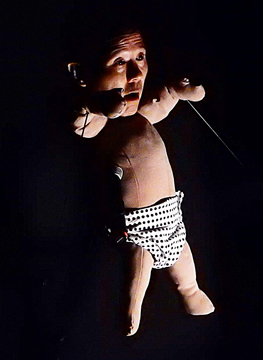 Scary baby!
One of their first projects is an online archive dedicated to preserving the history of Asian American activism through photographs, videos, documents, artifacts and first-person stories.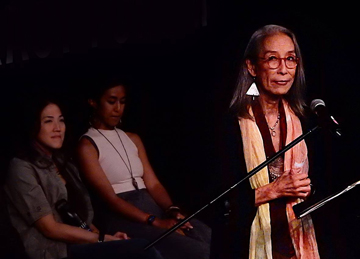 Honoree Nobuko Miyamoto
As well as being a fundraiser for SPI, the evening was a wonderful opportunity to honor a groundbreaking artist who continues to practice her art in service of social progress – Dan's longtime friend and colleague, Nobuko Miyamoto.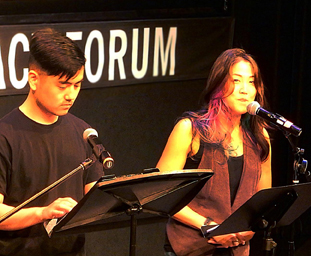 Sean Miura and traci kato-kiriyama
Dan performed alongside traci kato-kiriyama (with Sean Miura), Jumakae, and Jason Chu -- powerful young talents whose voices add to the ever-growing wealth of Asian American artists who write, produce and perform their own work.
Spoken word artist and all-around talent, Jumakae
Dan performed a short, abstract non-verbal piece (originally inspired by his SAIC art school classmate Harvey Weiss), plus a modified excerpt from WHAT? NO PING-PONG BALLS? featuring the singing baby puppet.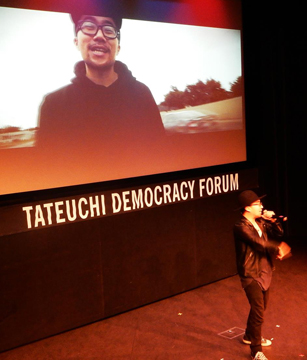 Hip-hop artist Jason Chu
As part of honoring Nobuko, Dan also prepared a funny slide show retrospective of her career: from childhood ballerina in Boyle Heights to teenage dancer on Broadway (Flower Drum Song)and in Hollywood movies (West Side Story, The King and I); from being part of the first touring Asian American folksinger group and recording the first album of "Asian American music" to eventually creating her performing arts organization Great Leap (which now makes up a considerable part of Dan's professional work).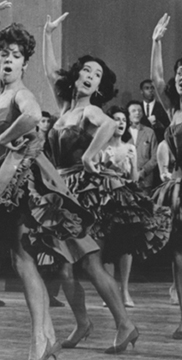 Nobuko as a Shark-Girl in West Side Story!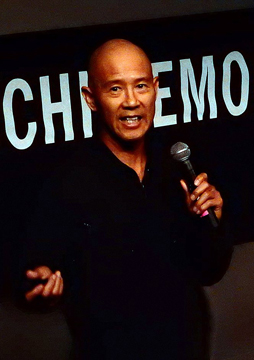 Dan lovingly roasts Nobuko...
It was an inspiring night that brought people together across generations -- celebrating the past, present and future of the Asian American community.
Check out SPI's page on Facebook for more information on what they are doing and how you can get involved!
https://www.facebook.com/servethepeopleinstitute/timeline
---
---
Los Angeles, California
FANDANGOBON 2015
Japanese American Cultural & Community Center
October 25, 2015: Dan's third turn as Director of FandangObon featured new additions to artistic founders Nobuko, Quetzal, Martha and Company: Francis Awe & Nigerian Talking Drum, and Le Ballet Dembaya. These two Nigerian drumming/dancing companies represent both ends of the spectrum in terms of longevity and freshness. Francis and his wife Omowale are practically an institution in L.A., having been performing and teaching for decades. Le Ballet Dembaya is a spirited group of African American young adults, some of whom were once students of Omowale. Together they brought fantastic energy, consciousness and joy to the event.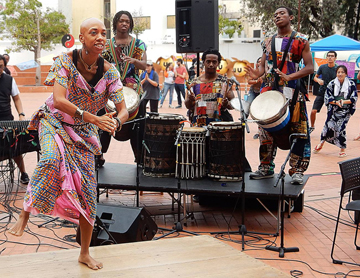 Jahanna Blunt and Le Ballet Dembaya
FandangObon is growing in size every year, the circle grows more diverse every year, and it's becoming an event that people look forward to every year. Combining the traditions of Japanese obon, Mexican son jarocho music of Vera Cruz, and now Nigerian drumming and dancing, FandangObon is a joyous gathering of people across cultures.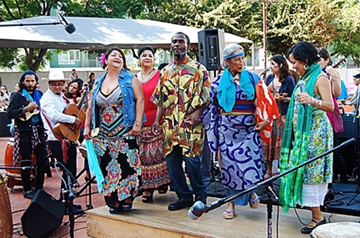 Martha Gonzalez (far right) and Nobuko, steppin'...
And now it also has a strong environmental component, the Eco-Fest, which encourages a more sustainable lifestyle and highlights culture-specific methods for doing this.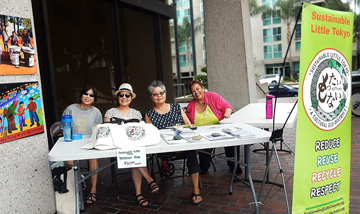 Sustainable Little Tokyo makes its presence known!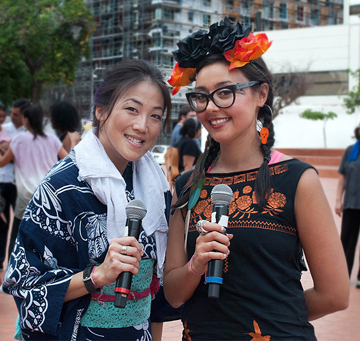 Awesome MCs: traci kato-kiriyama & Joanna Mixpe Ley!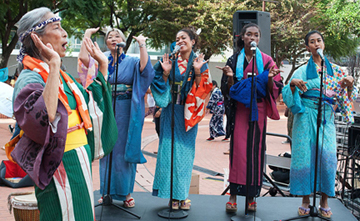 Nobuko and The Generations belt it out!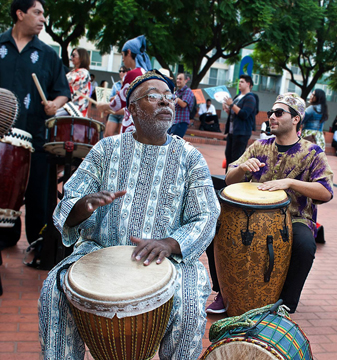 Master Nigerian drummer Francis Awe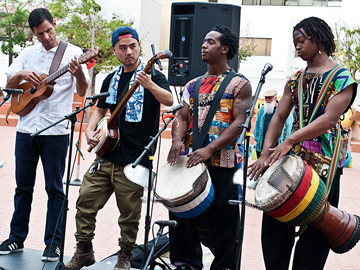 Quetzal, Sean Miura & drummers of Le Ballet Dembaya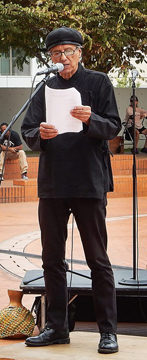 Ruben Guevara, Funk Poet Laureate of Boyle Heights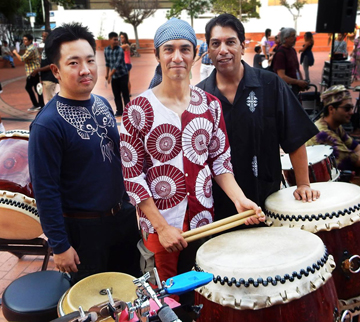 Maceo Hernandez (far right) & East L.A. Taiko
---
---
Santa Monica, California
BARONG with Georgianne Cowan & Company
SOMAfest at HIGHWAYS PERFORMANCE SPACE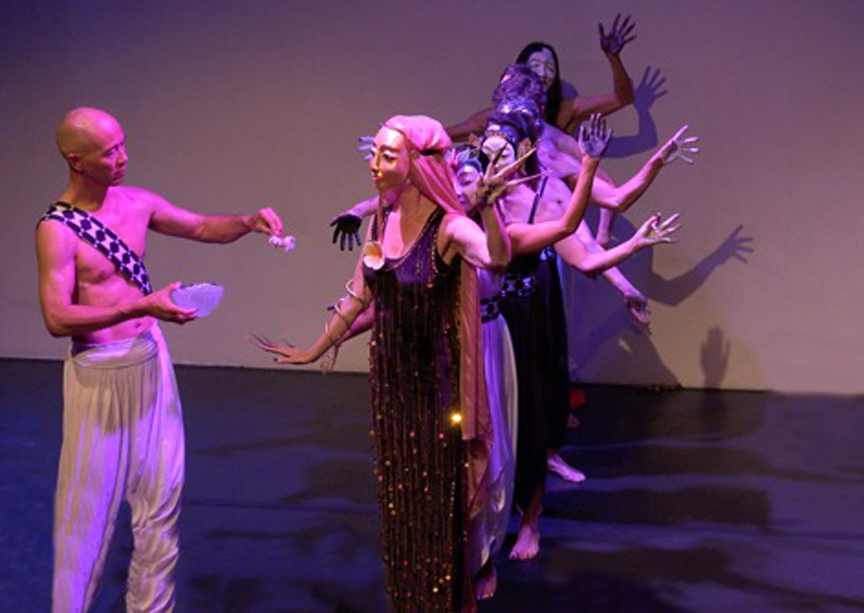 Dan anointeth Georgianne with holy water...
Flashback to 1987, a couple years before Dan began performing professionally when he was in an outdoor site-specific piece by Georgianne Cowan. Also featuring the lovely Umeko Walker, the piece was part of a bigger event observing the so-called "Harmonic Convergence" -- a rare astronomical event in 1987 in which the Sun, Moon and several major planets were aligned and in conjunction with cosmologically significant dates in the Aztec and Mayan calendar. Or something like that…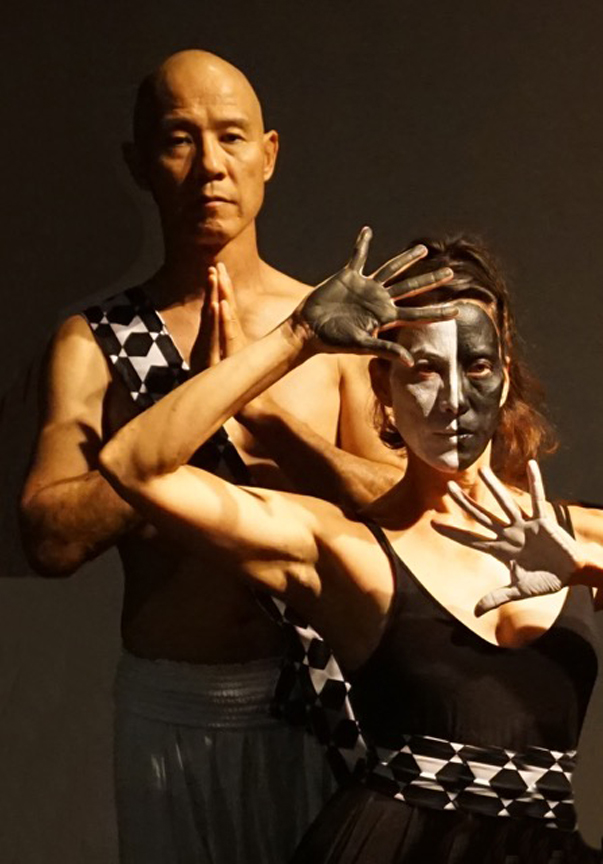 Dan & Umeko, a scary Power Couple...
Flash forward to September 25, 2015 -- 28 years later, Dan is reunited with Georgianne and Umeko in "Barong", Cowan's theatrical-dance interpretation of Balinese perspectives on the relationship between "dark" and "light" forces in the universe. Or something like that… Also in the cast was Craig Ng, who was in one of Dan's Asian Men's performance workshops back in 2003. "Barong" was performed at Highways as part of the annual SOMAfest event of workshops and performances based in meditative practice and the performing arts. It was a sweet reunion, especially with Umeko -- our mothers were pals from before WWII, and our older sisters were best friends from childhood!
---
---
Oakland, California
Birth Announcement!
MEADOW MEARA RAIN GOOD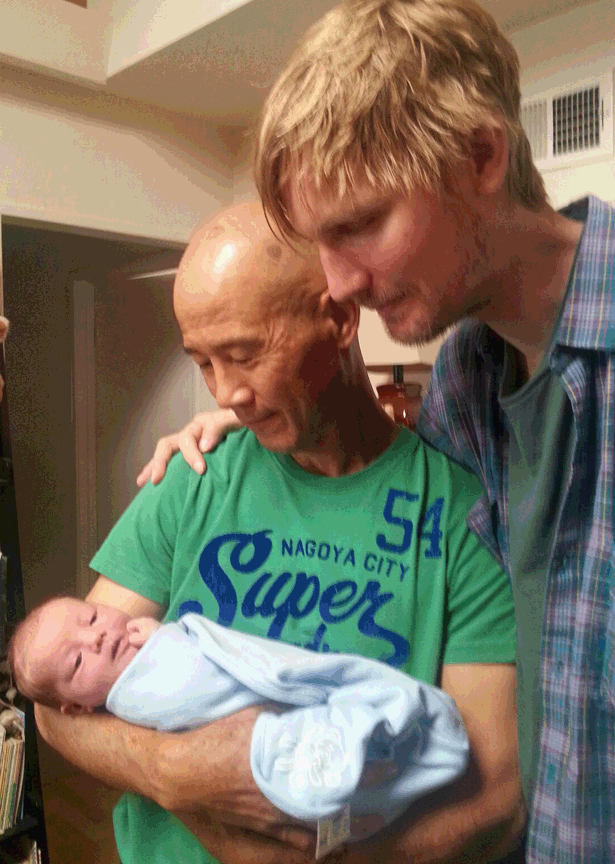 August 17, 2015: A healthy baby girl came into the world this day courtesy Amy Schuchman and Max Good (Dan's god-son)! Indulge a proud god-grandfather with a few photos, won't you?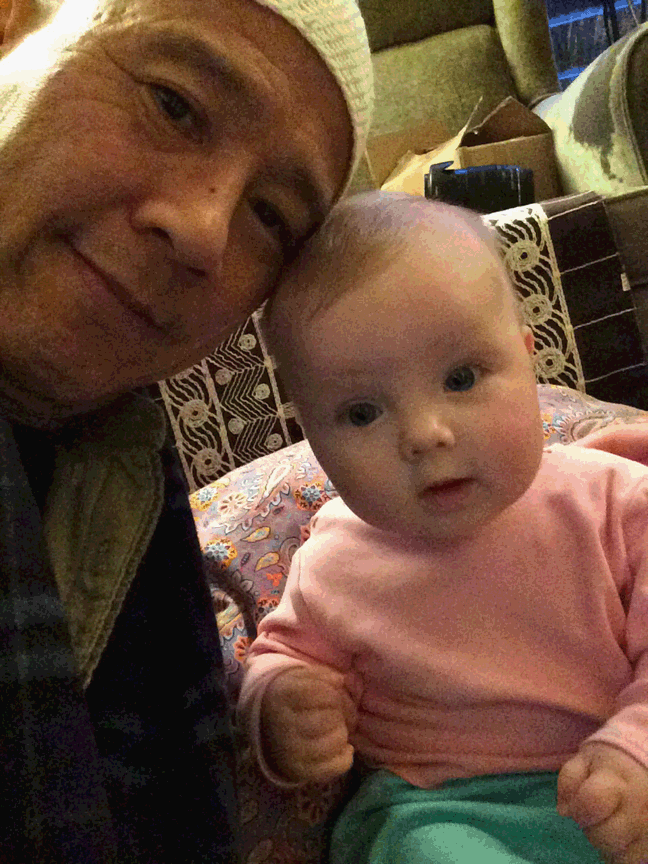 Aunt Otome: "She's so cute, she looks like a Gerber baby!"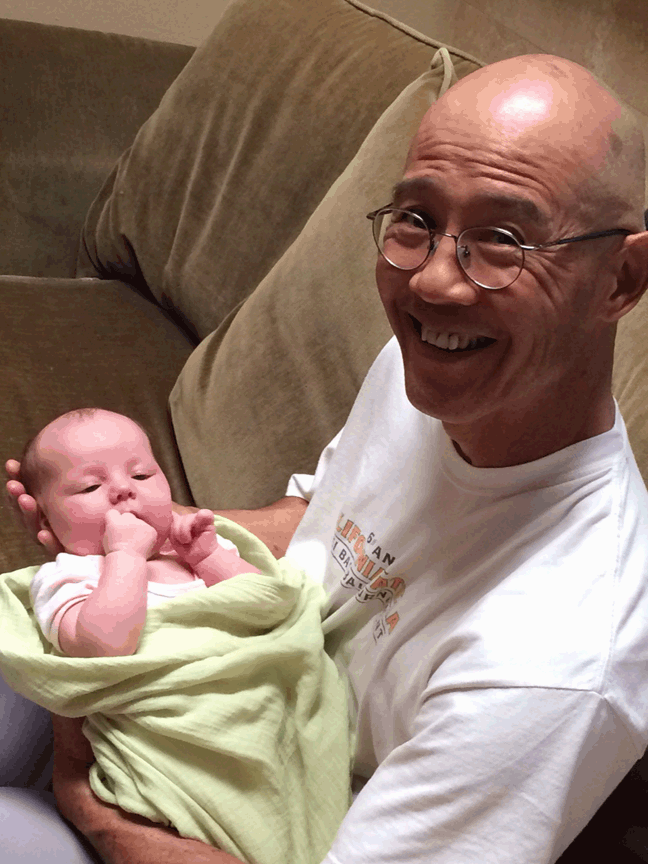 Can you tell Dan likes being with her?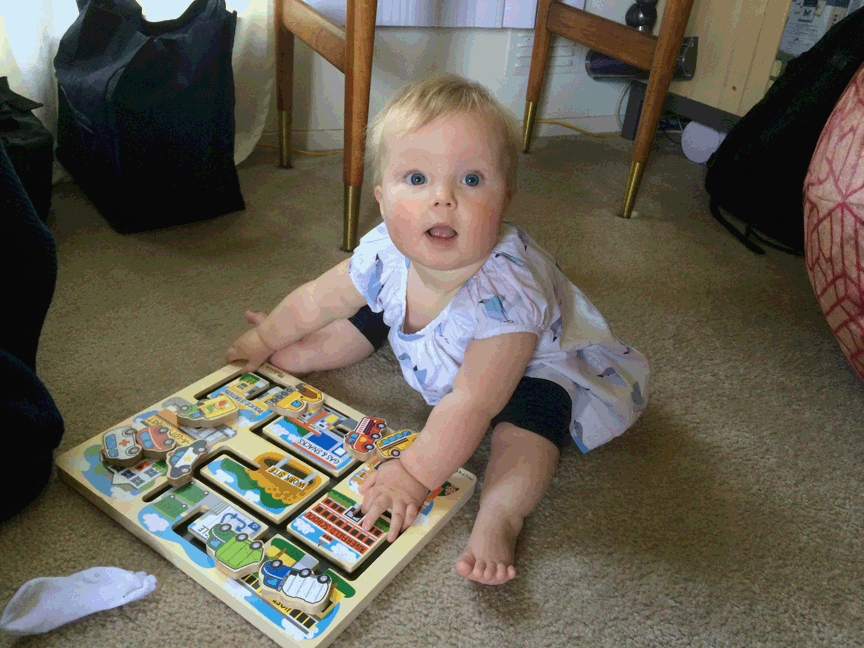 And boom, just like that -- 8 months gone by!
---
---
Los Angeles, California
LYNN MANNING
April 30, 1955 - August 3, 2015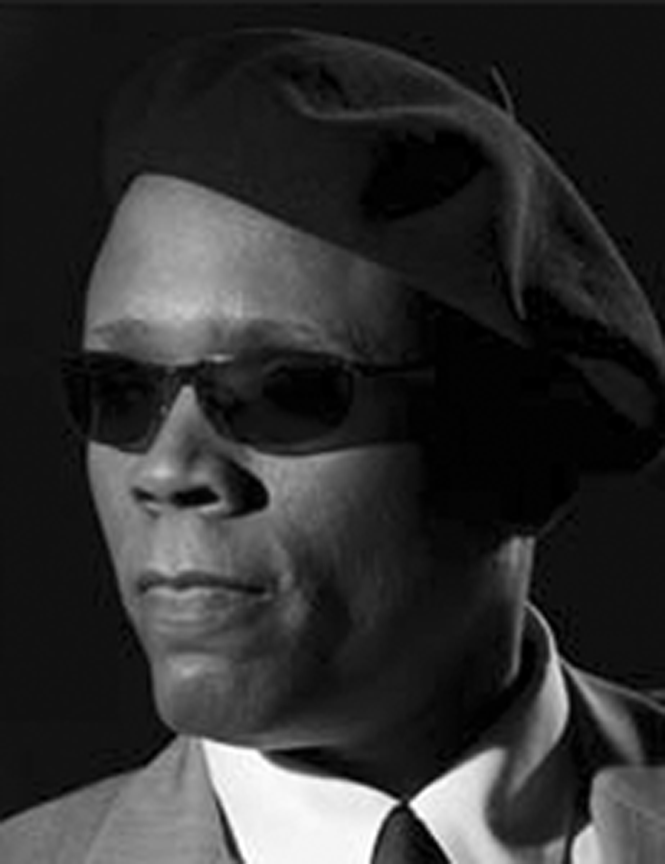 August 3, 2015: Our dear friend Lynn passed away suddenly from complications of liver cancer. He performed with Great Leap for many years, touring the country with our Slice of Rice, Frijoles and Greens show, and performing many times in our annual UCLA gig for their Med School students. In fact, Lynn died the day before he had been scheduled to perform with us at UCLA this year. His one-man show about dealing with the loss of his sight was a powerful source of inspiration for us all. Though blind, he had vision far beyond that of most sighted people. His light burned strong and bright, and he touched many of us with his gentle strength, low-key humor, and fierce determination to overcome all obstacles. He was a brilliant talent and an extraordinary soul who left us far too soon. We loved and cherished who he was, and will miss him terribly. Google his name and learn more about a remarkable man!
---
---
Los Angeles, California
"BE LIKE WATER" SCREENPLAY READING
August 2, 2015: Dan and Director Chris Tashima arranged a reading of the latest draft of Dan's adaptation of his stageplay "Be Like Water" (produced 2008, East West Players). It was very helpful for Dan to hear his words outloud, and he was honored by the talented group of actors assembled by Chris. As with everything he does, the event was superbly run. Soon after, Dan finished the 5th draft and is hammering away on #6.
---
---
Los Angeles, California
L.A. TIMES INTERVIEW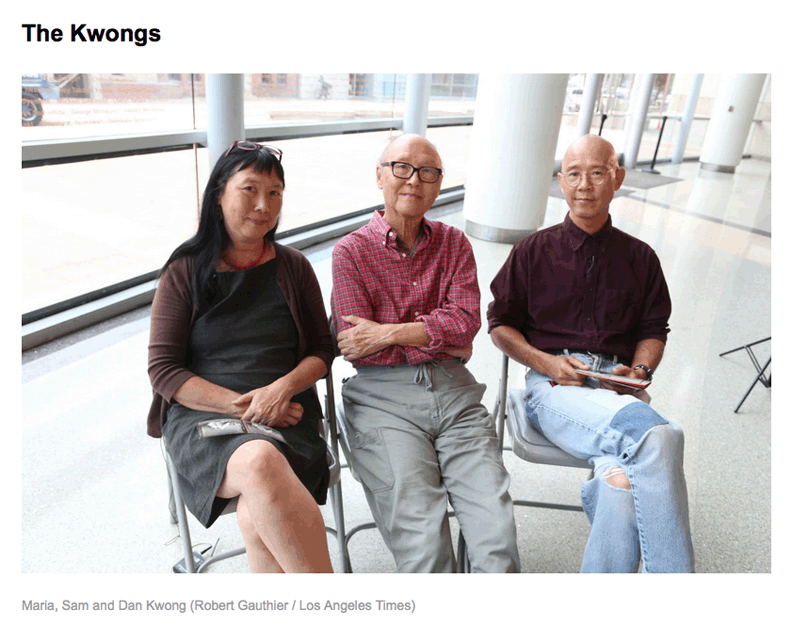 June 16, 2015: Maria, Sam & Dan were interviewed by L.A. Times reporter Ann Simmons for their new online feature, "LOOK BACK L.A.", described as "a portal to photos, videos and stories of ordinary Angelenos who make up the rich ethnic patchwork of our city".
Several video clips from the interview are on the site, along with some old Kwong/Nagano family photos. The reporter was particularly intrigued by Dad's annual tradition of shooting unique, off-beat Xmas photos of us kids, often in humorous situations. From the early 1960s when he was one of the first Chinese American commercial photographers in the United States, Dad was ahead of his time.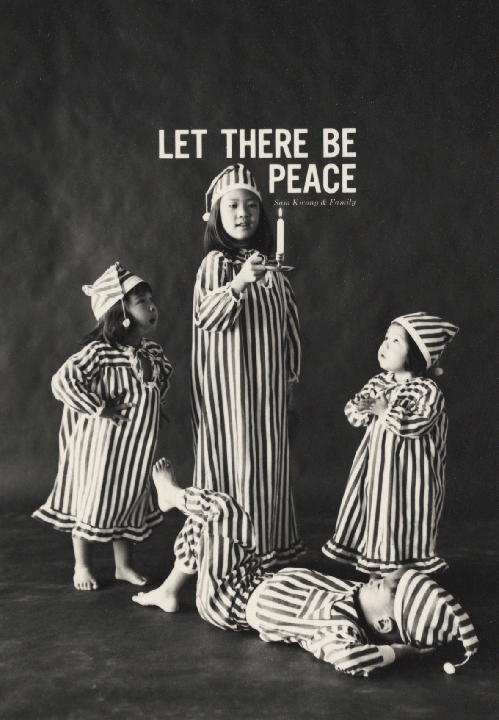 We did our best to represent our missing family crew – Didi, Poppy, and of course, Momo. Interview was shot at JANM (thanks to Maria for arranging it), with a follow-up at Mom's house in Silverlake. Below is the link. Scroll down on their site; we are included in several clips. Check it out!
http://www.latimes.com/local/la-vd-look-back-la-20151125-htmlstory.html
---
---
SAYONARA
to Japanese American Historical Society of Southern California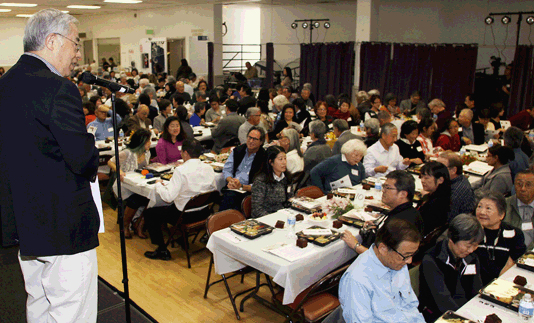 March 1, 2015: After 37 years of providing historical/cultural programs and projects in the Southern California area, the Japanese American Historical Society of Southern California (JAHSSC) was dissolved in Spring of 2015. Dan was a featured performer at their farewell event, along with singer/songwriter Nobuko Miyamoto (who also played the baby's nurse) and Mary Nomura, the "Songbird of Manzanar".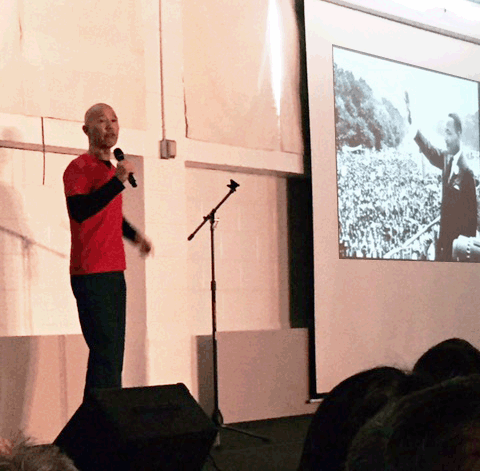 It was a celebratory and poignant event, drawing a who's-who crowd from the local JA community. Dan performed a modified excerpt from WHAT? NO PING-PONG BALLS?, featuring the baby puppet singing a re-written version of Bohemian Rhapsody…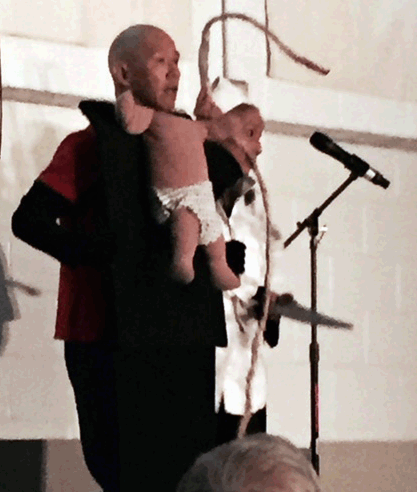 Back in 2004 JAHSSC honored Dan with one of their annual awards for "Outstanding Contributions to Japanese American History and Culture", and he was delighted to be part of this special day.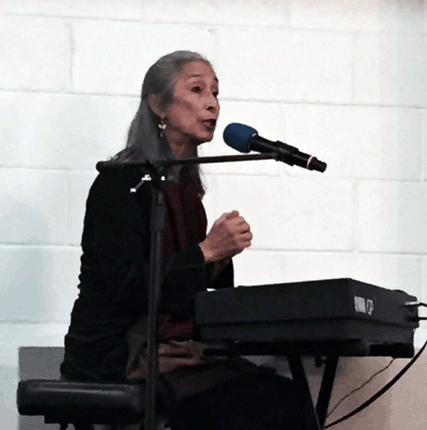 JAHSSC was founded by educators, including George and Iku Kiriyama, Don Nakanishi, Lloyd Inui, Rei Kasama, Kiyo Fukumoto, and Evelynne Matsumoto, who saw the need to educate classroom teachers about the Japanese American experience. JAHSSC was the ONLY organization existing at the time to address this need. Since then, a number of organizations have arisen to fill the need including the Japanese American National Museum and the Go For Broke National Education Center. With much gratitude for all they have done for the community, goodbye to the JAHSSC!
---
---
Nagoya/Kobe/Kyoto/Tokyo, JAPAN
2014 JAPAN LECTURE TOUR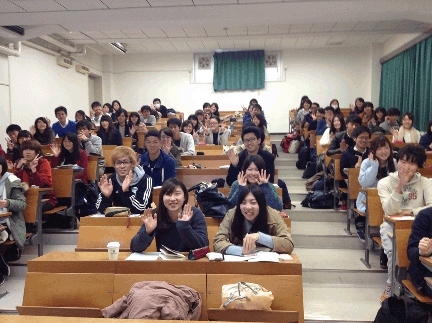 Nov. 17-24, 2014: From Hong Kong, Dan traveled to Japan for a jam-packed week. He gave one lecture about his performance work at Aichi Prefectural University in Nagoya and three at Kobe University. Both were return visits, thanks to Prof. Hideyuki Yamamoto and Prof. Mizuho Murayama!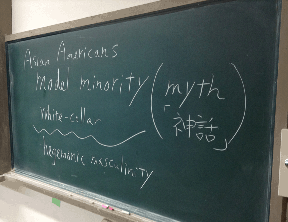 Busting "hegemonic masculinity" at Kobe U.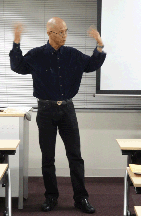 Nagoya & Kobe were followed by a brief rendezvous in Kyoto with Great Leap colleague Nobuko Miyamoto and her siblings, and many great people, fun karaoke, shopping, eating! Stayed in an exquisite Japanese inn...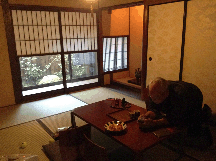 The trip culminated in Tokyo with a small workshop on Men's Liberation led by Dan. Exhausting trip, but so fun and fulfilling!
---
---
Hong Kong, P.R.C.
THE HOUSE ON ROBINSON ROAD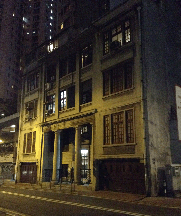 Nov. 11-17, 2014: As recipient of a City of Santa Monica Artist Fellowship, Dan traveled to Hong Kong for preliminary work on his most ambitious project yet: a documentary/art video about the HK home of Dan's great-grandfather, Lee Sing Kwei. Here, Lee lived with his wife, 6 concubines, 21 children and a scattering of grandchildren - over 30 people under one roof! With some rooms perfectly preserved from the 1930s, the house is a veritable museum of owning-class Chinese society in colonial Hong Kong.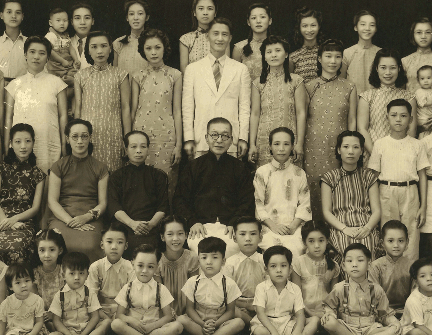 While in HK, Dan came across a hi-rez photo of The Old Man (as he was referred to) and his clan. Dan's father stands middle row far right, as a 10-year old.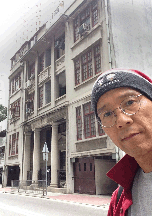 The piece will also explore the evolving relationship between Dan and his father, who spent part of his childhood in this house.
The final form of the project will be a feature-length video; a hybrid creation that resonates with the multi-layered aesthetic approach found in Dan's live performances.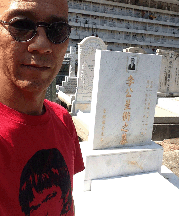 Great-grandfather's grave.
Along with revealing a fascinating portrait of owning-class Chinese society in colonial-era Hong Kong, The House On Robinson Road will be a journey into family, reconciliation, and the desire for human connection. Stay tuned!
---
---
Philadelphia, Pennsylvania
WHAT? NO PING-PONG BALLS?
Oct. 10-12, 2014: Selected for the National Asian American Theater Festival in Philadelphia, Dan and Kenny Endo successfully presented 3 performances at InterAct Theater. The work was very well-received, and Dan is in the process of seeking out future engagements for the show.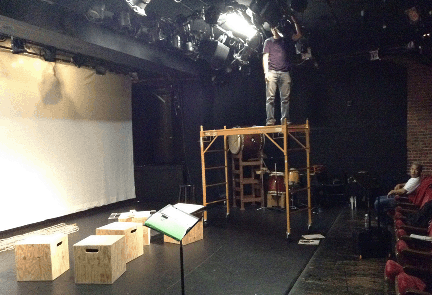 Kudos to our outstanding tech guy, Lucas Nguyen (on scaffold). He's as good as they come! Kenny sits far right, waiting oh-so-patiently...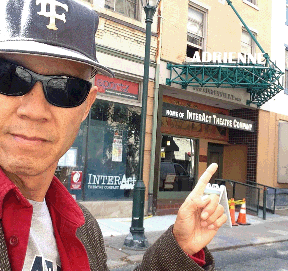 And THANKS to Dan's many donors who helped fund this trip, through our Hatchfund project. You made it happen! Very Special Thanks to dear friend Sharon Nazarian, who backed us big-time!
---
---
Santa Monica, California
HIGHWAYS SILVER JUBILEE!
Highways Performance Space
May 3, 2014: Celebrating 25 years of presenting performance art, dance & music, Highways hosted a night of 1980s style performance including veteranos like my personal fave John Fleck, choreographer Rudy Perez, the wryly understated John White (whom I worked for in the early 80s), chanteuse Weba Garretson, the off-beat musical duo Fat & Fucked-Up, and DK.
Dan performed a modified excerpt from WHAT? NO PING-PONG BALLS? featuring his baby puppet. Assisted by Caitlin Tortorici, Dan closed the show with a bang, combining monologue, slides, video, and the ubiquitous baby-version of himself. A great time had by all...
---
---
Santa Monica, California
WHAT? NO PING PONG BALLS?
Music by KENNY ENDO
Highways Performance Space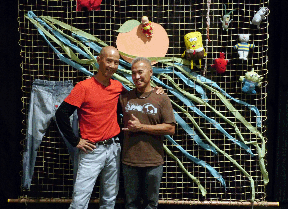 June 14-16, 2013: Dan performed his new work to full houses in a wildly successful premiere! Collaborating with master taiko drummer KENNY ENDO was a blast, bringing even more life to the show.
The piece honors the life story of MOMO NAGANO (Dan's late mother), esp. focusing on her journey as a single parent and artist in the 60s and 70s. It also includes clips of interviews with other Japanese American single moms, weaving their experiences into the piece and shedding light on the invisible story of Asian American single motherhood.
So many people to thank: PAGE LEONG provided brilliant directorial, dramaturgical and choreographic insights, and played a crucial role in shaping the entire piece. JOSE LOPEZ's lighting design was gorgeous, CHRIS TASHIMA's fake surfboard prop was one of Dan's favorite parts of the show, LAUREN TOM made a hilarious cameo on video as the World's Youngest Sociologist, ALE McGREW was Dan's outstanding intern, handling many facets of the production at the same time, CURTIS NOUCHI helped fabricate a lovely netting structure that was a key set piece, MICHIKO YAO helped out with some excellent After Effects video processing, and many other people contributed in many ways to make this a success.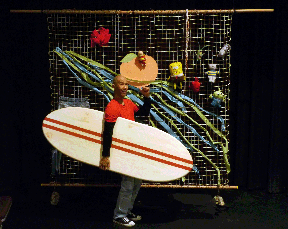 Also featured was an exhibition of weavings by Momo Nagano in the Highways Lobby Gallery. Thanks to the Japanese American Natl Museum for loaning Momo's large-scale piece honoring all the JA families in her neighborhood that were interned during WWII.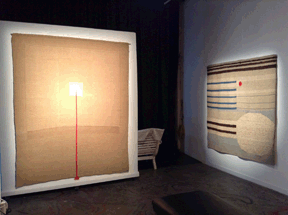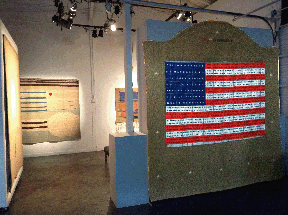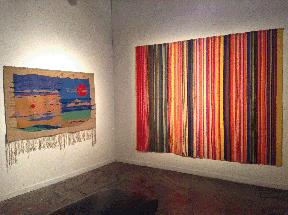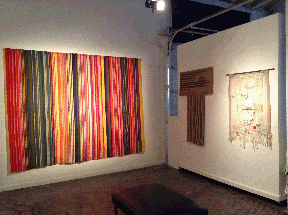 ---
---
Redlands, California WORK-IN-PROGRESS SHOWING
WHAT? NO PING PONG BALLS?
University of Redlands, Wallichs Theater
March 23, 2013: Dan performed a work-in-progress version of the new piece (previously titled Center of the Universe, see below) about his late mother and her experiences as an Asian American single mother from the early 1960s thru 70s. Unfortunately Dan was sick as a dog, but somehow made it through thanks to great support from Univ. of Redlands Tech Director, Trevor Norton and Prof. Chris Beach. Also Prof. Keith Osajima gave a very wonderful introduction of Dan before the show!
---
Wellesley, Massachusetts WORK-IN-PROGRESS SHOWING
CENTER OF THE UNIVERSE
Wellesley College
October 31, 2012: Just a few days after Hurricane Sandy, Dan gave the first work-in-progress showing of this new piece about the life story of his late mother. It was very well-received! (title subsequently changed to WHAT? NO PING-PING BALLS?)
---
Amherst, Massachusetts
IT'S GREAT 2B AMERICAN
University of Massachusetts at Amherst
October 24, 2012: Dan returned to UMass (for the 3rd time!) to perform as part of the Asian Arts and Culture Program under the leadership of Ranjanaa Devi.
Dan performed a newly re-worked version of the show which he is very excited about. He also did several classroom visits at UMass and Smith College, plus a workshop at Williston Northampton High. It was a great (and busy) trip!
---
Santa Monica, California
I AM YOU
by Sheetal Gandhi
Annenberg Beach House
September 29/30, 2012: Dan was an ensemble performer in Sheetal Gandhi's newest work, a site-specific dance-theater piece inspired by the poetry of Rumi. The amazingly talented and brilliant Gandhi collaborated with exquisite Canadian dancer Meena Murugesan in a poignant and humorous work that incorporated kathak, bharata natyam & modern dance, live & recorded text, music, live singing, popular love songs of the 1930s, and commentary on motivational talk shows.
The piece was performed outdoors around the Annenberg Beach House and on the boardwalk.
---
Los Angeles, California
CYCLES OF CHANGE II
Live Performance
MacArthur Park
October 7, 2012: The live performance returned as part of CicLAvia! Dan directed and performed in this funny and family-friendly performance about bicycling in the big city featuring Claire Day, Carla Vega, Charlie McClung, Gabriel Tenorios and Dan, plus live music from George Abe and Byron Yamada on taiko, flute and percussion.
Special Guests QUETZAL performed a terrific set in the middle of the day and blew the crowd away!
---
CYCLES OF CHANGE - Great Leap's new Eco-Vid!
Director/Editor: Dan Kwong Executive Producer: Nobuko Miyamoto
Sept. 6, 2012: CYCLES OF CHANGE features a hot new song by Nobuko Miyamoto and stellar L.A. rock band QUETZAL, encouraging you to hop on a bike for a change and leave the car at home. This funny video with a serious message stars Nobuko as our heroine on two wheels, and Martha Gonzalez (Quetzal lead singer) as the busy urban professional mom who learns the virtues and joys of bicycle riding.
Please check it out and share it with your friends! Our last Eco-Vid (MOTTAINAI) has been viewed in over 80 countries, with over 30,000 hits. We want to top that number with CYCLES!
Copyright September 2012 Great Leap Inc.
---
VIDEO PRODUCTION RECAP:
CYCLES OF CHANGE
A music video promoting bicycling as an alternative form of urban transportation
Principle shooting completed on June 16!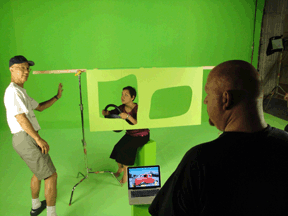 Dan talks it over with Cameraman Jon Edwards while Martha waits for her test drive
Dan directed three successful days of shooting on location around L.A. and on a soundstage with a 30' green screen in Santa Monica. This was Great Leap's (and Dan's) most ambitious production yet!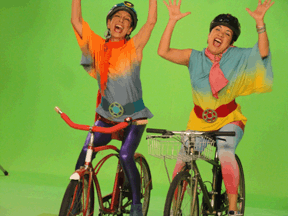 Our stars, Nobuko Miyamoto plus Martha Gonzalez of the band Quetzal were fiercely committed, hysterically funny, utterly delightful and very courageous (especially handling some of the more daring bicycle action-shots). They were beautifully costumed by Yuki Ishii in her trademark dyed-fabric designs.
Quetzal Flores (Martha's husband and namesake of the band) and their adorable son Sandino also made cameo appearances.
1st Asst. Director Lisa Konczal was a total delight to work with. She's a very talented director/editor/producer herself, and a terrific person in every way. Had the great pleasure of working again with Tana Barajas (after our adventures on the road last fall with "Water is Rising") as our Production Manager. We had outstanding technical support from our grips Andy Aguilar, Sean Sherrod, Chris Lakin, Beau Johnson and Taylor, plus we had the added bonus of Academy Award-winning Director Chris Tashima who jumped in to lend his expertise with rigging & preparing the bikes for our green screen shoot. And Nobuko's brother Bob Miyamoto was again a huge help providing tools, materials, information, and connections.
I also want to thank our MANY funders, through our Indiegogo campaign and other fundraising efforts, without whom we could not have done it. I am confident you will be pleased and proud to have supported this project! THANK YOU ALL!
---
ONCE WE WANTED
New trailer with short clips from the show. Dan & Iu-Hui Chua's interdisciplinary multimedia piece about relationships, connection & alienation in our Facebook/Twitter/Skype society. (see below for more info)
---
Venice, California
POETRY IN MOTION: "SONS"
Beyond Baroque Literary/Arts Center
June 22, 2012: Dan joined a wonderful line-up of poets and musicians to share brief musings on this filial topic. Dan read a new prose list-poem in which he told his life story (as a son) in about 5 minutes.
Founded and curated by the amazing Eve Brandstein, "Poetry in Motion" is a long-standing event happening periodically at the venerable Venice Beach literary center which first brought together Exene Cervenka and John Doe, ultimately resulting in formation of the seminal L.A. punk band "X" (one of Dan's favorite bands...)
---
Los Angeles, California
REAL WHEELS
May 15, 2012: Dan had the pleasure of performing a new short piece about his first bicycle, at the reknowned Tuesday Night Cafe event. Founded by artist traci kato-kiriyama, TNC is held in the Aratani Courtyard in front of East West Players the 1st & 3rd Tuesdays of the month. Inspired by Dan's work on the Cycles of Change bike performance...
---
Los Angeles, California
CYCLES OF CHANGE
April 15, 2012: Great Leap presented a very successful afternoon of performances in MacArthur Park as part of CicLAvia, the L.A. city-wide bicycle celebration! The 8-person cast included ANDRAE HARRISON, YOLANDA HESTER, CLAIRE DAY, GABRIEL TENORIO, CHARLIE McCLUNG, ALISON MINAMI, and CHEVALA ZEPEDA, plus Dan on his trusty old bike. We did three 30" shows throughout the day, on a gorgeous afternoon with a constant river of bicycle riders on the streets as a backdrop to our shows.
Each performance began with thunderous taiko drumming by DANNY YAMAMOTO (of the band Hiroshima) and beautiful flute playing by GEORGE ABE, which worked so well to attract audiences. People would ride up, dump their bikes on the grass, and sit down to watch the show.
We had some funny things happen, such as confused passers-by wandering into the middle of our scenes, one very drunk guy who stumbled out "onstage" and stood with his back to the audience for several minutes before Nobuko gently led him away, and several bike riders who would accidentally cruise right through the middle of our performance! We just waved as they went by...

Feedback from the performance was terrific. People said it really made them proud and pleased to be an urban bike rider. Others were touched by memories about the very first time they rode a bike.
Personally I was amazed at what a powerful experience that was for so many of us - the first time we rode a bike! The feeling of confidence, independence, empowerment and 'mastery of the universe' that so many people associate with this simple childhood experience -- truly profound...
Some pics of the performances were shot by two great photographers, Jorge Vismara and Emily Mount. You can see their work here:
http://jorgevismara.net/home/cycles-of-change/
and
http://photobucket.com/cyclesofchange
---
"PERFORMING IDENTITIES"
University of Redlands, Glenn Wallichs Theater
January 28, 2012: After many years, Dan returned to UOR to perform excerpts from IT'S GREAT 2B AMERICAN plus STATION WAGONS OF LIFE, on a mixed bill with Leo Garcia and Doug Hammett as part of the UOR "Performing Identities" solo performance series. It was a blast! The audience was laughing & crying and Dan had a great time as well. Also included was a post-show Q&A and a lovely reception at Prof. Chris Beach's beautiful home. U of Redlands rocks!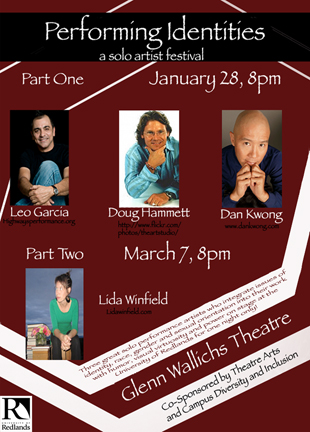 ---
"MOTTAINAI"
Dan's funny new environmental music video, created this spring with Nobuko Miyamoto and Great Leap, is now online. With over 30,000 views, it's been seen in every state of the U.S. and increasingly around the world!

Please check it out, share it with your friends, and pass the word about living a less wasteful lifestyle!

---
Los Angeles, California
GRANDMAS, GRAPES, AND GONGGI-NORI
Report from Korea

Dan's video presentation about his experiences in South Korea, February 2011, teaching a storytelling workshop for elderly rural women on an island in South Korea.

This project was made possible by a Culture Exchange International grant from the City of Los Angeles Department of Cultural Affairs.

---
Santa Barbara, California
TRUE TALES AND CLEVER LIES
UC Santa Barbara, Multicultural Center Theater
May 26, 2011: Dan returned to the MCC after many years to perform excerpts from IT'S GREAT 2B AMERICAN and ONCE WE WANTED. Thanks to friend and Prof. Kip Fulbeck for wonderful local hospitality and the great meeting with his students!
---
Los Angeles, California
MOTTAINAI & ORDER TO GO
National Center for the Preservation of Democracy
June 5, 2011 (World Environment Day): The premiere screening of Dan's new environmental music video, MOTTAINAI, created in collaboration with Nobuko Miyamoto and Great Leap's community of artists! Also on the day were live two performances of "ORDER TO GO" (see report from Sept. 11, 2010), workshops on greener living, and lots of fun! www.greatleap.org.

---
Santa Monica, California
ONCE WE WANTED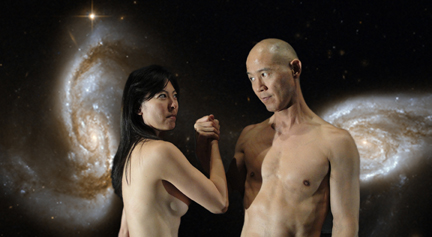 Highways Performance Space
May 13-14, 2011: Dan and the multi-talented Iu-Hui Chua gave a work-in-progress presentation of their interdisciplinary collaboration: a funny, philosophical, playfully sexy, deeply intimate and personal exploration of what it means to truly be connected to each other. Full of surprises, Kwong and Chua incorporate dance, theater, poetry, comedy, puppetry, martial arts and song in a dense and fast-paced collage of vignettes. This was Kwong's first major production since the passing of his mother in 2010, and the piece was partly a tribute to her.
---
MOTTAINAI
Music Video Production
April 16-17, 2011: Over two intense long days of work, Dan directed the shooting of the newest environmental music video for Great Leap! Glad to say it went very well and we got some great footage.
Featuring another song by Nobuko Miyamoto, MOTTAINAI is a call to remember the wisdom of our ancestors when it comes to cherishing the earth's resources and avoiding thoughtless waste.
We had a terrific hard-working crew - Jon Edwards our Cameraman, Bob Miyamoto our Key Grip (and Nobuko's brother), Anna Woo our 1st Asst. Director, and many more. Truly a community project, we couldn't have done it without the support of many people, including our many Kickstarter funders. Thanks to all!
---
A Slice of Rice, Frijoles & Greens
University of Wyoming at Laramie
April 7, 2011: Dan was on the road with his Great Leap colleagues Chic Streetman and D'Lo, to perform at the University of Wyoming as part of the annual Shepard Symposium on Social Justice. They treated us wonderfully, and we did okay performing at 1.5 miles above sea level! (huff, puff)
---
Norton, Massachusetts
TRUE TALES from the Son of a Wheaton Grad
Wheaton College, Kresge Experimental Theatre
March 31, 2011: The Universe smiled with a bit of ironic scheduling as Dan performed at his mother's alma mater on the exact one year anniversary of her passing. In honor of her, he performed various pieces which featured her presence. Included in the show was a screening of the documentary Dan produced about Momo's 60th college reunion, when she received the Wheaton Alumni Achievement Award in 2007, a high point in her life. He also read a narrative poem about Momo and the indelible impression she made on her male offspring.
Several of Momo's dear friends from the class of 1947 made it to the show (one driving 70 miles through a snowstorm!), and their presence made it that much more powerful. One of the most emotional performances of Dan's life, it wasn't just "a show" - it was a memorial tribute to his mother.
While at Wheaton, Dan was housed in a gorgeous 1960's guesthouse on campus designed by legendary architect/designer Walter Gropius (with whom Momo's older brother Daisuke studied after the war!).
Dan also conducted a mini-performance workshop with Wheaton students, and an off-shoot of the visit was the possibility of Wheaton College acquiring one of his mother's weavings for their collection. All in all an amazingly wonderful trip!
---
South Korea
FROM INNER WORLDS
Gyeonggi Creation Center, Seon-gam Island
February 3-28, 2011: Dan recently returned from another residency in Korea, returning to G.C.C. some 14 months after his participation in the pilot program there in Fall of 2009. What was intended as a storytelling workshop for rural elderly Korean women turned out to be a classic example of the "students" teaching the "teacher". It was deeply moving to be with these spirited, funny, warm and caring women. Ranging from mid-60s to mid-80s in age, they were a delightful bunch who welcomed Dan into their community with such graciousness and generosity. It was enlightening to see how different life is for elders in that rural setting. They spend virtually every day together hanging out in the senior center: eating meals, playing "Go-Stop" (a card game based on the Japanese game of Hanafuda), singing karaoke, and just being together. It's a striking contrast to the isolation most seniors have to deal with in urban America. Many of these women still work in the fields on their grape farms. They were so down-to-earth and real, it was love at first sight for Dan. They taught him more than he taught them!
The project was funded in part by a Culture Exchange International Grant from the City of Los Angeles Cultural Affairs Department.
---
Santa Monica, California
Highways Performance Space
November 5-7, 2010: Dan created multimedia sequences and performed as part of the ensemble in Paulina Sahagun's 5th annual event at Highways. Combining aspects of traditional Mexican Day of the Dead festivities with commedia dell'arte style, Calavereando honored the wisdom of ancestors while also making satirical socio-political commentary. Highlight for Dan was portraying a skeletal Barack Obama in a tag-team wrestling match with Glenn Beck, Christine O'Donnell, and Sarah Palin! Great fun!
Also part of the event was a community altar in the lobby gallery for those who have lost a loved one in the last year. There was a nice Momo-presence there...
---
Pasadena, California
"Indelible Ink" Poetry & Performance Series
October 26, 2010: Dan performed a site-specific piece, in-the-round, at POP Champagne & Dessert Bar in Pasadena. The piece began with Dan entering wearing a cardboard head-dress which simulated a miniature theater stage (see video) as his recorded voiceover described some basic theatrical formats (proscenium stage, thrust stage, theater-in-the-round). After a brief live monologue in which Dan ranted about how much he hates theater-in-the-round due to its effects on the audience-performer connection, he segued into a story about his late mother and her extraordinary ability to connect with people. (This piece was the seedling for what would become "WHAT? NO PING-PONG BALLS?")
PART I
Dan's other highlight of the night was meeting the amazing singer/songwriter Corrinne May, originally from Singapore now based here in the States. I HIGHLY RECOMMEND you check her out, she is brilliant!
---
Culver City, California
Collaboratory VIII: "Order To Go"
Baldwin Hills Scenic Overlook
PERFORMANCE (directed by D.K.)
September 11, 2010: A standing room-only crowd saw the culminating performance of round VIII of the Collaboratory mentorship program! The show was presented at the Baldwin Hills Scenic Overlook in Culver City in an outdoor pavilion. Over a hundred folks braved chilly weather and dense fog to come see an outstanding performance by Janet Dandridge, June Kaewsith, Zumi Mizokami, Ayuko Sato, Shannon Shue!
For ten weeks this wonderful group of emerging artists was led by Dan and Young-Ae Park, learning how to work together to create collaborative performances, and using the theme of "the environmental impact of take-out food containers & utensils". The results were funny, poignant, rich and informative.
The evening was hosted by the funny and delightful Amy Hill and also featured live music by Nobuko Miyamoto and Friends, plus a live screening of our new music video "B.Y.O. CHOPSTIX" (see above).
One of our most successful Collab shows ever!
---
INTERNET
B.Y.O.CHOPSTIX
MUSIC VIDEO
May 2010: Dan directed and edited his first music video! Great Leap's Artistic Director Nobuko Miyamoto teamed up with rapper Luke "Aidger" Patterson to write and record a funny-yet-pointed song about the ecological ills of disposable chopsticks. Shot on location at Azuma Restaurant in Gardena and in studio, B.Y.O.C. features Nobuko as the Ghost of Dead Chopsticks, and Aidger as an eco-savvy rapping sushi chef. Also making cameos are Danny Yamamoto (drummer for Hiroshima), acclaimed solo perfomer Jude Narita, and several former participants from Great Leap's Collaboratory mentorship program.
Also, Great Leap is now selling portable chopsticks on their website:
chopstix.greatleap.org
Bring your own!
---
Month At The Museum - NOT.
August 2010: Dan entered a contest to live for one month in the Chicago Museum of Science & Industry. Unfortunately he didn't even make it past the first cut (over 1,000 entries!), but here's the extended version of the video he submitted for his application:
---
UCLA Medical School
A SLICE OF RICE, FRIJOLES & GREENS
August 3, 2010: Our annual performance for first-year med students in Bruin-town! This year featured Dan, Paulina Sahagun, and Lynn Manning each performing 20 minutes of solo material.
---
24th Annual ATHE Conference
PANEL DISCUSSION
Moving Through Masculinity: Re-thinking maleness through Theatre, Movement, and Dance
August 4, 2010: Dan was honored to be on an all-star panel with some amazing artists discussing the exploration of masculinity in performance. Jeff McMahon convened, with Tim Miller, John Fleck, Dan Froot, and Doug Cooney! It was especially interesting to have both Gay and straight perspectives on this topic. Conference was held at the Hyatt Century Plaza Hotel, dubbed the "Western White House" during the Reagan years.
(ATHE = Association for Theater in Higher Education)
---
Philadelphia, Pennsylvania
Artists Exchange Festival 2010
Asian Arts Initiative
March 27, 2010: Dan performed excerpts from IG2BA. Also on the bill: Philly-based artists CATZIE VILAYPHONH and ANULA SHETTY.
March 29-April 3, 2010: Dan also facilitated an intensive workshop on the topic of "HOME: Far and Near" with a terrific group of artists from across the country including Anula Shetty, Robert Karimi, Regie Cabico, Kristina Wong, Kelly Zen-Yie Tsai, Makoto Hirano and Catzie Vilayphonh. The week culminated in a showing of performances created by the group during the week.
The show was directed by Regie, who graciously stepped in for Dan when he had to return home mid-week when his mother passed away. Dan was actually able to participate in the show from Santa Monica via live video link, and read a short piece he had written in honor of his mother. Special thanks to Gary San Angel for making it technically possible.
Also, thanks to Gayle Isa (Exec. Director of AAI) for her kindness and flexibility during this tough situation.
Finally, thanks to all the participating artists whose compassion and loving support made it as bearable as possible.
---
Wellesley College
February 11, 2010: Dan gave a very successful performance of the newest version of IT'S GREAT 2B AMERICAN, and also had a great time visiting Prof. Elena Creef's seminar class. Exciting to try out a new version of the show and get some useful feedback from students and faculty. Major thanks to Prof. Creef, Marissa, and Ken Loewit for making it happen!
---
Kansas State Univ.
February 3, 2010: Dan returned for his third visit to KSU (since 1997) and performed a medley of short pieces. He also got in a couple games of bowling in the Student Union. Wheeee!
---
Miles Playhouse
December 5 & 6, 2009: Dan had the pleasure of performing with long-time friend and colleague Jude Narita (and poet Elizabeth Iannacci). Always nice to be reminded how brilliant Jude's work is!
---
Residency:
Gyeonggi Creation Center
Ansan, Gyeonggi Province
Oct. 29 - Nov. 24, 2009: Dan spent a month at this new international arts center on Seongam Island, a rural area 40 miles SW of Seoul. He was part of a group of 24 international artists conducting researching for future art projects focused on community issues.
While there, Dan also created a site-specific installation piece in the form of a small-scale baseball diamond, dedicated to the boys who died at this location during WWII. (check out Dan's Facebook page for many photos documenting the installation).
---
Lecture/Workshop Tour
AICHI PREFECTURAL UNIV., Nagoya
October 14-15, 2009: Dan facilitated an introductory workshop on autobiographical writing & performance for students, and then gave a video/lecture presentation for the British & American Studies Dept. With a fully professional translator, wow!
Residency sponsored by the Cultural Symbiosis Research Institute of Aichi Prefectural Univ. Coordinated by Prof. Mizuho Murayama.
**************
KYOTO SANGYO UNIVERSITY, Kyoto
October 16, 2009: Dan screened video & lectured on his work, with focus on Hybrid Identity and other pithy topics...
Coordinated by Prof. Kyoko N. Nozaki
**************
KOBE UNIVERSITY, Kobe
October 21-22, 2009: Dan led a workshop on "effective social/academic communications" for graduate students, another workshop on autobiographical writing & performing workshop for undergrads, and gave a video/lecture on IT'S GREAT 2B AMERICAN.
Coordinated by Prof. Hideyuki Yamamoto
**************
COMPARATIVE CULTURAL HISTORY OF MASCULINITY SYMPOSIUM, Osaka
October 24, 2009: Dan talked about his workshop approach & demonstrated some of his teaching methodology.
Dan was also on a panel, talking about Asian American masculinity and screening video clips of his work on the topic.
Sponsored by Japan Society for Promotion of Science, Gender Studies Project led by Prof. Miho Mitsunari, Setsunan University. Additional support from Asian American Literature Association and American Drama Association of Japan.
SPECIAL THANKS TO PROF. HIDEYUKI YAMAMOTO OF KOBE UNIVERSITY FOR MAKING THIS ENTIRE TOUR POSSIBLE!
---
Touching All Bases: A Baseball Celebration
PASADENA CENTRAL LIBRARY

October 9, 2009: As part of ArtNight Pasadena, the Baseball Reliquary and Pasadena Public Library presented Touching All Bases: A Baseball Celebration. This multi-cultural, multi-generational evening incorporated visual art, music, performance, literature, and moving image media to provide new insights into America's national pastime. On the 20th anniversary of his ground-breaking performance, Secrets of the Samurai Centerfielder, Dan performed a monologue from the show, in addition to DODGERTOWN, a funny yet deeply-moving story about being a devoted follower of the home team, including Kwong's childhood technique for getting into Dodger games for free, his perspective on professional sports as a mind-numbing substance, and a stunning vision at Chavez Ravine.
---
Miami University of Ohio
Baker University Center Theater
A SLICE OF RICE, FRIJOLES & GREENS
October 1, 2009: Dan performed an excerpt from IG2BA (Classroom Patriots) plus "Station Wagons of Life" as part of Great Leap's touring show. Dan performed with his longtime friends & colleagues, CHIC STREETMAN and PAULINA SAHAGUN.
---
Wellesley College
Lecture
September 23, 2009: Dan talked about his work in Prof. Elena Creef's class on "Elvis Presley & 50s America".
---
Providence College
Slavin Student Center
September 24-25, 2009: Dan performed various excerpts including "Birth Interview", Station Wagons of Life", plus selections from IG2BA, and facilitated an introductory workshop on autobiographical writing for performance.
This residency sponsored by the Asian American Association, Board of Multicultural Student Affairs, and Students Organized Against Racism.

---
VENTURA, CALIFORNIA
The World's Youngest Poet
Sylvia White Gallery, Ventura
September 4, 2009: Dan reprised his intellectual baby, reciting selections from his latest book "Passions of a Breastfeeder". Complete with infantile spouting of political rhetoric (and baby poop) for a jam-packed house. Assisted by the most fetching wet-nurse ever, Allura Lee.
---
Collaboratory VII: "The Blue Marble"
The Electric Lodge, Venice
Performed by Porschia Baker, Manny Baldenegro, Caroline Chang, Claire Day, Maya Gingery, Joyce Lee, Angela Salgado.
Directed by DK, assisted by Young-Ae Park.
August 30, 2009: Great Leap presented the latest performance created in their mentorship program for developing the next generation of artist-leaders in Los Angeles. Collab VII was focused on "caring for the environment".
Collaboratory participants spent six weeks experiencing field trips to environmental and arts organizations, meetings with mentors from the local arts community, master classes with guest teachers, and workshops with Dan and Young-Ae practicing collaboration techniques. The last two weeks were focused on the creation of works for this presentation at Electric Lodge, a solar-powered performing arts center.
This program was presented as Electric Lodge's 2009 "Green Piece", their annual project devoted to combining the arts and the environment.
---
CALIFORNIA
IT'S GREAT 2B AMERICAN
Torrance Cultural Arts Center
May 27, 2009: Dan performed his newest show for a packed house at the George Nakano Theater in Torrance.
Presented as part of the "Whose Story Now?" series curated by John Powers, presented in association with the Japanese American Citizens League, Japanese American National Museum, Japanese American Historical Society, JACCC, and more.
---
WISCONSIN
Lecture/Demo:
From Inner Worlds
University of Wisconsin, Madison
February 23, 2009: Dan gave a 90 minute talk with video screening, plus mini-performance excerpt about his latest work. Dan was hosted locally by the wonderful Li-Chiao-Ping and her husband Doug Rosenberg.
---
Performance:
IT'S GREAT 2B AMERICAN
Beloit College, Wilson Theater
February 26, 2009: Dan performed the full show for the good folks at Beloit, and taught an introductory workshop on autobiographical writing & performing for the Theater Department.
---
Lecture/Video presentation:
From Inner Worlds
School of the Art Institute of Chicago
February 26, 2009: Dan visited his beloved alma mater to screen video and talk about his latest work. Hosted by the Visiting Artists Performance Seminar series.
---
IT'S GREAT 2B AMERICAN
Los Angeles Theater Center
November 14-16, 2008: This production featured new choreography, spiffed up video sequences, with a definite post-Obama-election kick! Part of LATC's "Face Of The World Festival".
---
CALIFORNIA
Be Like Water
East West Players Theater, Los Angeles
Directed by Chris Tashima
Sept 17-Oct 12, 2008: Dan's new play had its world premiere!
"Dan Kwong has penned a powerful, emotive, yet at times playful tale..." ~ Rafu Shimpo
"The beauty of "Be Like Water" is that it's about families like yours that struggle with identity, racism and insurmountable family expectations. It's about your heartbreak and strength." ~ Pacific Citizen
"Kwong can still deliver a roundhouse kick to the emotions." ~ L.A. Times
"...Hayashida and Sun Lee deftly handle playwright Kwong's venerable skill in writing monologues that forward story line while allowing character depth." ~ View From A Loft
"Playwright Dan Kwong reveals an ability to adapt the huge issues (racism, mother-daughter stalemates, application of ancient wisdom) to living-room scale. He balances these disparate dimensions so that the expansiveness, danger and instruction of unseen story are just as active as the day-to-day trials of his familiar characters." ~ Theater Times
Synopsis:
Chicago, 1978. Disco rules. It's been 5 years since the tragic and untimely death of legendary martial artist Bruce Lee.
Tracy Fong is a 13-year old tomboy who has become a street-fighting, ass-kicking, gung-fu/Bruce Lee-fanatic. Her best friend at school happens to be named Bruce Lee - but he's a scrawny little nerd who loves disco dancing as much as Tracy despises it.
While Dad plays it cool, Mom pressures their daughter to be more of a "normal" girl.
As Tracy squares off against a nasty bully, her overbearing mother, and the dreaded annual disco dance, along comes the Ghost of Bruce Lee (in a glass of water!) to help Tracy on her journey.
Produced by EWP in association with Cedar Grove Onstage.
---
IT'S GREAT 2B AMERICAN
HIGHWAYS, Santa Monica
Co-directed by Shishir Kurup
July 10-13, 2008: Dan premiered his first full-length solo performance in 9 years!
---
IT'S GREAT 2B AMERICAN
2nd Natl Asian American Theater Conference
Mixed Blood Theater, Minneapolis
June 5-7, 2008: Kwong performed a 10 minute excerpt from his new work as part of the Writer/ Performer Showcase, and also sat on a couple panels at the Conference: "Surviving as a Solo Artist" and "Shaping the Remix", the latter which included discussion of the Collaboratory mentorship program he has been directing for Great Leap since 2005.
---
JAPAN
Performance as Self-Expression/Realization
Kobe University, Japan
May 8, 2008: On Dan's second visit to Kobe U. he gave a lecture to faculty and students on his teaching methods and philosophy, and taught an introductory performance workshop.
Sponsored by Kobe U's Prof. Hideyuki Yamamoto and the Innovative Ethics Research Project, Faculty of Letters.
---
From Inner Worlds
Cal State University Northridge
March 12, 2008: Dan performed excerpts from his book as part of the CSUN multicultural program.
---
Collaboratory V: "Leaps of Faith"
National Center for the Preservation of Democracy, Los Angeles
March 8,9 2008: Led by Project Director Dan and Co-Facilitators Young-Ae Park and Nobuko Miyamoto, ten artists worked together for 7 weeks visiting various religious/spiritual centers in Los Angeles, meeting with local mentors/elders/ "wisdom-keepers", experiencing master classes with guest teachers, and sharing their own personal stories of faith with each other.
They combined autobiographical material along with historical and contemporary sources in a highly collaborative approach, addressing questions such as: How can multi-dimensional religious identities live side by side? How do we navigate religious conflicts with intelligence and compassion? How can we create progressive and respectful visions for the future?
One of our most successful Collaboratory residencies ever!
NEW HAMPSHIRE, MASSACHUSETTS
Sleeping With Strangers
Bowker Auditorium, UMass, Amherst
February 8, 2008: Kwong & Peng presented their critically-acclaimed blend of performance art and Chinese opera to a full house. sponsored by the UMass Asian Studies Department. Two days later they taught workshops and performed for Derryfield School in nearby Manchester, New Hampshire.
---
Being Naked without Being Nude
Kobe University, Japan
December 13, 2007: Dan gave a video presentation and lecture about his autobiographical performance work for students at the Faculty of Letters. Students found the provocative title utterly confusing...
---
WASHINGTON
From Inner Worlds
Whitman College, Walla Walla WA
August 26-September 29, 2007: Dan guest-taught a very successful intensive course on Autobiographical Writing & Performing for the Theater Department of Whitman College. A remarkably talented group of students presented their solo pieces to full-houses as the opening production of the Whitman Theater Department's season.
---
CALIFORNIA
Collaboratory IV: "Third Stone"
FarmLab, Los Angeles
July-August, 2007: Dan and Young-Ae Park facilitated a free 8-week residency for emerging artists-of-color interested in collaborative performance and community leadership. The theme for this round was "caring for the environment".
The residency included field trips to various cultural centers in communities of color, guest teachers, and seminars with community elders, mentors, and wisdom-keepers.
Collaboratory IV culminated in a weekend of performances created by participants, directed by Kwong and Park, and hosted by FarmLab, a progressive organization in downtown L.A. which is dedicated to finding new ways to bring the urban environment more in harmony with nature.
---
A History of Asian American Theatre
Recently published by Cambridge University Press, this is the definitive book on the subject, written by Esther Kim Lee, Asst. Professor of Theatre at the University of Illinois Champaign Urbana.
It acknowledges the significance of Kwong's body of work within a larger historical context of Asian American theater, spanning from 1965 to 2006.
Quote from the book:
"Dan Kwong empowers the Asian American identity and challenges American identity by telling stories of his life. And he has inspired others to use his workshop techniques to continue breaking the cycle of silence of Asian American men and women."
(ISBN-13-978-0-521-85051-3)
(The book also features a photo of Dan performing at Highways. Photo credit should be: Marcel Schaap)
---
OKLAHOMA
Sleeping With Strangers
Tulsa Performing Arts Center
March 2007: Dan & Peng performed their critically-acclaimed collaboration to a packed audience for New Genre XIV, the innovative arts festival in Tulsa produced by Living Arts of Tulsa. They really know how to treat artists right over there...
---
Sleeping With Strangers
HIGHWAYS, Santa Monica
February 2006: The successful world premiere of this multidisciplinary collaboration with traditional Chinese opera artist Peng Jingquan from Beijing, China. Receiving rave reviews, the show also toured to Duke University NC, New York University, and Whitman College in Walla Walla, WA.
An outrageous blend of Chinese opera (real and fake), Western drama, multimedia, puppetry, slapstick, poetry and storytelling, "Sleeping With Strangers" shares the highs and lows of international relations between China and the U.S., between fathers and sons, and between friends.
---
PEOPLES REPUBLIC OF CHINA
Sleeping With Strangers
Nordica TC/G, Kunming
September 2005: A work-in-progress version of Kwong & Peng's collaboration was presented in this very cool Swedish(!) experimental gallery/performance space in the city of Kunming. The eclectic audience - Chinese college students, European ex-patriots, and a handful of locals who wandered in not knowing what the heck was going to happen - all seemed to appreciate it...
---
The Mekong Project - Phase II
Phnom Penh; Siem Reap; Battambang
November 2004: Returning to SE Asia, Dan again helped facilitate this international residency. The Mekong Project brought together 14 artists from China, Vietnam, Laos, Burma, Cambodia, Thailand and the U.S. Traveling together for 3 weeks in Cambodia, the project visited Siem Riep (site of famed Angkor Wat and many other spectacular temples) and Battambang before culminating in a weekend of performances in Phnom Penh. A very successful project!
---
A.T.H.E. Conference
Toronto, Ontario
July 30-31, 2004: The annual conference for the Assoc. for Theatre in Higher Education included hundreds of academics and practitioners from across the continent and beyond. Dan performed, taught a workshop, was part of a panel discussion, participated in an interview and did a book-signing session - all in 2 days...
---
From Inner Worlds to Outer Space
Book Release Show
HIGHWAYS, Santa Monica
July 22-24, 2004: To celebrate the publication of his new book, Dan performed a medley of pieces from his repertoire at Highways Performance Space. Featuring excerpts from the book, the performance marked Dan's reunion with his brilliant director, Christine Sang. All went exceptionally well with the exception of a costume malfunction that made Janet Jackson's look tame in comparison.
---
The Art of Rice
Pengosekan, Ubud, Bali
August 2003: Dan returned to Bali, Indonesia to complete work on The Art of Rice. This international collaborative multidisciplinary multi-media performance featured eleven outstanding artists from China, India, Burma, Indonesia, Japan, Taiwan, Dominican Republic and the U.S. all working together to create a performance about that humble life-sustaining grain.



After a month in Bali developing the show, the group traveled to Hawaii and performed on three different islands. It made its L.A. premiere to full houses at the Japan America Theater, Pomona College and UCLA. Dan had the opportunity to practice Balinese shadow puppetry and 'topeng' (mask) performance. It was a wonderfully intense experience with lots of very fast collaboration and creation.
---
Rite of Passage
HIGHWAYS, Santa Monica

May 10, 2003: Dan had his head shaved onstage as part of Highways' 14th Birthday Celebration. Assisted by performers Bennett Schneider and Pete Lee, Kwong sat stoically as audience members donated $10 each to come onstage and snip off a lock of his hair. Meanwhile a videotape was projected showing emails Dan received, cheering him on to dome-hood, along with photos of Dan from age 3 months to present, sporting all manner of hairdos.



Audience-barbers received groovy certificates of participation. Final shaving of the Kwong-Dome was executed by Pete, to the strains of Also Sprach Zarathustra. The ritual raised over $500 for Highways.
---
The Mekong Project - Phase I

Chiang Mai; Louang Prabang
March 2003: Dan was a Co-Facilitator on this 3-week residency in northern Thailand and Laos, helping artists and staff work together successfully. The Mekong Project was a multi-year project funded by the Rockefeller Foundation and administered by Dance Theater Workshop in NY, to develop resources for Southeast Asian artists in the Mekong region.
Highlight of the residency was a 4-day boat ride down the Mekong River to Louang Prabang, Laos which inspired the creation of a new solo performance, On The Mekong.
---


Read a recap of Dan's performance residency in conjunction with Great Leap as part of the Japanese American National Museum's January 2003 exhibition, Boyle Heights: The Power of Place.
---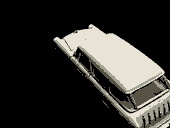 ---
GOOD NEWS!
Award From JAHSSC
April 9, 2005: The Japanese American Historical Society of Southern California honored Dan for outstanding contributions to Japanese American history and culture at a lovely banquet event. Also honored that evening were videographers John Esaki and Amy Kato, and traditional dancer Sumako Azuma.
Award From LACAD
April 27, 2005: The Los Angeles Cultural Affairs Department announced the recipients of its COLA grant for mid-career artists, and Dan was among the group. The award resulted in the creation of a new performance presented in May 2006 at Barnsdall Gallery Theater (see above).
June 30, 2004: The California Community Foundation announced recipients of its individual fellowships for "Outstanding Mid-Career Artists" (at least 15 years of professional experience). From 300 applicants, 5 California artists were selected for this highly-competitive fellowship. Recipients were Enrique Celaya, Karen Kimmel, Rika Ohara, Eloy Torrez and DK. Congratulations to all the winners!